Generation Gap; Film For Dad, Digital For Son, On A Costa Rican Excursion Page 2
The next day, a long road trip led us through farmlands, ranches, and numerous towns and villages. I have learned over the years to never hesitate to pull the car over whenever I see a potential photograph. I love experiencing the sights, sounds, and aromas while simultaneously analyzing the landscape's composition before I start shooting. These are quite often my most memorable moments when I look back on the trip because they were purely spontaneous.

Monteverde, the most famous cloud forest in Costa Rica, was our next destination. It is privately owned by the Quakers and our plan was to base ourselves there for two days in the local town of Santa Elena. The name Monteverde is synonymous with all that is successful about ecotravel, a model of the best that can be accomplished by community and conservation.
This breathtaking volcano, known as Poas Volcano, which you look down into, was completely enshrouded with clouds. After waiting by the rim for quite a while, the winds picked up and the aqua blue lake in this distance magically appeared out of nowhere.
© 2008, Justin Hawk, All Rights Reserved

The most important tip with Monteverde is that you really do need a guide to be able to point out and locate birds and explain how this unique ecosystem works. They are experts in seeing and hearing sounds and will quickly set up a telescope to view wildlife that would be otherwise impossible to see. Justin even managed to get a great photograph of a highly-prized bird, the quetzal, by placing his digital camera on the telescope. The lower-light capability of digital enabled him to get a photograph that was virtually impossible for me to get with film. Advantage: Justin.

The next day we set off on a self-guided hike on a series of nine canopy bridges which gave us a fabulous perspective of the trees below. Looking down on the vegetation and rivers made it a lot easier to capture the feeling of the cloud forest due to the increased available light and expanse of the landscape that you cannot get when on ground level.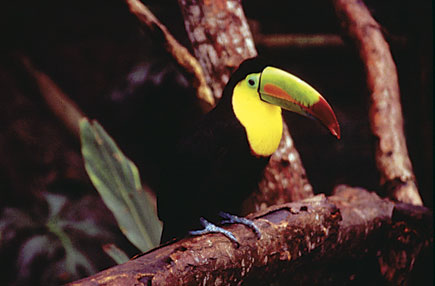 I love the fact that photography forces me to look at life up close while also putting all of my senses into overdrive. The brilliant colors of this toucan are what first caught my attention and then it just became a matter of great patience to capture the right moment in the right light.
© 2008, Daryl Hawk, All Rights Reserved

After being inland for a week, we were anxious to make our way to the coastline and spend the last few days on the ocean in Manuel Antonio National Park. This park is renowned for its beauty and abundance of sloths, and howler, spider, and white-faced monkeys. Shooting early and late in the day is key here due to the intensity of the sunshine lighting. The park's clearly marked trail system winds through tropical beaches and rocky headlands, and the views across the bay to the pristine outer islands are unforgettable.

After we returned to Connecticut, Justin and I agreed that the photo expedition could not have been more successful. We both edited our work the following week. My best slides were sequenced for slide show presentations that I enjoy giving to various clubs and organizations in New York City and Connecticut. I also scanned them onto high-resolution CDs for publication purposes. Justin and I shared our work and came to the conclusion that while digital had certain advantages over film on this trip, the key is to go with the one that gives you the most overall joy and satisfaction, during and after your shoot. Photography is a lifestyle and craft, and your best work will always come from where your heart is and what feels right for you as a visual artist. Advantage: Both of us came away with a wonderful experience and great shots!
On what is known as one of the worst roads in Costa Rica on the way to Monteverde there was this little farm with 20 or so long eared cows. When I tried to get a picture they all stared at me while I was shooting away.
© 2008, Justin Hawk, All Rights Reserved

For more information regarding Daryl Hawk, please visit his website at: www.darylhawk.com.
FEATURED VIDEO