Accessorize This!: My 11 Favorite Accessories For Outdoor Photography
I think my urge to customize cameras comes from a love of cars. I can't seem to leave my cars alone and each one has touches that make it unique. I think that's why everybody gets really personal when it comes to finding, using, and often treasuring photographic accessories, gadgets, and gizmos. It helps if the source is obscure, foreign, and off the beaten track, which only adds to the exclusivity. And why not? The whole idea is to seek out photo accessories that accomplish something camera and lens manufacturers didn't think to make but perfectly fills a niche in your own photographic pursuits.
Here are my 11 favorite accessories for outdoor photo shoots.
Dressing For Outdoor Success
Cotton Carrier's Endeavor belt ($89) supports your camera, ensuring access though a quick-release mechanism. It includes a shoulder strap with safety tether and a small pouch for storing your wallet, phone, keys, or a spare lens. The camera support system is made of polypropylene fitted with a Lexan camera receptacle that holds full-size SLRs as well as smaller mirrorless systems. The Small belt fits up to a 44-inch waist (first time I've worn a Small) while the Large belt fits up to a 61-inch waist.
Cotton Carrier's StrapShot ($79) is a smaller version of the Endeavor and is compatible with a backpack, sling-style pack, or even your belt, although the company recommends you only do that with smaller cameras. StrapShot includes an EV1 (camera) connector, mounting strap, safety tether, and hand strap.
Who's It For: Hikers and outdoor photographers who like to travel light.
Why I Like It: Cotton Carrier produces well-made gear for outdoor shooters as well as outdoor enthusiasts—motorcyclists, bikers, ATV'ers—who like to make photographs.
Camera straps straddle a fine line between fashion and function. For my mirrorless cameras, I like the high style and comfortable straps from Artisan & Artist but I know many of my nature and landscape photographer buddies love BlackRapid's straps. Their Backpack Strap ($34) converts your backpack into a sling strap. The Backpack Strap attaches to any compatible backpack that features either shoulder pad D-rings or webbing loops.
BlackRapid's tripod plate is designed for tripod/sling users and lets you swap an existing Arca-compatible plate with the company's Tripod Plate 50 or 70. This allows you to switch from tripod mounting to an R-strap, without having to unscrew the plate. It comes with BlackRapid's FastenR Tripod screw, fits all 1/4-20 sockets, and is available in 50 and 70mm sizes.
Who's It For: Outdoor photographers who value utility, function, and ruggedness.
Why I Like It: Indestructible build quality makes BlackRapid the Pelican case of camera straps.
Manfrotto's Off Road Aluminum Walking Sticks ($99) are an alternative to monopods, something I hope to cover in a future Geared Up. They're designed for hiking in smooth or rough terrain, sand or snow while supporting you and a camera. The sticks have ergonomic handgrips with wrist straps and feature three-section telescoping twist-to-lock tubes that extend from 23.4 to 52.1 inches. Each walking stick has a spiked base but sand/snow baskets and rubber feet are included. One of the two sticks has a camera mount on its handgrip with a thumbscrew and a 1/4-20 threaded mount with a protective cap covering the mount when not in use.
Who's It For: Hikers, walkers, and casual photographers who find that a walk in the woods clears one's head.
Why I Like It: Having a walking stick is handy for a hiker. Having one that doubles as a tripod is a bonus.
Protecting Your Gear
I've often written about using the free rain covers hotels provide that are usually mislabeled "shower caps" but when you get serious about photography, it's time to get serious about rain gear. Think Tank Photo's Hydrophobia 70-200 ($149) is a serious rain cover for SLRs with a 70-200mm f/2.8 or similar lens. It's made from seam-sealed rip-stop fabric plus polyurethane film and nylon tricot with a high-density shock cord, nylon webbing, and polyurethane seam tape. The Hydrophobia uses weather-resistant zippers and has nickel-plated hardware. For longer lenses, the Hydrophobia 300-600 V2.0 ($169) protects an SLR wearing a 300mm f/2.8 up to a 600mm f/4 and lens hood. The Hydrophobia 300-600 V2.0 uses the same heavy-duty construction and allows full camera operation while protecting it from rain, snow, and even blowing sand.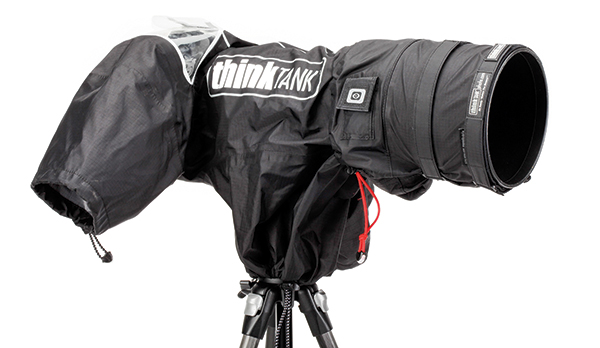 Who's It For: Sports photographers who have to get the shot, weather or not.
Why I Like It: Think Tank's build quality is impressive and will stand up to the weather and abuse shooters will give it.
MindShift Gear offers protection for you when you find yourself working in wet or dirty environments and need a clean, dry work area. The 3.5x5-foot Contact Sheet ($39) is a ground tarp that uses lightweight, waterproof rip-stop fabric to provide a barrier from the elements and stuffs into the (included) mesh pouch to keep it handy until you need it.
Who's It For: For photographers who value utility, function, and ruggedness.
Why I Like It: It's a dirty world out there and sometimes a simple, easy-to-pack accessory, like Contact Sheet, can make it a less grimy one.
LensCoat's TravelHood is a lighter weight alternative to the heavy, rigid lens hood. The TravelHood Large ($119) is designed for 400mm f/2.8, 600mm f/4, and 800mm f/5.6 lenses while the TravelHood Small ($109) is intended for 300mm f/2.8, 200-400mm f/4, 400mm f/4 DO, and 500mm f/4 lenses. The hood is constructed from lightweight water-resistant material with a ribbed design that allows it to fold nearly flat for storage. TravelHoods are available in Black, Realtree Max4, Digital Camo, Forest Green Camo, and Realtree AP Snow.
LensCoat's LensSack Pro series ($119) has a removable aircraft-grade aluminum mounting plate that lets you attach a gimbal or ball head. The plate can be removed, allowing LensSack Pro to be used as a standard beanbag camera/lens support. LensSacks feature the same heavy-duty, water-resistant Cordura as TravelHoods and are delivered empty so you can add the fill of your choice. Made in the U.S.A., LensSacks are available in Black, Digital Camo, Forest Green Camo, Realtree Max4, and Realtree AP Snow.
Who's It For: Wildlife photographers who need to travel light and be inconspicuous.
Why I Like It: Well-made, specialized products like this are a perfect fit for wildlife photographers who need to protect their gear and blend in with nature.
In the past, I've written that "a clean camera is a happy camera" and one of the best ways to keep your lens and shiny bits clean is by using LensPen products. Their OutdoorPro Kit ($34) includes an original LensPen, MiniPro, MicroKlear microfiber cloth, FogKlear anti-fog cloth, and a nylon zipper bag with belt loop. With action cams becoming more popular, LensPen offers their Action Camera Lens Cleaner ($34) for cleaning lenses on GoPro and other action cams.
Who's It For: Everybody who has a camera needs a LensPen.
Why I Like It: Keeping lenses and gear clean makes it possible to see and capture better images and LensPen's quality products have been keeping my gear clean for 20 years.
I've always believed using some kind of protection filter is a good idea, especially when shooting outdoors. One of the problems with using filters on wide-angle or wide-angle zoom lenses is their thick rim can cause vignetting but Cokin's Pure Harmonie Multi-Coated Anti-UV filters are only 3.3mm thick. The series also includes a 4.5mm thick Circular Polarizer and a 9.5mm thick Variable Density Neutral Gray filter that lets you select intensity from one to eight stops.

Who's It For: Shooters working in tough environments with lots of blowing snow, sand, or whatever. It's not for perfectionists who don't mind spending money repairing their lenses.
Why I Like It: The elegant design of Cokin's Pure Harmonie filters is not only aesthetically pleasing but functionally practical.
Little Things Help A Lot
In December I talked about action cameras becoming more ubiquitous and that's also true of accessories for them. Joby's GorillaPod Action Tripod with GoPro Mount ($23) is a mini-tripod designed for action cams and small cameras weighing up to 2.2 pounds, so some mirrorless cameras should work too. It features flexible legs with more than two dozen joints that bend and rotate 360 degrees, allowing you to secure your camera almost anywhere. The rubberized ring and foot grips provide stability and it only weighs 6.7 ounces. An aluminum ball head provides 360 degrees of pan and plus and minus 90 degrees of tilt and it comes with two quick-release plates; one for GoPro cameras and a standard 1/4-20 screw.
Joby's Action Clamp with Locking Arm ($23) offers a simple way to mount an action cam onto flat and round surfaces. The Clamp attaches to objects up to two-inches wide and has a tightening screw for a firm grip. The Locking Arm features two ball joints that can rotate 360 degrees and pivot 180 degrees from side to side. This lets you position your action camera to get the right angle for your shot. You can attach an action cam via a 1/4-20 screw or the included GoPro mount.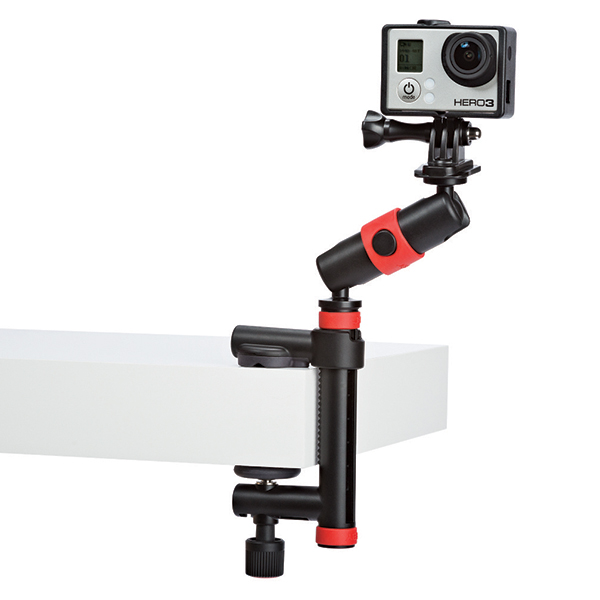 Who's It For: Action cam photographers.
Why I Like It: Long a fan of the GorillaPod (I own two), Joby knows a lot about making compact and versatile support systems.
The Acratech Double Axis Spirit Level mounts into any standard hot/cold shoe mount. It's different from other bubble levels because its double axis allows simultaneously positioning of horizontal and vertical axes. It's an inexpensive ($24) accessory that's perfect for landscapes, especially for panoramic photography.
Who's It For: Landscape photographers, panoramic shooters, and perfectionists who need to keep their images level.
Why I Like It: There are inexpensive bubble levels for cameras available but Acratech's is clearly the class of the field.
Really Right Stuff's Pano Elements kit ($360) combines a panning device for rotating and a nodal slide for positioning your lens at the proper point to eliminate parallax for non-collared lenses from 16mm and up. This package mounts via a built-in dovetail atop your ball head or leveling base. A built-in spirit level and laser-engraved scale on either side permits precise positioning. The clamp features a central 3/8-16 threaded socket and includes a 1/4-20 head for mounting directly to Really Right Stuff and Arca-Swiss ball heads.

Who's It For: Landscape and panoramic shooters.
Why I Like It: Really Right Stuff gear, while expensive, is built like a Hasselblad 500C, solidly and precisely engineered and constructed.
Joe Farace shoots digital SLRs and mirrorless cameras to make personal photographs as well as the images you see in Shutterbug. If you're curious about the specific gear he uses, visit his websites (joefarace.com and mirrorlessphototips.com) and click the Gear tab.
FEATURED VIDEO