Focal Lengths And Faces; Choosing The Right Lens For Up Close And Personal Portraits Page 2
Watch The Eyes
The key to dramatic images of people are the eyes. The eyes draw the viewer into the image and evoke emotion more than any other element in a composition. People focus on eyes first when viewing your image so keep your eyes on your subjects' eyes. The essence of who they are comes through their eyes, but don't insist they look directly into your lens. I ask my subjects to look up, down, away from me, or even to close their eyes. While photographing the two sidelit monks, I directed them to close their eyes, which gave the image a dream-like quality.
(Top): Using a soft/gold reflector can make all the difference in the world. My 70-200mm lens and reflector are all I need to photograph little kids from around the globe. (Above): Using my 70-200mm lens, I asked the two little monks to close their eyes as I had them lean against the wall of a temple. Sometimes this can make a more dramatic shot than if their eyes were open. I used Alien Skin Software's Exposure plug-in to get the rich sepia-toned effect.
In the photo of the little girl in Angkor Wat with big green leaves behind her, I wanted her powerful eyes to look right through the lens. Along with my 70-200mm lens, the one piece of equipment that helped show her persona was my soft/gold reflector. This is one piece of gear that is always in my backpack and it sure came in handy that day. With her face in shade, I needed to lighten her up. With a little coaching, I had my taxi driver become a master of feathering. This reflector produces a warm, more natural light than fill flash. The nice little catchlight that the reflector produced also added just the right touch. The lighting, background, and her intense eyes made for a hypnotic shot.
Tele Candids
Although I love using my wide angle for people, I use my 70-200mm f/2.8 much of the time when photographing faces. Along with providing good background blur, telephoto lenses make the background seem closer by compressing the space and, when open wide, reducing the depth of field. A beautiful f/2.8 or f/4 blur isolates your subject from the background adding impact to the image. The longer focal lengths also allow you to shoot candids unobtrusively without disturbing the subject. However, it's wise to ask permission most of the time. If you had to travel with only one lens for photographing faces, then this lens is ideal. On a recent trip to Turkey, my 70-200mm was the lens of choice for the beautiful teen-ager I photographed in the ocean.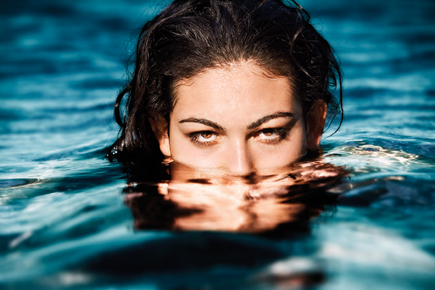 Knowing what I wanted in advance, I convinced this teen-age Turkish girl to model for me in the ocean. I had her go under the water and come up slowly with her eyes open while using my 70-200mm.
Equipment List
Cameras: Canon's EOS-1Ds Mark II, EOS 5D, and EOS 1 with Fujifilm's Provia slide film
Lenses And Accessories: Canon's 14mm f/2.8, 15mm f/2.8, 16-35mm f/2.8, 24-105mm IS f/4, 50mm f/2.5 macro, 70-200mm IS f/2.8, 300mm IS f/4; Canon's 1.4 extender; Canon's 580EX flash; Lensbaby's 1, 2, and 3G
Storage Viewer: Epson's P-5000
Reflector: Photoflex's 32" soft/gold
Tripods, Ball Heads, And Plates: Gitzo's G1228 carbon-fiber tripod, Gitzo's 1158T Traveler carbon-fiber tripod; Really Right Stuff's BH-55 and BH-40 ball heads; Really Right Stuff's Body L-Plates
Backpack: Tamrac's Mini Trekker AW
Scott Stulberg shoots stock for Corbis and SuperStock. Back home in Los Angeles, he teaches digital photography and Photoshop at UCLA Extension and online at BetterPhoto.com. To see more of Stulberg's work, visit his website at www.asa100.com.