Flashpoint Powerstation 800 Li-On Portable Power Pack
Adorama, recently released its new Flashpoint Powerstation 800 Li-On Portable Power Pack. The Powerstation 800 redefines mobile power for location shooters. Now, peak energy demands from studio flashes and constant-draw appliances are no problem at any location with this supercharged battery that converts stored lithium energy into pure sine wave 120v AC power.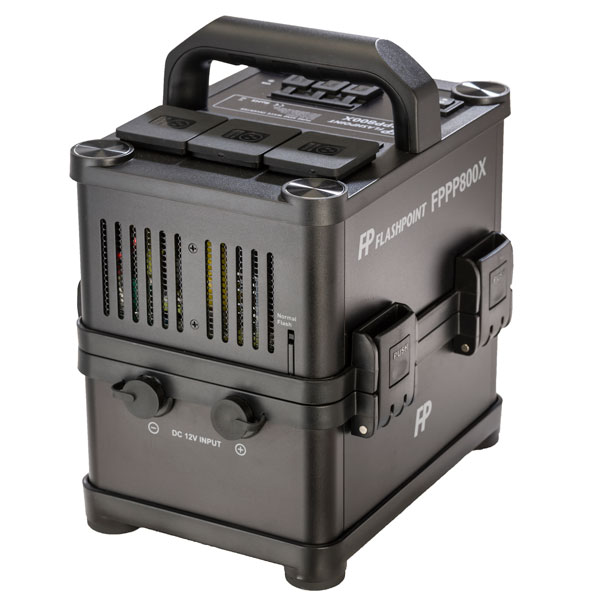 The fan-cooled Powerstation 800 is the ultimate solution for using monobloc and studio flash packs that require stable 120v AC current in any environment. Plug in up to three units and choose from two power modes: one for traditional high peak strobe units up to 3000ws, with the battery life to deliver 500 flashes from a 600ws head, and the other to support constant power flow for laptops, chargers and low power appliances. Three USB ports allow photographers to charge additional devices such as smartphones and tablets.
The Flashpoint Powerstation 800 is a versatile and perfect on-location accessory for the photographer without boundaries. The sturdy and compact main pack weighs only 7.5 pounds, while the separate 8-pound interchangeable 12,000-mAh Lithium Ion battery module serves as a quick swap-in solution for extended sessions. Recharge the battery module with the AC charger in just three hours. Photographers can also run the Powerstation 800 from a car battery. Bring the power of a supercharged Lithium battery and provide AC current to any location with the incredibly portable Powerstation 800.
The Powerstation 800 Li-On Portable Power Pack is now available for $899.95. ThePowerstation 800 Kit with extra battery is available with a discount from Adorama for $1,100.00 USD (extra battery available for $350.00).
FEATURED VIDEO