DNP Launches Faster and Lighter DS620A Dye-Sub Photo Printer for Event Photography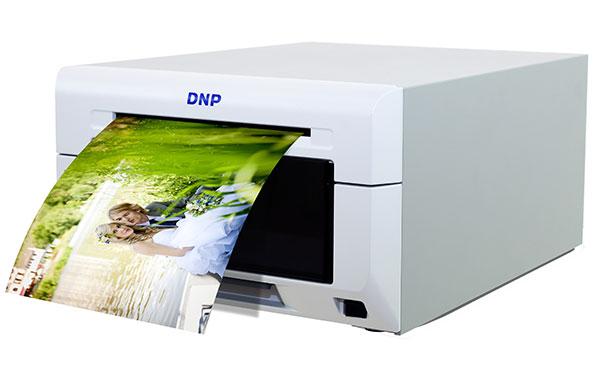 DNP has launched a smaller, lighter, and faster flagship DS620A dye-sublimation photo printer for event photographers. The latest addition to DNP's line of DS Series printers, the DS620A is a compact, pro-grade photo printer and can produce up to 400 prints per hour. Built with an improved thermal print head, the DS620A will also come backed by a three-year Advanced Exchange Warranty from DNP IAM (at the time of purchase).
Measuring 10.8x14.4x6.7 inches, the DS620A is 14 percent lighter than its predecessor. The small footprint allows for easy transportation and stacking with additional printers for high output functionality. The printer's design also features improved aesthetics with a new white color scheme and rounded corners.
The DS620A is capable of producing 2x6-inch (2-up) photo strips, 2x6-inch (4-up) photo strips, 3.5x5-inch (2x), 4x6-inch, 4x6-inch (2x), 5x7-inch and 6x8-inch prints as well as the new 5x5-inch and 6x6-inch square prints in an improved gloss or matte finish. The printer also features a 14 percent increase in image throughput per hour—standard 4x6-inch images are produced in less than nine seconds, while 5x7-inch photos are printed in about 15 seconds. The printed media will also feature a new DNP watermark on the back of each photo.
Environmentally friendly, both energy consumption and media waste have been optimized in the DS620A. A new standby mode lowers costs and increases profitability by making efficient use of energy (<0.5W). The printer also provides advanced status information from the driver, enabling users to check remaining media, media format, printer status, printer life counter, color control data, firmware version and serial number.
The DS620A is compatible with DNP's range of software products, including Mobile Party Print (event photography applications), the Tomo v6.1 kiosk software, the new NexLab 6 order management software and the new print utility software Hot Folder Print Utility for enhanced print workflow in studio and event. DS620A printer drivers are available for Windows XP, Vista, Windows 7, and Windows 8.
The DNP DS620A printer is on sale now for $1,495.
More info on DNP's pro printing solutions here.
FEATURED VIDEO