Covering The Sports Beat; Capturing The Action
This is an excerpt from the book "Sports Photography: How to Capture Action and Emotion" by Peter Skinner.
Australian butterfly swimmer Pierce Hardy of Caloundra, Queensland, powers to the end of the pool. Swimmers are best photographed as they burst above the water. Nikon D1X, ISO 200, 300mm f4 lens, 1/1000 at f5.6.
© 2008, Peter Skinner, All Rights Reserved
Virtually every day we see great sports action photographs in newspapers and magazines. As the term implies, the photographers who made these images have truly "captured the action." Because we see them so often, it can be easy to overlook the skill and talent involved in producing these attention-grabbing photographs. While luck might be involved in making great sports shots, invariably luck favors the photographer who knows what to expect, and is well prepared to capitalize on that fleeting, never-to-be-repeated moment when something extraordinary happens.
Pre-focusing on a spot and anticipating the peak of action is part of a successful formula for Brian Robb. Here downhill skier Lindsey Kildow, USA, competes in the 2005 US alpine championships at Mammoth, California. Canon 1D Mark II, ISO 160, 300mm f2.8 lens with 1.4x extender, 1/1300 at f7.1.
© 2008, Brian Robb, All Rights Reserved
The dramatic image of a skier leaning into a turn after coming over a crest at break-neck speed was made because the photographer knew the exact spot where the move would be executed and was prepared for that definitive shot of a climactic moment. Just before it happened the photographer reacted as skillfully and professionally as any well-trained athlete who rises to the occasion at a critical time. In about the time it takes to blink the moment was over, but it was captured in a photograph.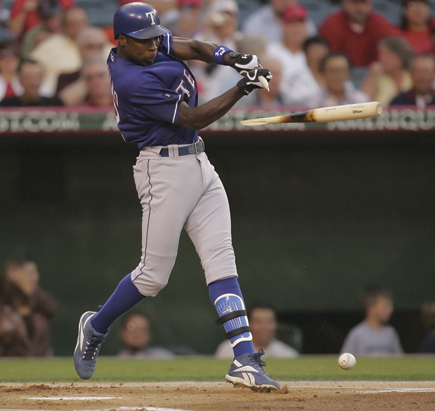 When Texas Rangers second baseman Alfonso Soriano broke his bat, Ben Chen was quick to freeze the action. Canon 1D Mark II, 400mm f2.8 lens, ISO 1600, 1/3200 at f2.8.
© 2008, Ben Chen, All Rights Reserved
In many ways sports shooters are not too different from the sports men and women they photograph. Athletes are competitive and so are top sports photographers. Being prepared, whether you're an athlete or a photographer, is paramount. Nothing out of the ordinary might happen, but when it does you might miss it if you are not prepared.
Nobody knew this young Australian hurdler's shoe would fly off his leading foot but Duane Hart timed it perfectly. Being prepared is vital in making shots like this. Canon D30, ISO 100, 200mm f1.8 lens, pattern metering, 1/1250 at f3.5.
© 2008, Duane Hart/sportingimages.com.au, All Rights Reserved
Location, Position, And Planning
There is no right or wrong way to shoot sports. It's an individual choice based on your own vision, creativity, what you're trying to portray, and to a large extent the access you can get to the action. Most sports are better photographed from specific spots or angles of view and knowing a sport will help you choose the ideal locations. If you're covering a sport such as football, baseball, tennis or any other game where the boundaries are defined, positioning yourself is dictated to a large extent by the way the game is played and the area most likely to produce the shots you're after.
Getting the ball on the racket is a key to great tennis shots like this one of Maria Sharapova powering into a backhand stroke. A long lens isolated her from the background. Canon 1D Mark II, 300 f2.8 lens, ISO 800, 1/2700 at f2.8.
© 2008, Ben Chen, All Rights Reserved
Presuming you are familiar with the sport and know the best angles to shoot from—or conversely, viewpoints to avoid—you still need to plan ahead. Some things might seem basic and logical but it's surprising how overlooking details can sabotage your efforts. Covering outdoors events that are spread over a long course such as a cycling road race, a marathon, triathlon, cross-country ski race, white water kayaking and similar requires special planning. Scouting ahead of time is vital. And have a shot list for specific pictures. This can save you trying to cover everything. Other images apart from the ones you plan will present themselves—they are a bonus for sound preparation.
The intensity of kayak slalom racing is captured as the racer passes upstream through the gate and starts to look downstream to his next gate. Canon EOS 1N, 70-200mm f2.8 lens, Fujichrome Provia 100, 1/250 at f16.
© 2008, Bob Woodward, All Rights Reserved
Know the course and the best vantage points. Keep in mind the time of day, the angle of the sun and how long that spot is likely to be well lit. Ask officials about the course layout. These people want coverage of their events and will probably do what they can to help you but don't leave the approach to the last minute! Also, ask if and when access to any part of a course might be closed. Rushing to a great location only to find it is off limits would be frustrating, to say the least.

Once you've selected the best vantage spots get the approximate times that athletes will get there after the start and how many circuits will be made. An elevated vantage point can be handy and you can even take your own, such as a small, lightweight stepladder, an aid that Bob Woodward uses often.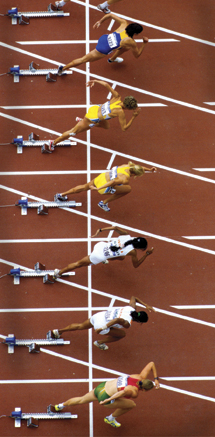 Track events are bounded by lines and lanes, elements of graphic design that the well-trained eye can harness. Duane Hart has done just that in an overhead view of the start of a race at the 2000 Olympic Games. Canon 10D, 200mm f1.8 lens, ISO 100, 1/1000 at f4.
© 2008, Duane Hart/sportingimages.com.au, All Rights Reserved