Brief Moments
How Jon Adams Shot The Yankees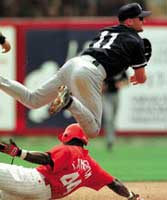 An airborne Chuck Knoblauch puts out the Reds' Mike Cameron and fires to first to complete the double play.
Photos © 1999, Jon Adams, All Rights Reserved
"The best drama in a photograph is when the depth of field is so thin that the subject pops right out of the background."
He gives you the straight goods right from the start: "If you're not going to shoot tight, it's going to look just like everyone else's shot. So get your hands on the longest focal length lens you can."

Free-lance photojournalist Jon Adams, formerly a newspaper photographer with a dozen years experience at the Philadelphia Inquirer, covered the world champion New York Yankees' spring training this year for The New York Times. He carried three Nikon camera bodies--F5, F100, and N90s--and a 400mm lens, often with a 1.4 tele-converter on it. He also fitted an 80-200mm and a 24-120mm zoom on his cameras. "That's a lot," he admits, "but I never knew what was going to be happening and what I'd need. It worked out really well, though. I was able to cover all the bases--no pun intended."
Coach Don Zimmer at the onset of an evening game between the Yankees and the Texas Rangers.
Working with a long lens has an advantage beyond the impact of the photo: "If you can train yourself to work with, say, a 600mm lens," Adams says, "and shoot tight with it, any lens with a shorter focal length really becomes your playground."

Obviously, Adams favors the tight shot: "Get as close and tight as possible, that's my advice. To me, the best drama in a photograph is when the depth of field is so thin that the subject pops right out of the background." Adams feels that many amateur photographers are afraid to open the lens to its widest aperture. "Everyone knows that if you shut the lens down you get better depth of field, but I like to be there when the aperture is wide open. I want that subject to pop out. With autofocus technology today, you can get set at f/2.8 and get that subject to pop.

"And I also like to work at a shutter speed that a lot of people would consider painfully slow, so that the person's face or eyes are tack-sharp but maybe there's some motion blur from the hands or feet. That way I'm capturing a little bit of the action, but I'm not just producing a blurry photograph. I've got the sharp part that catches the viewer's attention, and I've got the motion to show that there's action going on here."

Adams' days at spring training camp began with conversations with the Times reporter to find out what the reporter was working on. "Then I'd be sure to cover the players he'd be writing about or mentioning." That coverage wasn't always easy to get. As Adams says, "The Yankee spring training camp is run tighter than any other training camp I know of. It's fairly restrictive as far as coverage; they pretty much keep the photographers on the first base line. To get something creative under those conditions is a bit of a challenge."
Yankees' manager Joe Torre talks about his battle with cancer at a press conference.
Adams also points out that unlike any other sporting event, or baseball coverage in general, spring training "really isn't about going out and getting peak action shots. It's more feature work, more trying to tell the story of how this team is going to develop for the coming season." From that aspect, photographs revealing personality, characteristics, and relationships were more important than images depicting close plays at third base.

"I'd get to the field early every day and try to photograph all the players the reporter wanted to write about," Adams says. "I'd try to get as much atmosphere as I could, and on the days when they played games, I'd try to get some game action. Then, because I didn't have a digital camera and some of the guys from the other papers did, I'd scramble out of there a little bit earlier than the rest and head to the nearest one-hour minilab, which was at the Wal-Mart up the street."
Mike Stanton (left) strikes a similar pose to that of teammate Hideki Irabu during an afternoon practice.
Adams shot print film exclusively--Fuji Super G, 200 and 400 speed, and Kodak PJ 800--but never received prints from the one-hour lab. "I'd just have them hand me the negs right out of the machine, and I'd dash back to where my computer was setup. I'd edit the negs and then, using a Nikon LS-1000 Super CoolScan and a Mac Powerbook 1400, I'd scan and transmit the images to the paper. They'd get the digital files and do whatever they needed to do--crop or manipulate the color a bit--and publish.

"Basically I was competing for space on the sports page against all the other sports that were going on--and remember that when I was down there doing spring training baseball, there was a lot of competition, including college basketball heading toward the final four."

Adams says that as a photojournalist, he's gotten quite adept at doing his editing by simply looking at the negatives. "I wouldn't send them everything," he says, "but they want a lot--about 15 or 20 images a day." For impact, he'd sometimes do a little cropping on the images he sent: "When those pictures popped up on the screen in New York, I wanted them to be real grabbers."
After learning he's been traded to the Toronto Blue Jays in a deal that brings five-time Cy Young Award winner Roger Clemens to the Yankees, pitcher David Wells makes his way past reporters.
As things turned out, Adams' daily routine was, in fact, more plan than practice. This was, after all, the New York Yankees, world champions not only of baseball, but of drama as well.

"The first day I go walking into the tunnel at Legends Field, heading to the clubhouse, and the Times reporter comes up and points to the clubhouse door. He says, `Whoever comes walking out of that door, carrying his bag--he's just been traded.'"

The trade turned out to be the David Wells deal, in which the Yankees exchanged the popular left-hander, who'd pitched a perfect game during the '98 season, and two other players, for Roger Clemens, the rapid-firing hurler who's won five Cy Young awards and has a lock on the Hall of Fame.

"But Wells never comes through the door," Adams says. "He's already up in the executive office. When that word gets out, the photographers and reporters, who've been hanging around in the tunnel for an hour or so, head off to the main lobby area. There the Yankees' press guy says they're going to make an announcement out on the field, so most of the reporters head out there. The rest take off for the parking lot hoping to see Wells as he gets to his car. But I'm thinking, maybe there's another way for Wells to get out of the place. So I hang around the lobby. Sure enough, the elevator door opens up, Wells comes out, he's got his walking papers in his hands, he looks dejected. I pop off about six or seven images. A couple of reporters who stayed behind try to talk to him, but he says not now, he's too upset, and out the door he goes. And I'm the only one there with a camera to get that."
Derek Jeter scampers back to first base in a game vs. the Blue Jays.
Two days later, Roger Clemens arrived. "There's a big press yahoo for that," Adams says. "Then Clemens went and pitched a little in the bullpen and we shot that, and then as he was walking along the first base line he did something unexpected--he stopped and signed some autographs for the fans. That turned out to be a great opportunity and the paper ran my shot, in color and real big on the front page of the Sunday sports section. It looked great."

But there was more to come. "It was one thing after another, and not any of it good. Joe DiMaggio died. Joe Torre announced he had cancer. A lot of attention was paid then to Darryl Strawberry, who had had chemotherapy for his cancer. So that spring training really wasn't about covering action sports; it was covering news in the sports world, human interest and feature material. It required a photographer to be flexible and diverse."

Flexibility was the main reason for Adams' film choice. After all, why 800 speed for baseball? "I knew I'd have to do a lot of indoor shooting in low-light situations because of the nature of the assignment, that it wasn't all action. I also used the high-speed film because I'd just gotten a 24-120mm zoom; that's a great range but it's an f/3.5-f/5.6--not a fast lens. If you want to carry less equipment, that's a good lens to have, but in low-light situations I had to compensate with the 800 speed film.

"I was also boosting the focal lengths of the lenses with a 1.4 and a 2x tele-converter, so I could be going from f/2.8 to f/3.5 and f/5.6 depending on the combination of lens and converter. On a bright sunny day, that's not a problem, but on a day when it's overcast, I want to go with the faster film."

Adams shot with a monopod when the lenses were 300mm or longer. He's a believer in the old rule of thumb: it's best to pick a shutter speed not much slower than the focal length fraction. "I'll shoot at 1/500 sec with a 600mm lens," he says, then adds, "I've actually shot at 1/320 sec with the 600; not every photo is going to come out dead tack-sharp, but if I fire off a burst of three or four frames, I'm going to nail one of them."

He recommends making a conscious effort to shoot at slower shutter speeds. "If you train yourself to do that, you'll become more comfortable at slower speeds. I think in the long run you'll do better at all speeds--the faster speeds will be gravy."

Adams says that photographing baseball isn't as action-packed as one might think. "It's often long moments of boredom and a few moments of great action. You can be lulled to sleep by a pitchers' duel and all of a sudden there's a great action shot at second base, and if you're not on your toes you're going to miss it."

For a pro, coverage is based on the assignment. "Sometimes I have to be there three innings and get out fast to make a deadline; other times I'm there for the whole game. Working for the Associated Press, for instance, it's a couple of peak action shots and out. For the Times, I'm looking to tell a whole story with my pictures. A magazine photographer might be profiling a player and concentrating on him. The assignment is the key to your approach and what you're going to do."

Overall, Adams' advice is to "zig when everyone else zags. When they go in one direction, you go in the other. I got that advice from the newspaper photographers at the Philadelphia Inquirer, and it's paid off, like in the David Wells shot." He agrees it can be a risk, a roll of the dice, but he says, "You don't get a better picture than everyone else by doing what everyone else does."

Adams has also found that sports photography pays off in other areas. "Early on, when I made a conscious effort to be good at shooting action photography, I found that the more I tried to be a better sports photographer, the better a portrait photographer I became. I think that reflexes have something to do with that, but mostly it's learning when to nail the moment. When you do a portrait of somebody, whether it's an environmental portrait or an action portrait or just a photograph of someone sitting down, no matter how still the shot, there's always a peak action moment where he gives you the expression you need. Like those photographs of Joe Torre and Don Zimmer--I didn't make them have those expressions, but I knew when to hit the shutter. They're not what you'd call action shots, but they are examples of those very brief moments that if you get them, make all the difference in your pictures."