Cecilia Leather Camera Backpack and Camera Messenger Bag Review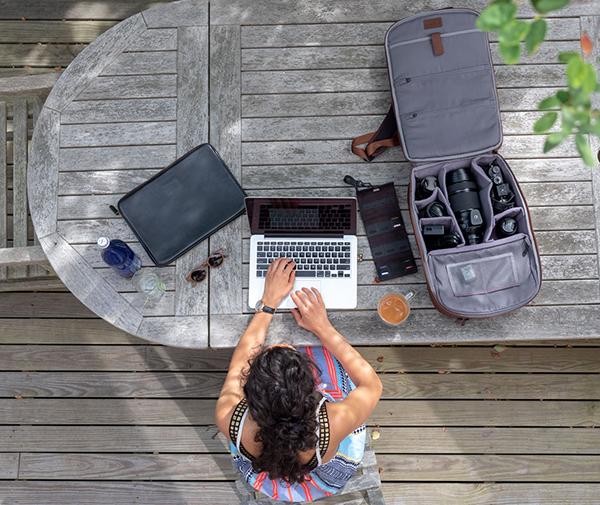 Recently Cecilia, manufacturer of luxurious leather neck straps, wrist straps and other leather accessories, launched an impressive lineup of leather and leather-trimmed canvas camera backpacks and messenger bags. Available in chestnut or black leather, and water resistant charcoal cotton canvas with chestnut leather details, these are beautiful, durable and practical, and would be a very memorable holiday gift for someone you love or yourself.
Cecilia is an outgrowth of the Cromwell Leather Group, an American company that dates back about 160 years to European craftsmen. In 1995 Cromwell became the largest supplier of leather products to Coach Leatherwear. Every product they make is created with a passionate commitment to quality that has been handed down for five generations.
I first became acquainted with Cecilia at a Photo Plus Expo a few years back when I happened upon their display of extraordinary leather camera neck straps and wrist straps (review here). I was fortunate enough to preview their new luxury line of leather camera backpacks and camera messenger bags when the first prototypes were produced several months ago.
There are two camera backpacks and two camera messenger bags. All four pieces are available in leather or canvas and feature subdued, under-the-radar styling.
Camera Backpacks
The largest piece, the Mercator Camera Backpack, weighs 3.2 pounds and measures 19 x 11.75 x 6 inches. It features a cushioned sleeve for a large laptop (up to 15 inches) and will accommodate one or two DSLRs and six or seven lenses, depending on how you pack. The Humboldt Camera Backpack is slightly smaller (17.5 x 10.75 x 5.75 inches) and weighs 2.85 pounds. It accepts a 13-inch notebook and fits a DSLR and up to about six lenses, again depending on how you position the internal padded dividers. Both camera backpacks include rain covers and sport a hidden tripod pocket. Functionally, both offer access to gear via a zippered top opening and open fully through the back for easy loading and unloading.
Camera Messenger Bags
The Lambert Camera Messenger Bag and the Tharp Camera Messenger Bag both feature a magnetic flap opening, front accessory pocket and a secure main compartment zipper closure. The Lambert, which checks in at 10.75 x 15.25 x 5.75 inches and 2.8 pounds, also offers a sleeve for laptops or tablets (13-inch or smaller) and a luggage trolley pocket. The Tharp Camera Messenger Bag features a molded EVA foam back panel for extra comfort and ventilation, and specs out at 8.75 x 12.25 x 5.25 inches and 1.8 pounds. Both bags will stow a compact DSLR and two lenses (maybe three in the Lambert, depending on lens size).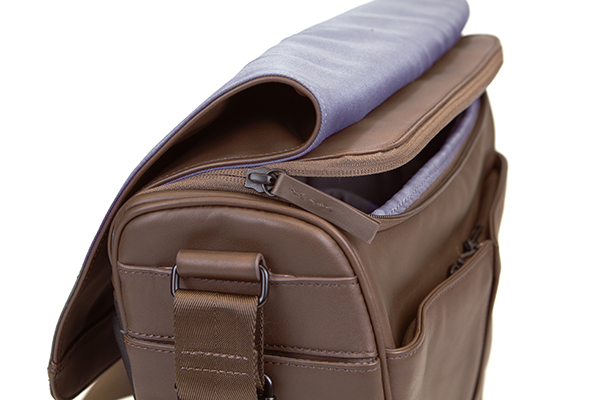 The names, by the way, were chosen to honor history's most famous mapmakers. They were selected to reinforce the desire for exploration and adventure. The perspective, size and relative location of world land masses routinely used for nautical navigation is based on Mercator projection, for example.
Conclusion
The samples I previewed months ago were prototypes, but even so they were meticulously made and fully functional. When I saw the final mass production products I confirmed that the high quality, fit and finish all matched the bags I tried out earlier.
These bags catch admiring glances, as happens with top-shelf leather products, but they don't call attention to the fact that they're filled with camera equipment. The styling is covert and subtle—and that's good. The genuine leather naturally ages and acquires a unique patina and special character that makes each bag as individualized and personal as a leather jacket or denim jeans.
If you'd like to add a touch of elegance to your Casual Friday attire, hang one of these on your shoulder. You'll look like a million bucks without spending a million bucks.
Pricing and Availability
Cecilia leather camera backpacks and messenger bags will begin shipping in early December and can be ordered directly from Cecilia's website or requested through your local photo specialty store. Pricing ranges from $149 to $398 for the leather-trimmed canvas models, and $249 to $489 for your choice of black or chestnut leather.
—Jon Sienkiewicz
FEATURED VIDEO