Canon Unveils DSLR-Style XC10 4K Video Camera with 12MP Still Photo Shooting
Canon just unveiled the XC10, an intriguing new lightweight, hybrid video camera that can shoot 4K video and capture 12-megapixel still photos. This new Canon 4K camcorder will also let you pull out 8MP still images from the 4K video on the fly, letting you capture both motion footage and photos in one shoot.
The Canon XC10 features a one-inch 12MP CMOS sensor and a built-in (i.e. non-interchangeable) 10x zoom lens with a 2x digital teleconverter and optical image stabilization to help steady shaky, zoomed-in video and photos. The XC10's 10x lens offers a 35mm-equivalent zoom of 24.1-241mm for still photos, and 27.3-273mm for movies.
The larger-than-average (for a camcorder) 1-inch sensor in the Canon XC10 should also "give you nice drop-off and bokeh" for professional-looking blurred backgrounds when shooting photos and video, according to a Canon spokesperson who gave us the scoop on the XC10 ahead of today's announcement.
The new Canon 4K camcorder is designed for photographers and other visual artists who are interested in shooting in 4K but don't want a big, bulky video camera and don't want to spend a ton of money, Canon said. The Canon XC10 has a vari-Angle LCD monitor with a capacitive touch-panel with a rotating handgrip, letting you shoot from a variety of angles and levels.
Measuring less than five inches in each dimension (approx. 4.9 x 4.0 x 4.8 inches, WxHxD) the Canon XC10 weighs only 2.3 pounds when loaded with an LP-E6 battery pack and two memory cards. The Canon spokesperson said the portable XC10 could, theoretically, be mounted on a UAV (unmanned aerial vehicle) and used to shoot aerial footage. "This is going to be big for the drone world," the spokesperson said.
The Canon XC10 was announced ahead of the big NAB show, which opens in Las Vegas, NV next week. It will go on sale in June 2015 for $2,499 with a SanDisk 64GB CFast 2.0 card and card reader.
Here's a breakdown of more of the key specs of the Canon XC10.
Canon XC10 Features
• 12-Megapixel Canon CMOS sensor delivers up to 12 stops of dynamic range
• 10x Wide-Angle Zoom Lens offers a 35mm-equivalent zoom ratio of 24.1-241mm for still photos and 27.3-273mm for movies while remaining compact because of the use of two UD lens elements, two Hi-UD lens elements, and a three-surface, two-piece aspherical lens
• Powered by Canon's DIGIC DV5 signal processor to support in-camera 4K video acquisition and 5-axis image stabilization (full HD only) as well as slow and fast motion recording
• Uses two new video codecs: when recording 4K, the higher image quality XF-AVC Intra codec is used; for Full HD recording XF-AVC Long GOP is used to maintain good image quality and efficient data rates.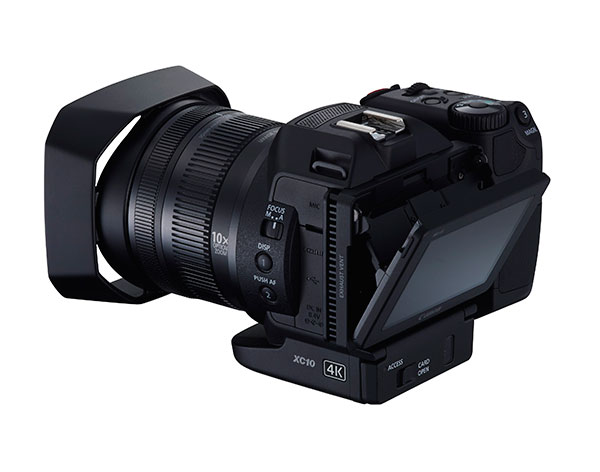 • The XC10 camcorder can record in Canon Log Gamma, Wide DR or EOS Standard picture modes for better color correction, and to allow for greater ease in matching looks with footage from other cameras in the Cinema EOS camera system
• Dedicated focusing ring and a Push AF button offers easier manual focusing operation, while a Continuous AF mode with Face Detection lets you hold focus while tracking subject movement.
• Dedicated microphone and headphone jacks and a built-in stereo microphone for professional sound monitoring
• Vari-Angle LCD monitor with a capacitive touch-panel and a rotating hand grip to let you shoot movies and stills from a variety of angles and levels.
• Incorporates built-in dual-band 5GHz and 2.4 GHz wireless networks to let you operated the camcorder remotely through a web browser, a compatible smartphone or a tablet
• The wireless function also provides browser previewing of recorded images without having to remove media from the camcorder.
• The camera can be used hand-held or with camera-support accessories, such as ultra-low-angle car mounts or drones
• Offers slow- and fast-motion recording, multiple picture settings with a variety of looks, and interval shooting for time-lapse still photography
• Records cinematic H.264 4:2:2/8-bit MXF 4K (UHD) 3840 x 2160 movies to an internal CFast card or Full HD 1920 x 1080 video to an SD card at multiple frame rates up to a maximum of 305Mbps/29.97P in 4K and 50Mbps/59.94P in Full HD.
• Offers 12-stop dynamic range Canon Log recording and 4K 30p movie playback via its HDMI 1.4 output port to support different workflow options
• Still-photography features include a mechanical shutter to help eliminate rolling-shutter distortion, up to 3.8 frames-per-second performance, support for multiple aspect ratios, and compatibility with EOS system accessories including the Battery Pack LP-E6N, Speedlite flash units, Canon GPS receivers, and remote controllers.
• Built-in ND filter, and ISO speeds can be set from 160 to 20,000
• Optional Canon accessories include a Direct Viewfinder for eye-level shooting in bright conditions.
More info on the Canon XC10 and the companies other new products from the NAB show here.
FEATURED VIDEO