Bagging It: My Favorite Travel-Friendly Photo Packs, Bags, and Cases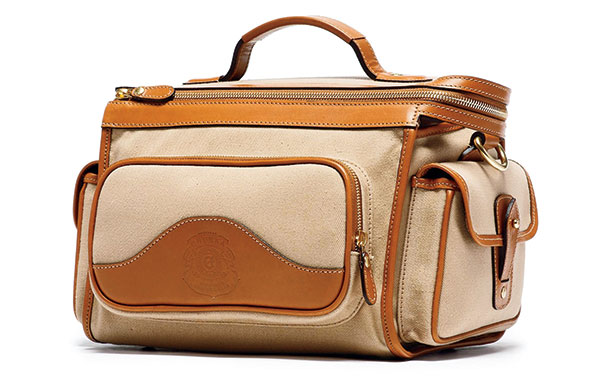 It seems as if there's a camera bag for everyone but one thing is certain—I'm sure it's true for you as well—I've got more camera bags than I need! We're constantly tempted by bags combining functionality with style, from surplus military bags beloved by hipsters to the $2,000 Ghurka Rangefinder No. 57 bag to toss onto your Bentley's back seat. Todd Hutchings, a commercial photographer on the Monterey Peninsula, introduced me to his use of sports bags to carry equipment because they disguise the bag's purpose from thieves. Other approaches include the Orvis Montana Kit Bag, which has a large compartment with a U-shaped zipper for access, front slash pockets with Velcro tabs, and six loops for chokes or film or whatever.
This month's column isn't the final word on the subject of photo bags but rather an overview of some of what's available. If I missed your favorite brand drop me a note (via www.joefarace.com) and I'll be sure to look at it for next time.
My Favorite Bags For Small Cameras
It's obvious that a bag has to protect your gear but what else should it do? After arriving at a location, it's important that you can easily get to everything inside the case. For some shooters, backpacks provide the best access and one of the few available for mirrorless cameras is Think Tank Photo's Perception Pro. It holds a camera body with a small to medium zoom, four or five lenses, and a 15-inch laptop or 10-inch tablet. The bag has cinch cord pockets and room for a jacket, food, or water bottle. Exterior dimensions for the largest of three versions are 11.4x18.9x7.9 inches with prices ranging from $89.75 to $149.75.
Domke's Trekker looks great for a mirrorless system and is available in Black or Military (olive drab) both with black webbing. It has a detachable shoulder strap and comes with a single divider. The $147 bag measures 5.5x4x5 inches, has an expandable front pocket, an expandable YKK zippered side pocket, and a zippered mesh pocket on the front flap. Zippers are an important component in bag design: wedding photographers need quiet zippers and watertight zippers can be indispensable for when the location gets wet.
There's something about Billingham bags that's quintessentially British. The Hadley is available in three sizes, including the Pro, which features a full rear compartment and top handle. The Hadley Small works best for a mirrorless camera, lens, and flash. A padded insert snaps in and out and you can install additional inserts for different gear, including video. The bag has two front accessory pockets for cords, cables, and batteries. Front straps allow expansion. A one-piece front flap extends from the rear of the bag, reducing the number of seams and enhancing weather resistance.
Leica shooters have bags made just for them: Ona's Berlin II ($399) has a Leica red interior that's padded with closed-cell foam to accommodate a Leica M, three lenses, tablet, and small items. The Berlin II measures 11x8.5x3.5 inches, weighs 3.1 pounds, and features a zipped organizer pocket, removable top handle, back pocket, and antique brass buckles. The Schedoni for Leica bag costs $4,500 and is handcrafted from 112 individual pieces of northern Italian saddle leather. Dividers can be configured to customize sections for cameras, lenses, and accessories.
My Favorite Bags For SLRs
Tip: Make sure a bag is comfortable when packed. Handles and harnesses can reduce the fatigue of carrying lots of equipment and one of the most overlooked features is the shoulder strap.
Gura Gear's $199 Uinta is constructed with adjustable and breathable waist belt and shoulder straps. It works for both SLR and mirrorless cameras, depending on which interior module you select, and can serve as a gear bag or daypack. It's built for multiple access. There's a door on the front, a compartment for a 17-inch laptop or tablet, and two doors on the back. A waterproof rain cover is included.
For $199 Kelly Moore's stylish Brownlee incorporates a "basket" design that can be removed, converting it to an everyday bag. The basket includes five padded, removable, adjustable dividers with space on either side of the basket to store an iPad and notebooks. The bag will hold a pro camera body or standard body and grip with lens attached. The Brownlee measures 15x7.5x12-14 inches and weighs 3.5 pounds.
One of the best bargains around is Case Logic's $89.99 Reflexion DSLR + iPad Medium Cross-body Bag that has a protective pocket for a tablet and a removable camera pod for an SLR, additional lens, and flash. Oversized zippers and a wire-mouth opening provide access and a zippered lid pocket offers small item storage. Made from heathered material with eyelets and custom-made press stud buttons, it's a good-looking bag that has a front zippered organizer to store a wallet, passport, and accessories. An anti-slip bottom protects the bag from dirty and wet surfaces.
The stylish Tote & Shoot Camera Bag from Shootsac ($199) measures 13.5x17.5x1.5 inches and (empty) weighs 4.5 pounds. A side-loading camera pocket is separate from the main section and you can unzip a back pocket to use as a trolley sleeve for hands-free travel through an airport. A vertical neoprene pocket lets you carry an extra lens or water bottle and keeps delicate items upright inside the bag's main section.
My Favorite Bags For Large Setups
Tip: Ask yourself how much weight the bag can carry? But don't overload it. Remember you still have to be able to pick the bag up.
At $429, Gura Gear's Bataflae 32L is a 14x21x9-inch backpack that holds a pro SLR with a 500mm f/4 attached or an 800mm unattached. The interior contains adjustable touch-fastened dividers. The pack's butterfly access system exposes the interior without opening the entire bag. Expandable exterior mesh accessory pockets compliment multiple interior mesh pockets. The front has two full-length pockets that can be used for ID, tickets, and passport.
Pelican is famous for their seemingly indestructible cases. Their ProGear S115 Sport Elite backpack has a rigid front plate to protect camera gear and holds 15-inch laptops plus Apple's 17-inch models. A compartment with padded dividers stores multiple bodies, lenses, and flash while quick-clip side straps let you attach full-sized tripods. It costs $329.95, measures 18.5x13x10 inches, and has a floating ergonomic lumbar/shoulder strap with ventilated back panel for comfort.
Golla is a company new to me but makes an interesting assortment of bags for SLRs and mirrorless cameras, including the Mauro Camera Bag M. Its shoulder bag design lets you carry a compact SLR and accessories, keeping gear close at hand. The 9.8x7.5x5.5-inch Camera Bag M is made from weather-resistant material with an interior featuring padded walls with adjustable dividers with pockets for accessories.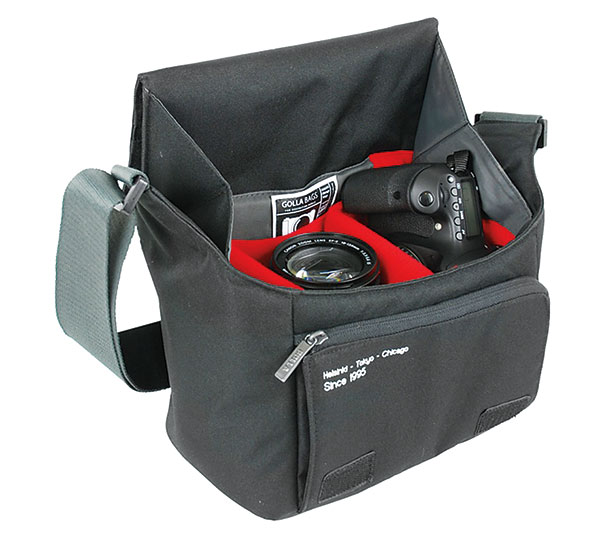 Filson, who's been making products in the U.S.A. since 1897, offers the handmade Original Sportsman Camera Bag ($395). It's made from weather-resistant tin cloth and twill with modular dividers and multiple pockets for storage. It measures 16x10.5x8.5 inches and has snap-closure leather handles and a two-inch twill shoulder strap.
My Favorite Stylish Bags
Mary loves her beautifully crafted Artisan & Artist COV-7000 that looks more like a tote than camera bag. It's made from water- and stain-resistant #6 canvas with leather accents, handles, and straps. The stylish bag measures 13.8x10.6x4.3 inches and weighs 2 lbs, 6 oz.
Jill-E makes bags for photographers who value style. Mary is especially fond of their red Rolling Camera Bag ($364.99) that holds a couple of SLR bodies, three or four (moderately sized) lenses plus a 17-inch laptop. Measuring 20x9x15 inches, there's room for extra batteries, memory cards, accessories, and personal items. It has a telescoping handle and heavy-duty rollers to make travel convenient.
Vanguard has been stitching bags for more than 25 years with many offerings, including the affordable ($89.99) Havana 41 backpack that brings out my inner Indiana Jones. You can remove the padded camera insert, turning the dual-purpose Havana 41 into an everyday backpack. Either way, there's a pocket for a 13-inch laptop. It's covered in 600D polyester, measures 12.3x9x16 inches, and has adjustable harness straps and a grab handle.
Naneu is known for its hybrid backpacks. Their $187.99 Sahara 217f functions as a camera or laptop backpack that holds 17-inch computers. To minimize back strain it has an ergonomic back support system with adjustable padded shoulder straps as well as chest and waist straps. The 19x14x9.5-inch bag is made with water-resistant 500D Kodra nylon with an interior pod covered in 210D rip-stop nylon. A seam-sealed rain cover is made from 210 Taffeta.
Tenba's ($239.95) Shootout Backpack 24L was designed to be comfortable for hikers and adventure shooters but has a professional look not out of place at a wedding or executive portrait session. The 24L backpack holds one or two SLRs and four to six lenses plus a 15-inch laptop and weighs four pounds. Pivot Fit straps automatically adjust to different shoulders and are covered in a moisture-wicking Lycra. It also meets airline carry-on compatible requirements.
Tip: Many location photographers are hard on their cases and when they fly, pack camera bags inside hard cases.
Domke's Metro Messenger is part of the Metro series of satchels, courier and messenger bags and is available in Black and Military. The $342 bag measures 21x5x12 inches and has top access with double YKK zippers, an expandable zippered side pocket, stacked front slide pockets, and a rear slide pocket. There's a foam-lined laptop cargo pocket with double zipper. All hook and loop fasteners use a "Quiet" system to keep noise down during calm moments during events.
My Favorite Do-Everything Packs
Lowepro's Transit Sling 250 AW ($99.99) backpack measures 10.0x6.7x16.9 inches with an UltraFlex system to fit, organize, and protect camera and personal gear via a central divider, lens cradle, and smaller padded dividers, all of which have hook/loop fasteners. When the sling's rotated from back to front side, a zippered compartment allows easy gear access. There's a mesh-covered backpad for comfortable wearing and a hideaway tripod mount that lets you secure a compact tripod to the bag's side.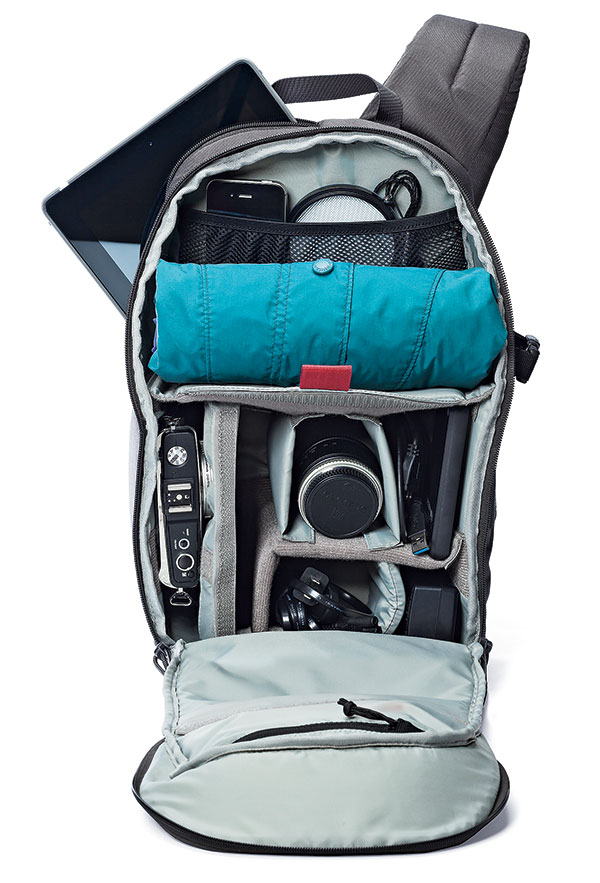 Tamrac's $175.95 Evolution 8 holds an SLR with an eight-inch lens, additional lenses, flash, and accessories. It can be carried as a back or a sling pack and allows gear to be accessed through a front or two side doors and has two memory card pockets and a lens caps storage pocket. (I like this idea.) A foam-padded pocket holds laptops up to 15.6 inches. The bag measures 12.5x8.75x19 inches and has a mesh pocket inside the front door for small accessories, another in the top and yet another on the inside door panel. The pack has a QuickClip tripod attachment system and a removable rain cover.
The upper part of Manfrotto's Advanced Travel Backpack ($149.99) is dedicated to personal items, while the bottom provides quick access to a camera with lens attached, two additional lenses, flash, and accessories. A 13-inch laptop fits in a compartment on the back. The floor of the upper section can be unzipped and dividers removed to convert it into an everyday backpack. It measures 18.9x11.8x9 inches and a tripod can be attached or carried in the side extendable pocket.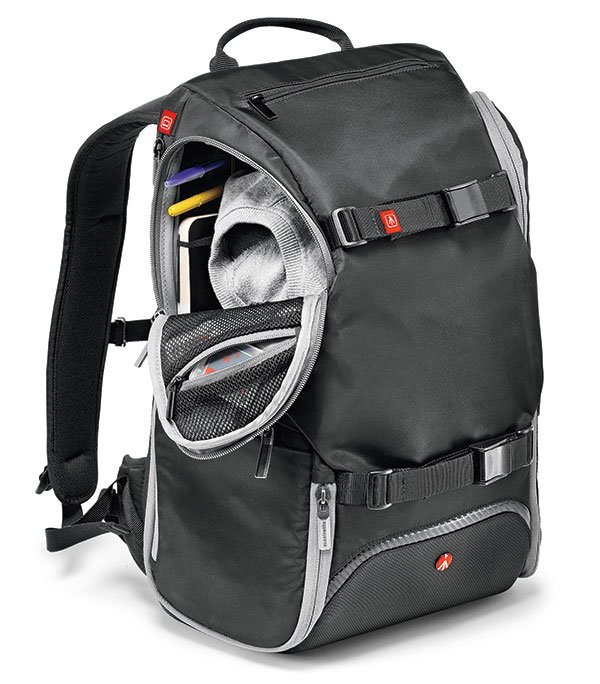 Lightware's $214.95 Digital Messenger Bag MB1606 holds an SLR with two to three lenses and accessories. It has a slim profile and a padded, adjustable shoulder strap and a carrying handle with a quick-release buckle. The fabric on the ends folds into the case so you won't have an open end and stops dust or rain. The MB1606 is made from ballistic nylon, has exterior dimensions of 17x5.5x12.5 inches, and weighs four pounds. The bag has a sleeve on the back of the case for the handle of Lightware's Roller Case to slip through when traveling.
MindShift Gear's rotation 180˚ Panorama is a travel/outdoor backpack that rotates, giving its wearers access to camera gear, such as a Nikon D800 with a 24-70mm lens or a Canon EOS 5D Mark III (horizontally) with a 16-35mm f/2.8 lens attached plus a 24-70mm f/2.8 lens, in a lower beltpack without having to remove the entire pack. For stability, the backpack has a curved back panel with an aluminum stay. It's airline carry-on size compliant, measures 9.8x19.7x8.3 inches, and costs $199.99.
Billingham's Photo Eventer ($650) is weatherproofed by using a three-mil layer of polypropylene that's sandwiched between a top and bottom layer of fabric, including its leather edging. The bag can accommodate a multi-body SLR kit, including a wide variety of lenses. Two 9x7-inch front dump pockets hold cables, cords, connectors, and batteries. The bag's interior measures 10x14x4 inches and a full-length compartment holds a tablet or netbook. The front flap covers the bag's top and secures using Billingham's "clog bolt" system. This flap covers the front pockets, which are expandable utilizing buckles.
Ona (to feel in Swahili) manufacturers high-end camera bags constructed from full-grain cowhide leather, waxed cotton canvas, and closed-cell foam. The Prince Street bag ($279) is available in several finishes, including a Field Tan that has an Indiana Jones feel. It's handcrafted using waxed canvas and accommodates an 11-inch laptop or tablet, camera, up to two lenses, and small items. The Prince Street measures 12.5x10x4.5 inches and has a removable top-grab handle and a back pocket for additional storage.
You can see travel images on my blogs, including "Saving the World, One Pixel at a Time" (www.joefaraceblogs.com) and "Mirrorless Photo Tips" (www.mirrorlessphototips.com). Drop by to see what's up and read some travel photography tips, even if it's just about making images "right in your own backyard."
Product shots courtesy of the respective companies.