Autumn In The Landscape
While it might seem odd to have fall colors in late winter, we thought we'd take advantage of the crop of image ops available when the contest began (those luscious fall hues) and to have a bit of color to fight off the winter blahs right now. In any case, readers sent in a host of images from all around the country showcasing the fantastic colors and richness of that very special season. Editing from all the photos received was tough, but we found numerous images that we hope that for you, like for us, was a reminder that seasons do change and that gray and cold (at least here in the Northeast) is not how it always is outside. Please note that while we did not limit the post-processing allowed on these images we tended to choose those where processing enhanced the image and did not overwhelm it.
Morning Fog
Rocks And Reflections
Fallen Leaf
Connecticut Countryside
Leaves In A Pond
After The Rain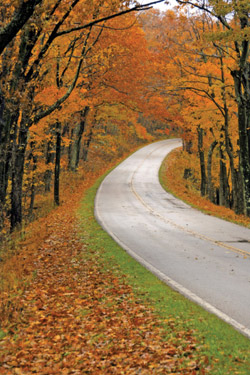 Aerial View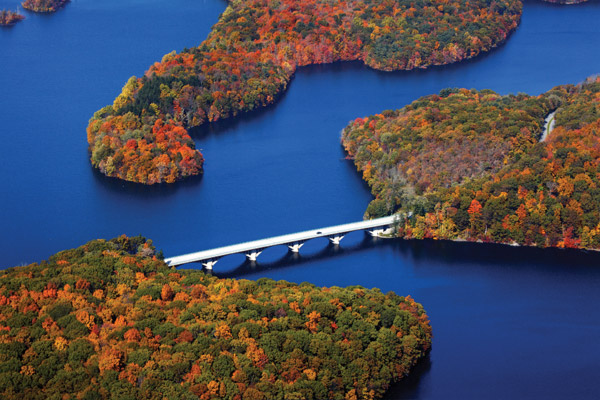 Cottonwood Autumn
HDR Autumn
Calgary Countryside
Out For A Walk
Indiana Autumn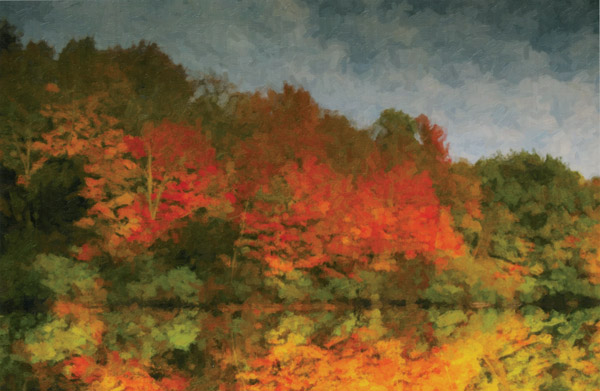 Autumn Stream
Fall Hike
Vivid Colors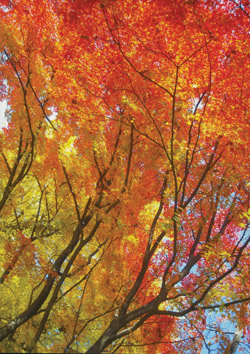 Picture This! – Our Next Assignment
City At Night
Our next Picture This! assignment is "City at Night." The excitement, color, and patterns of a city at night make for great photographic subjects. Working handheld or using a tripod, we're looking for scenes that depict the sometimes romantic, sometimes chaotic urban landscape. Use architecture, neon, or even tail lights streaking down streets to create how you see the city around you. This photo on New York's 42nd Street was made with a Canon EOS 5D and a Sigma 8mm f/3.5 EX DG lens with an exposure of f/4.5 at 1/13 sec at ISO 400.
Please Read This
It is important that you read and follow these guidelines. We need to follow this procedure because of the large volume of images we receive. If you have any questions, please e-mail us at: editorial@shutterbug.com.
1) Images sent to us cannot be returned. You retain complete copyright over the images, but do grant us permission to print your image(s) in the magazine and on our website, www.shutterbug.com.
2) Because images are not returned please send a quality print or duplicate transparency. We will not accept or view images on CD, ZIP, or any other electronic media.
3) Images will be selected on the basis of content and technical quality. Please mark your outer envelope with the topic of the month (for example, "Wide View").
4) Enclose a short caption with the image stating camera, lens, film and exposure, plus location. If you are submitting an image with a recognizable person we must have a model release or signed permission from that person to reproduce their image in the magazine and on the website.
5) Please submit no more than three photos for consideration (4x6 up to 81/2x11).
Send your image and information to:
Picture This! Shutterbug Magazine,
1415 Chaffee Dr., Suite #10, Titusville, FL 32780.
Deadline for submission: May 15, 2012.
Images will appear in our August 2012 issue.
Our next topic: Stacking & Tele-Compression
Deadline: June 15, 2012
Publication Date: September, 2012
Please note: We receive hundreds of submissions for Picture This! each month and want to be sure we properly identify each image we publish. Please be sure to attach your name and image information to the back of each submission.
Want to see images selected for past Picture This! assignments? Go to www.shutterbug.com and click on Picture This! in the "More Articles…" box on the homepage.
FEATURED VIDEO