7 Favorite Camera Bags of 2019
A certifiable ton of camera bags crossed our workbench in 2019. Here's a look at our 7 favorites.
I see more bags than the technician who injects Botox under the sagging eyes of Hollywood has-beens. Lucky for me, I'm looking at camera bags, photo backpacks and other contraptions built for camera conveyance—not droopy eye sockets.
And 2019 was a good year for camera bags! Somehow the bagmakers manage to continuously improve quality, style and innovation. The following are in no particular order.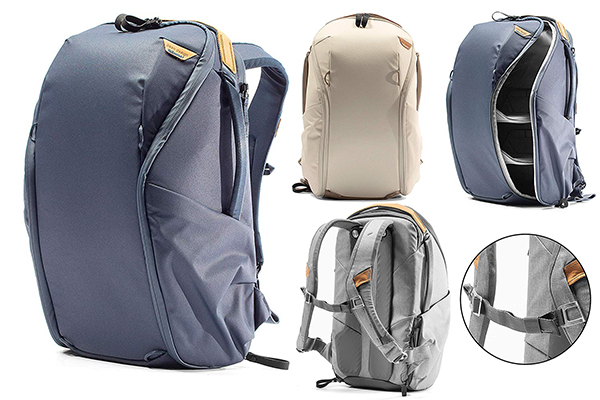 Peak Design Everyday Backpack 15L Zip
The fiercely innovative folks at Peak Design introduced some new colors in 2019 as well as some new bags. I have been using a new Everyday Backpack Zip in the 15L size and I can't get over how thoroughly useful it is. It's a bit smaller than the original Everyday Backpack and (for me at least) that makes it infinitely more maneuverable. Available in Ash, Black, Bone and Midnight Blue, it also comes in a 20L version (L = Liter capacity).
The Peak Design Everyday Backpack 15L Zip has everything I expect in a photo backpack. It provides excellent protection, full access without removing it, plenty of storage space and it's as comfortable as an old goose down jacket. The unit totes a 13-inch laptop computer or large tablet. Protected by a Lifetime Limited USA Warranty, the Peak Design Everyday Backpack 15L Zip is made of 100% recycled, waterproof nylon canvas shell that is DWR (Durable Water Repellent) impregnated, double PU-Coated and Bluesign Certified (confirming sustainable manufacturing of textile consumer products). Price is $189.
Domke Camouflage F-2
A longtime favorite in a new guise, the $179 Domke F-2 bag is available in camouflage nylon and it looks incredibly handsome. Made in USA, it holds about as much gear as I can lift – at least two DSLRs and four to six lenses, plus flash, batteries and a Ziploc filled with Cheez-it Crackers.
You will appreciate the extra-heavy-duty hardware, durable shoulder strap (that stays snug on your shoulder) and the padded internal dividers. This bag will last for nearly ever. The Domke Camouflage F-2 just narrowly beat its smaller sibling, the Domke Camouflage F-5XB, as my favorite EDC bag primarily because it easily totes my Fujifilm XF 50-140mm f/2.8 R LM OIS WR zoom which has become the mainstay in my lens arsenal.
Shimoda Designs Explore 30 Backpack
I like these guys because they design and build photo backpacks with the health and physiological safety of the user foremost in mind. The quality is absolutely second to none and the designs are stylish and contemporary—and completely comfortable.
The Shimoda Designs Explore 30, as the name suggests, is 30 Liter but is also available in a larger 40L configuration. It's a multi-use backpack that's built around Shimoda's ingenious and efficient removable insert system, and conveniently offers rear, side and top access. The padded shoulder straps are height-adjustable and the rig includes removable accessory webbing straps. There's a pocket for a hydration pack with sip tube and a smartphone pouch. Price is $259 and it comes highly recommended.
HEX Ranger Glacier Camo DSLR Mini Sling
HEX bags are a bit under the radar and deserve more attention. Their photo backpacks are well made and a bit thinner back-to-front which, for me, makes them that much more attractive cosmetically as well as functionally. And they have two crazy camouflage patterns that are subtle and muted but very stylish and modern.
The HEX Ranger Glacier Camo DSLR Mini Sling has become my favorite for casual walks with one camera and a couple lenses. It's light in weight and made of 900D (D = Denier fabric weight) poly with water resistant coating. It holds more than you might imagine— capacity is 2.5L but it's only 5.5 x 10.5 x 3 inches small. Nice touches: a faux-fur lined pouch for scratchable things like glasses or phones, and lashing on the bottom for a small tripod or raingear. At $69 it's one hell of a good deal. I recently carried one stuffed with Canon lenses on a walking tour of Boston and was comfortable all day.

Think Tank Retrospective 4 V2 Shoulder Bag
Over-engineered —in a good way— that's what comes to mind when I read the name Think Tank Photo. I've been a fan since they first appeared on the camera scene and I rely on their excellent Modular Belt System V3.0 when covering large events with an extra load of lenses. They make some of the best rolling photo bags in the world as well as outstanding shoulder bags.
Think Tank Photo recently refreshed the Retrospective shoulder bag. Retrospective 4 Version 2 is priced at $99. It's constructed from DWR-treated 100% cotton canvas and features "sound silencers" that deaden the irritating noise of hook-and-loop fasteners that seal the front flap. The interior contains nicely padded dividers and includes pockets for memory cards and other small items. There's a zippered compartment for added security and a seam-sealed rain cover for inclement weather. Available in Black or Pinestone (handsome mottled gray) colors, it's likely to become your favorite Every Day Carry bag.
Cecilia Tharp 8L in Chestnut Leather
Sprung from a 160-year heritage of leatherwork that has served the photo industry (Leica, Zeiss) as well as the high-end luxury leather goods market (Coach, Ray-Ban), Cecilia offers superbly made leather and combination leather-canvas shoulder bags, backpacks and camera straps.
The Cecilia Tharp camera messenger bag is crafted from full-grain cowhide leather which gains a lustrous patina as it ages. Priced at $249 it's protected by a Lifetime Limited USA Warranty and measures (roughly) 8.8 x 12.3 x 5.3 inches.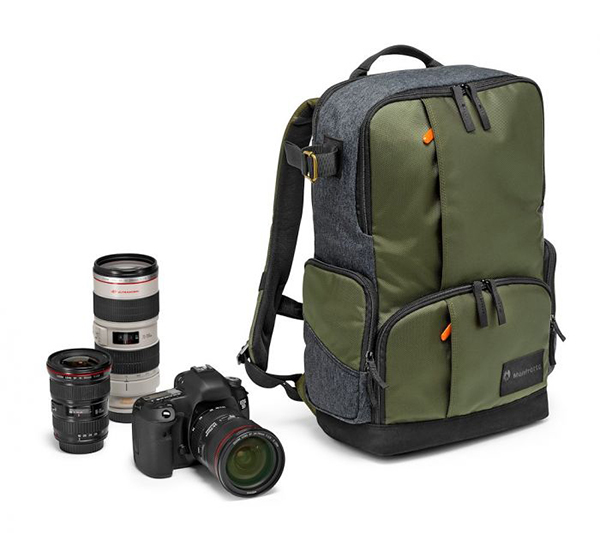 Manfrotto Street Camera and Laptop Backpack
Manfrotto bags may be some of the best kept secrets in the photo industry. I don't mean that as criticism, I mean to say that they offer several versatile models of backpacks and shoulder bags that deserve your purchase consideration. All are well made, nicely styled and built to last, but their product-naming scheme has made it unnecessarily difficult to identify which model is best for what purpose. Until now, that is.
The Manfrotto Street Camera and Laptop Backpack will carry a DSLR, up to three lenses and a 15-inch laptop computer. Priced at $109, it's very much a covert bag that doesn't announce its "Cameras in here!" contents to strangers. It's also one of the best looking backpacks you'll ever find.
—Jon Sienkiewicz
FEATURED VIDEO