5 Camera Bags for Photographers That Caught Our Eye
A photographer never has enough camera bags. Here are five that caught our eye, including a sneak peek at a surefire winner, the soon-to-be-released Gura Gear Chobe 2.0.
How to choose a great camera bag? In an article we ran a couple years back (link here) we listed 10 characteristics to consider when deciding the specific type of camera bag you need. The taxonomy might also alert you to some options you never thought about before. The list is arranged in no particular order because what's important to me may not be important to you at all, which is a significant fact of life when camera bag shopping.
National Geographic Earth Explorer
The Medium Messenger Bag from the National Geographic Earth Explorer collection has been around for awhile and has long been one of our favorites for cut and style. The design blends a rugged military profile with that 'been there, done that' appeal. Made from khaki cotton hemp canvas, this bag is equipped with solid brass buckles that sport a muted, antique finish.
An internal camera cradle supports and protects your camera gear, and there's room for a small notebook PC or tablet. External dimensions of the National Geographic Earth Explorer Messenger Bag are roughly 11.8 x 13 x 7 inches and she weighs in at 2.4 pounds. Available from Amazon, price is $76.
Think Tank Photo Mirrorless Mover 30i
If it's made by Think Tank, you know two things: the engineering is superb and the quality is lifetime. The Think Tank Photo Mirrorless Mover is available in five sizes and the 30i is the largest. It nicely holds a Sony A7RIII with 55/1.8, 24-70mm f/4 and another lens (or my Fujifilm X-T1 and a couple lenses) plus a 10-inch tablet. Nice. It features YKK zippers and metal hardware.
Also accommodates a DJI Mavic Pro drone with controller, batteries and accessories. Exterior Dimensions of the Think Tank Photo Mirrorless Mover 30i are approximately 11 x 9 x 5.7 and the weight: 1.3 pounds. Available from Amazon, price is $69.
Tenba Cooper 6 Bag
We loved the Tenba Cooper collection (our review is here) when it first launched, and we keep finding new reasons to love it all over again. It's one of the most stylish bags found anywhere, even though the overall design is traditional. It has that high quality look that's often hard to find these days, like a tweed jacket with leather elbows.
The base of the Tenba Cooper 6 camera bag is full-grain leather (both water and abrasion resistant) and the waterproof zippers are YKK. The inside overflap provides an extra layer of protection, too. External dimensions of the Tenba Cooper 6 camera bag are roughly 9.75 x 4.5 x 6.5 inches and the weight is 1.1 pounds. All Tenba Cooper bags include well-padded repositionable dividers. Available from Amazon, price is $99.
Hex Ranger DSLR Sling V2
Not yet a household name among photographers, and that's a shame because every Hex bag we've tested has been awesome. The Hex Ranger DSLR Sling V2 is made of genuine Cordura and ballistic nylon and lined with a soft, fur-like material that is very gentle to your gear. YKK zippers, of course. Two things about this bag that really stand out: its ability to compress nearly flat for storage or transport, and the perfectly positioned, side-opening, horizontal zippered pocket on the front that is ideal for a compact camera, cellphone or pen and notepad. I also appreciate the pair of sturdy straps on the bottom that let you fasten a travel tripod or big GorillaPod for easy carry.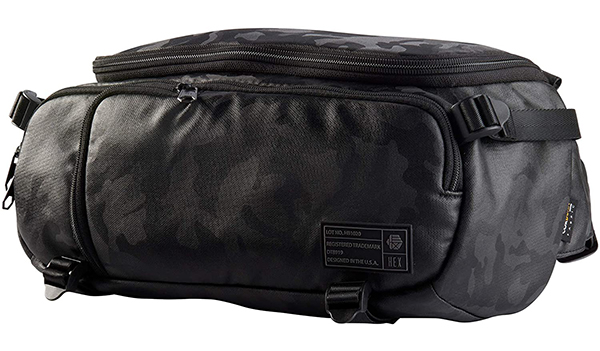 Exterior dimensions are about 14.5 x 7.5 x 4.8 inches and the weight 1.3 pounds. Loaded capacity is 8L (Liters). The Hex Ranger DSLR Sling V2 comes in black or subdued urban camo patterns, all look great. The new Blackout Camo is a true beauty to behold. Available from Amazon, price is $99.
Sneak Peek: Gura Gear Chobe 2.0
Fans and followers of Gura Gear know that the brand has undergone changes over the past few years, and the brand name itself was briefly retired. The company purchased Tamrac and the management team, in their own words, "focused on the larger Tamrac business and Gura Gear lost its way."
As fans of Gura Gear products, we're happy to say that that's all changed. The brand name is back and the Gura Gear Chobe 2.0 camera bag is on the way. Wait – you can't buy it yet. Yeah, we never, ever write about things that are not yet on the market, but the Gura Gear Chobe 2.0 is exceptional. We received a preview sample of the 13-inch model (there will be two sizes) and we're preparing a full, in detail review which we'll publish as soon as the bag hits dealers' shelves.
Until then we can reveal that the bag is extremely well made and easily accommodates my 13-inch MacBook Air, Fujifilm X-T1 and three lenses plus cables, calculators, not one but two X-Rite ColorChecker Passport Photo color charts, small SSD hard drive, cellphone, several fountain pens, paper notepads, large Swiss Army knife, small tripod and a couple pull-top cans of Bumble Bee tuna. And—strangely enough—a leftover package of oyster crackers, a vestigial remnant of the days when people actually went to restaurants to eat lunch. Gura Gear Chobe 2.0 is multipurpose so even people who don't own a camera will love it. External dimensions are 14.2 x 6.3 x 9.4 inches and the weight is 1.8 lb. Read more at guragear.com.
—Jon Sienkiewicz
(As an Amazon Associate, Shutterbug earns from qualifying purchases linked in this story.)
FEATURED VIDEO