3 Photo Backpacks From Around The Globe That Have Caught Our Eye
We zip from Amsterdam to Japan to the Land Down Under to look at three multi-purpose photo backpacks today. This trio of camera packs represents the latest in style, performance and practicality.
You wouldn't buy a boat from a landlubber who's never been near the water, and you shouldn't buy a camera bag from a designer who's never used a DSLR. Here are three bags that have at least one thing in common: their creators know of what they speak.
All three bags featured here were designed by entities widely known for their personal experience and complete familiarity with their photography genre. And as with American companies Peak Design, Domke and Think Tank Photo, their practical photographic expertise shines through.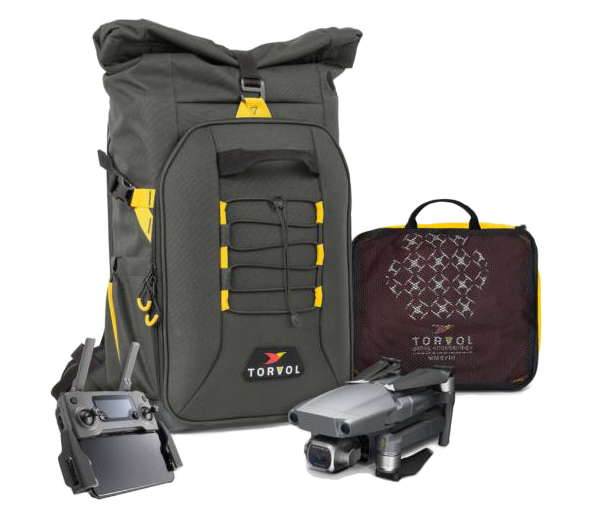 We start our around-the-world trek in Amsterdam, Netherlands, with Torvol, a company that is self-described as a "ridiculously fresh drone brand." I don't know them well enough to call them fanatics, but I'm sure they will earn this compliment as I get to know them better.
The product we detail first, the Torvol Drone Explorer ($155), is truly multi-functional, but the company has an unabashed bent toward drones. And it's about time that a bag company made UAVs a priority. Torvol specializes in carry solutions for FPV Racing, Imaging and Freestyle drone activities. One example of their expertise and dedication to detail is their Magnetcase feature that enables you to securely manage small screws and propeller nuts.
Torvol Drone Explorer Photo/Drone Backpack
Featuring the popular top-roll style, the Drone Explorer provides zippered front access and a nicely padded camera/lens storage area with repositionable dividers. There's a tripod strap on the side and a large organizer pocket for flat items. Expandable in volume up to 10L (10 liters) the Explorer includes comfortable back padding, hip and sternum straps and excellent hardware. She holds 15-inch laptops (and some 17-inchers, it looks like) and is the perfect match for the Torvol Drone Compact Case. Empty weight is about 5 pounds and external dimensions are 13 x 21 x 8.7 inches, which makes it airline carry-on compatible with margins to spare.
Next stop is Australia, the place where it's warm on New Years and cold on the 4th of July. Melbourne is home to Crumpler, the photo bag company that seems to have a never-ending supply of great, creative products and even more creative names.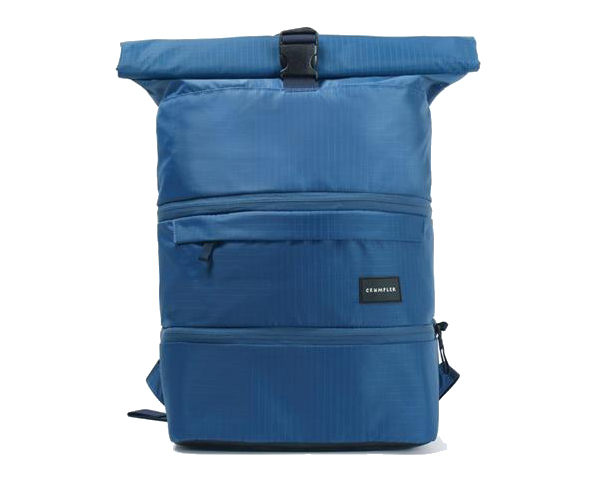 Over the years I've reviewed many Crumpler products and I've always been impressed with the bold styling, high-quality construction and superb functionality. Today we look closer at The Pearler Camera Backpack ($99) which is sleek, clean-looking and very much under the radar (in terms of revealing its contents).
Crumpler The Pearler Camera Backpack
Also featuring the top-roll design, The Pearler holds a pair of compact DSLRs, a couple lenses, flash and more. It has an extension pleat that lets it grow taller and a strongly reinforced bottom panel. She's made of 210T ripstop nylon (with water-resistant tarpaulin on the bottom) and includes a lower zippered insert with padded dividers and side handles. The padded shoulder straps are neatly configured and there's a top grab handle for wrenching it off of the luggage rack. A virtual fly-weight at 1.5 pounds, she scopes at 16.5 x 30.3 x 6.3 inches.
Shimoda, Japan, is home to Shimoda Designs. Shimoda (the city) is in Shizuoka Prefecture and famous for many things, some historical and some phenomenal, like the onsen (hot springs) that grace the area. Previously we've covered many Shimoda products, including the Explore 40 and Explore 60 photo backpacks (read that review here). Under the microscope today is the Shimoda Designs Explore 30 Photo Backpack ($259), the slightly scaled-down, 30L version of the Explorer 40.
Shimoda Designs Explore 30 Backpack
Here's an extremely well made, multi-use backpack that's built around Shimoda's ingenious and efficient removable insert system, and conveniently offers rear, side and top access. The padded shoulder straps are height-adjustable and the rig includes removable accessory webbing straps. There's a pocket for a hydration pack with sip tube and a smartphone pouch. For more details, check our review of the Explore 40 (link above). Empty weight is 3.5 pounds (about a half-pound less than the 40L Explore 40) and the outside dimensions run 11.4 x 20.9 x 10.2 inches.
If this hasn't satisfied your thirst for international photo bags, check out our review of a photo messenger bag crafted from stinging nettles by Scotland's premier bag maker Trakke Ltd. Here's our disclaimer: although the companies mentioned in this roundup are indeed headquartered in the countries as indicated, in today's global economy, actual fabrication of their products could occur elsewhere.
—Jon Sienkiewicz
FEATURED VIDEO