3 Hot New Camera Bags That Have Caught Our Eye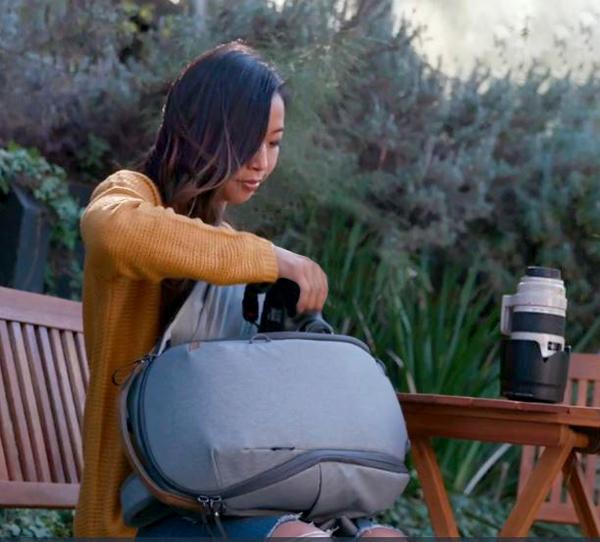 Three very different, very exciting camera bags—one shoulder, one photo backpack and one waist pack. Considering the variety of clever designs, abundance of high quality materials and outright affordability, there's probably never been a better time to buy a camera bag. (Except maybe during that two-year period back in the middle of the Pleistocene epoch when cheap Diprotodon skin from Australia was flooding the market…)
Peak Design Everyday Backpack 15L Zip
Peak Design has a carry solution for every situation, from innovative (revolutionary, even) camera straps to smartly styled and intelligently designed shoulder bags and photo backpacks. Their Everyday line, which we've reviewed here on several occasions (another link), has been updated and new colors have (finally) been added. The Everyday Messenger, Backpack, Sling and Tote have all been refreshed, and they've added two new winners, the Totepack and Everyday Backpack Zip.
Available in Ash, Black, Bone and Midnight Blue, the Everyday Backpack Zip comes in 15L (Liter) and 20L versions and is perhaps best described as a slim version of its full-featured cousin, the Everyday Backpack. The easily customizable internal dividers (which are the best you've ever seen) facilitate configuring the pack, and the wrap-around zipper makes it easy to fetch gear from the innards through the top or from either side. The unit totes a 13-inch laptop computer or large tablet. Protected by a lifetime limited USA warranty, the Peak Design Everyday Backpack 15L Zip is made of 100% recycled, waterproof nylon canvas shell that is DWR (Durable Water Repellent) impregnated, double PU-Coated and Bluesign Certified (confirming sustainable manufacturing of textile consumer products).
Price: $189
Available on Amazon.
The Retrospective 4 V2 Shoulder Bag
Another stalwart bag innovator that never sleeps, Think Tank Photo is widely known for airport-friendly rollers and backpacks as well as world-class waist packs, shoulder bags and other under-the-radar carry solutions.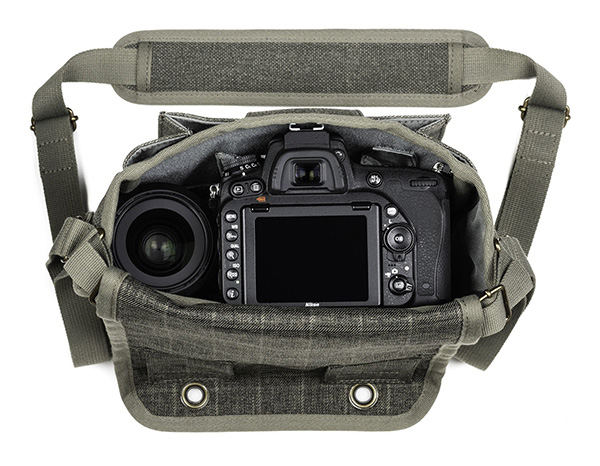 Now Think Tank Photo has refreshed the Retrospective Shoulder bag. Retrospective 4 Version 2 is constructed from DWR-treated 100% cotton canvas and features "sound silencers" that deaden the ripping screech of hook-and-loop fasteners that seal the front flap. The interior contains nicely padded dividers and includes accommodations for memory cards and other small items. There's a zippered compartment for added security and a seam-sealed rain cover for inclement weather. The strap is very robust and features a large, cushioned non-slip pad (like all shoulder bags should but don't). Available in basic black or pinestone (handsome mottled gray) colors.
Price: $99
Available on Amazon.
Cosyspeed Camslinger Streetomatic+
This camera waist-bag-slash-fanny-pack from relative newcomer Cosyspeed is a slick bag with a weird name. Cosyspeed GmbH is headquartered in Germany and their designs reflect elegant and sometimes avant-garde European styling. The Camslinger we reviewed is singularly unique because it's permanently attached to a waist belt. The flap cover is secured by an innovative magnetic latch they call the FidLock. Once you get the hang of it, which takes only one minute, the system provides pretty damn fast access to the small mirrorless or compact camera that can fit inside. The rubber loop that provides additional security is superfluous (to be kind) and if I were to use this bag for any length of time I'd remove it.
The Cosyspeed Camslinger Streetomatic+ (sorry, but every time I write that name I feel like I'm ordering something from a late night TV commercial – Steve Goodman's Vegematic song keeps running through my head) is made from PU (polyurethane plastic) and 600D nylon. Construction quality is above average and the locking mechanism is secure. In unscientific terms, it's about one-half size too small; that is, it will hold a mirrorless but not much else, and the pockets on either end (one has a flap and the other a zipper) are frankly too small to hold much of anything. Comes in black or brown and includes a foul weather cover. One great feature – the buckle on the waist belt has a second lock. Although I've (thankfully) never had someone try to wrest a waist pack from around my middle, if it ever does happen I hope the belt has a double lock like the Camslinger's.
Price: $129
Available now on Amazon.
—Jon Sienkiewicz
FEATURED VIDEO