2013 New Bags And Carrying Systems: Emphasis On Color, Style, And Function!
"Not your father's camera bag" was how Tenba described the prototypes of their new Vector line at photokina 2010. Now, in 2012, the new line is in production, and they were absolutely right. What are the differences? Color, style, and function. A report like this is no place for detail: that's what manufacturers' websites are for, and besides, a full, detailed list of new camera bags could more than fill the whole magazine. What I want to do is to give you some idea of the way that bags are heading.
Beyond Basic Black
Color first, even though it's arguably the least important. Fifteen or 20 years ago, a US distributor told me that you couldn't sell a camera bag in the US unless it was black. Even a flash of gray or red trim would mean it would sit on the shelf. I didn't really believe him. After all, Domke always sold well enough and they were (and still are) mostly khaki or olive drab. In the long run, manufacturers and (more importantly) buyers didn't believe him either. It was timid at first: navy blue, various shades of green and gray. Then all color broke loose. Red, pink, bright blue, yellow, orange, fluorescent green: if you can imagine it, odds are you can find it.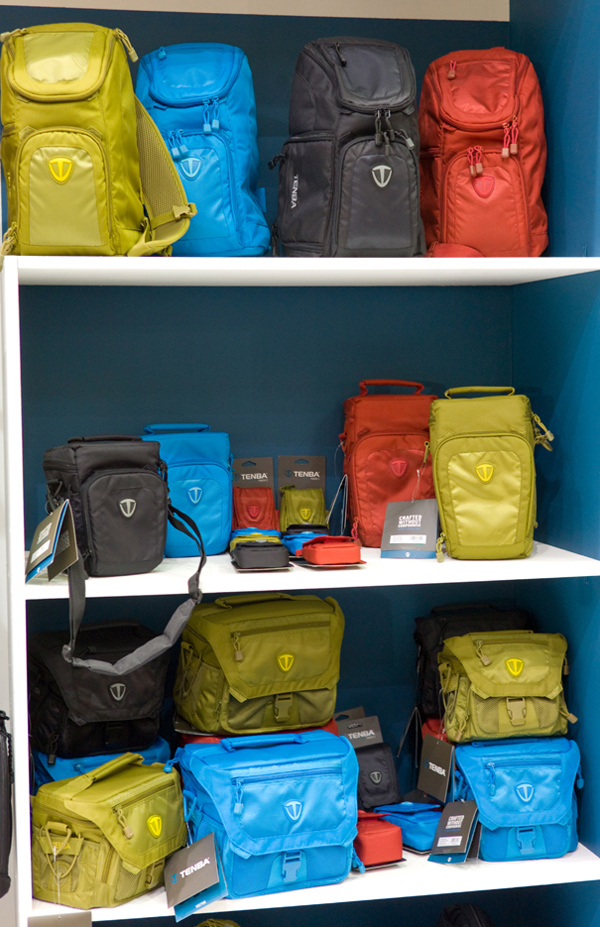 Sticking with Tenba, their Vector line has three bright colors—coral, blue, and green—plus classic black. Styles include two shoulder bags, a sling pack, and two daypacks as well as three sizes of pouch. And—in case the color is too much for you—they also introduced the Discovery line: rather more subdued, but in a handsome light gray or a black and gray combination. This line includes three daypacks designed for D-SLRs and laptops, and three shoulder bags.
Golla was an early exponent of the color explosion. Indeed, their representative said that some of their newer colors are perhaps a bit more subdued, and that some of their styles have matured. They're still pretty bright, though. In particular, a bright blue sling pack caught my eye. It has a single big compartment for your camera and lenses, and the design is such that as you swing it around to the front it can be used as a workbench, open or closed. I tried it on briefly and found it extremely comfortable and ergonomic. But then, while sling packs are the most comfortable bags for me, they aren't for everyone. That's why there are so many ways to carry your gear.
Such as the messenger bags from Braun, distributed in the US by HP Marketing. These were one of my favorites from the whole show: very simple, capacious, and all but completely waterproof, in a choice of bright yellow or bright orange.
Water-resistance was also touted as a feature of the bright, colorful Aosta line on the Kenko Tokina stand. Normally THK is their US distributor.
If all this is too bright, consider Tamrac. Their reputation for well-made, well-designed bags is long established, but they, too, are breaking away from classic dark colors. This year they've added "berry" (somewhere between purple and fuchsia) to the Aria series, which was already available in moss green, brown, and black. Even their more conventional Jazz series has a couple of models in burgundy with orange trim.
For that matter, bright-colored interiors are more and more common, too. No more the black hole where all your (black) kit disappears, never to be seen again. Bright linings can however be a bit of a shock when you open a black bag. For example, Boblbee has high visibility yellow linings; Vanguard, bright orange.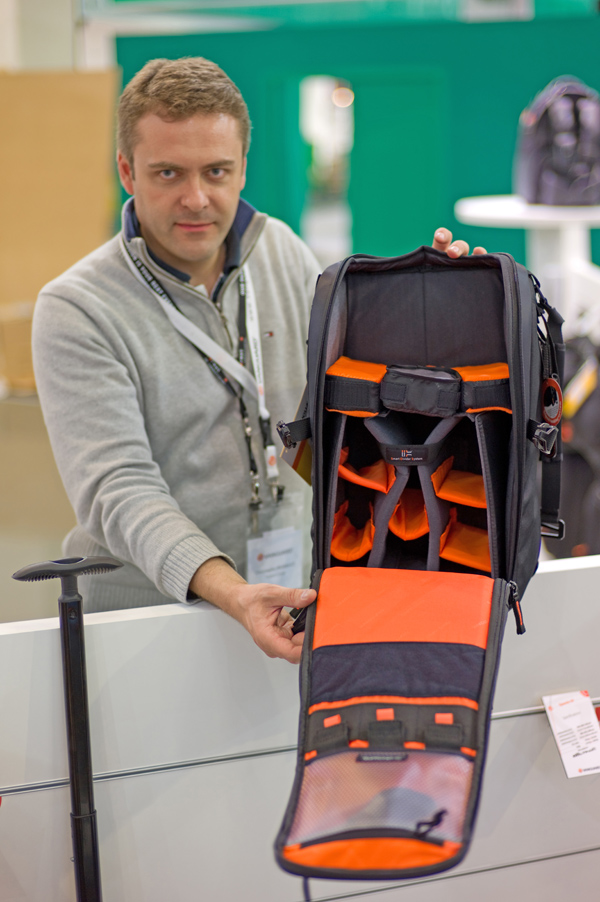 Weight And Durability
With the explosion of color came new, lightweight, and harder-wearing materials, and new ideas about styling and ergonomics. It's foolish to try to separate the two, because as soon as you emphasize one at the expense of the other, you run two risks. If you concentrate purely on style and fashion, you can end up with a bag that's all form and no function. If, on the other hand, you start out with a list of purely technical and ergonomic requirements, you may end up with a bag so dull and ugly (and probably expensive) that no one in their right mind would buy it. It's the old, old story: if it looks right, it probably is right.
There are, however, plenty of ways to make improvements. For example, backpacks used to open from, well, the back: a blessing to any delicate-fingered thief walking along behind you. I saw quite a few backpacks where the main access is from the side that's next to your back when you're carrying it. In other words, you have to take it off before you can easily get into it.
This actually brings us back to Tenba again, because the first I saw in this style was their Roadie II. In classic Tenba black, it is a backpack, designed for HDSLRs and a big laptop, which can be carried conventionally or slipped onto a trolley. As the Tenba representative pointed out, you usually remove a big backpack before you start work, so why doesn't it open from the side that's inaccessible when you're wearing it? Cleverer still, a large waist belt allows you to slip out of the backpack harness; pull the bag around to the front; and lean it away from you for limited access. Other examples of back access included backpacks from f-stop, Lowepro, and Vanguard.
It's In The Details
Then there are the details that make a good bag. All right, the Roadie II is a big, professional bag, but even producers of small consumer backpacks increasingly incorporate lumbar support, tensioning straps, waist belts, and sternum straps. Compression straps are increasingly popular, too. As their name suggests, these can be tightened to reduce the size of the pack: especially useful when you're using it as a carry-on bag on an airline. The other thing you need on an airline is straps that can be tucked away securely, so they don't dangle loose. A good example of a bag designed for flying, and incorporating these features, is Gura Gear's new "Bataflae," which comes in two sizes. Bataflae means "butterfly" in Vanuatu: the new bags, deeper than their original Kibokos, are designed for flying but also have a "butterfly" opening, with a divided front panel. You can open one side or the other, or, by releasing a buckle, both together.
Further examples of bags with compression straps come from f-stop: "GateKeeper" straps for attaching accessories are sold separately. Straps on the larger backpacks are compatible with the MOLLE (MOdular Lightweight Load-carrying Equipment) system, a common but far from universal current military standard. Google MOLLE if you really want to know all about it and its rivals ALICE, IIFS, PLCE, and the Marine Corps ILBE. Another interesting feature of the f-stop bags is that they use modular inserts called Internal Camera Units (ICUs). These come in nine sizes from Micro to Monster; have their own carrying handles; and can be used singly or in combination to protect your gear inside the bag, or separately on their own for storage.
This modular insert approach is almost certainly a trend you will see in other bags: for example, Lowepro uses it in their new Rover Pro 45L AW, and OP/TECH makes what they call Accessory Packs, in several sizes. Each accessory has its designated place, and an empty place means you haven't got the accessory. Well, yes, obviously—but compare that with the typical camera bag where everything is jumbled in together and you can't really see what's there and what isn't.
Finally, among the more traditional backpacks that caught my eye, a newcomer at the big, professional end of the market is Petrol Bags. They are already well known in the movie business, but their new bags represent their first venture into still photography. Unfortunately, by the time I got to their stand, everyone had gone home, so all I can say is that from what I saw, it's worth paying a visit to their website.
Among less traditional backpacks, there's a new M-ROCK backpack which I saw in prototype form in 2010. The harness can be worn on both shoulders, like a normal backpack, or either side strap can be tucked away so the bag can be worn as a left-hand or right-hand sling pack. Side access allows you to keep it on in sling mode and still get to your gear. Again, it's clever, functional, and good-looking, and, like more and more well-designed bags of whatever shape, access is excellent. M-ROCK even labeled their bags Access after a major redesign emphasizing both top and side access.
Sling Style
"Pure" sling bags go from strength to strength and an interesting new option is the Passport Sling II from Lowepro. This compresses down to almost nothing, so you can stick it in a (checked) suitcase; pack your cameras and lenses as best you can in your carry-on; and then transfer them to the sling when you arrive. It is unreasonably roomy, however, so you might need to take care not to overload it.
A variant on the sling style is the new BlackRapid SnapR mini-bag range. These are designed for small cameras but offer a unique combination of protection and accessibility: I call mine my "camera garage." They are designed to be worn sling-fashion, and have a double-zipper access flap at one end. The camera itself is attached to a short strap that slides on the main strap, so that you can pull it out; lift it up to your eye; take the picture, no more encumbered than you would be with any strap; then put it back into its "garage."
Rollers
Rolling bags remain popular. Think Tank Photo's newest roller, the Airport Navigator, is based on a pilot's bag. It has top and front access; a retractable handle which can hold the top open when you are working; a slot for a 15" laptop, and room for two D-SLR bodies and up to six lenses; and it can be piggybacked onto another roller. Cullmann's Cuma Trolley is also a compact, professional roller. It has side access, a removable 17" notebook cover, plus a foldable hood for working on a laptop in sunlight. As with most good-quality rollers, the wheels are replaceable: a wheelie bag with a broken wheel is far more awkward than a bag with no wheels at all.
Safety Concerns
Taking another tack entirely, I am always interested in camera bags that don't look like camera bags: some designs might as well have STEAL ME printed on them. The ONA bags on the HPRC stand were a particularly elegant example of bags that don't look like camera bags: American made of waxed canvas and vegetable-tanned leather.
Then there was an over-the-shoulder bag from Clik Elite, which combined easy access and understated, elegant design. Better still, there were two sizes. The big one was too big for me, but perfectly fitted the very tall man who was demonstrating it to me, while the small one was perfect for me but too small for him. At my height (5'2") I am particularly aware of the dangers of "one size fits all," but between the two sizes, they should have been adjustable to suit just about anyone. The lock is an ingenious variation on the old military fastener: quick opening (which is when speed matters) and slightly slower (but very secure) to close. The bag must however be at a convenient height to do this, which is why adjustability matters.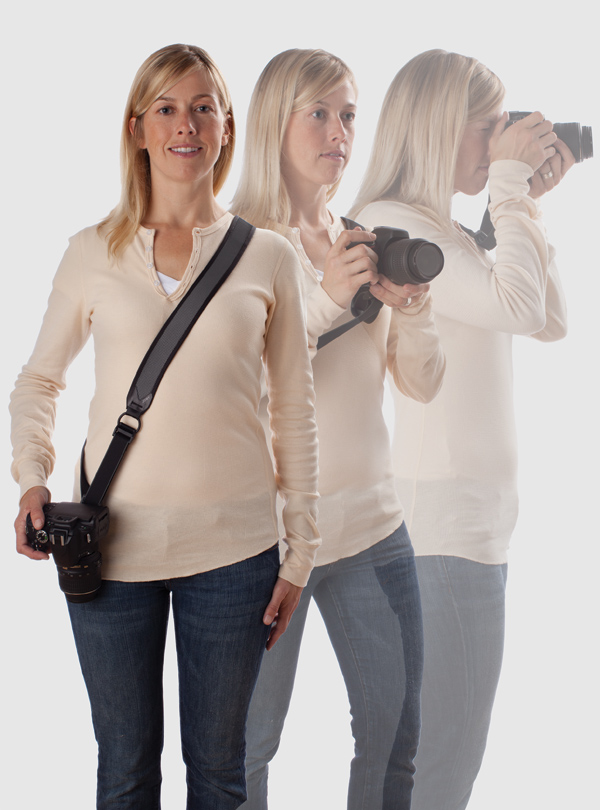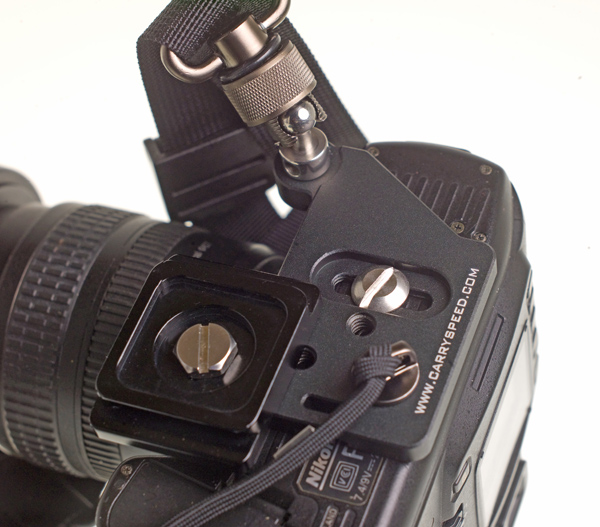 Artisan & Artist bags, always understated and beautifully designed if rather expensive, are now being distributed in the US by Minox USA, so they should be more widely available. Artisan & Artist make camera straps, too, including some—no, when I think about it, most—of my favorites.
Camera straps bring us to another trend in camera carrying: sling straps, where the strap goes over your shoulder, bandoleer style, and the camera is carried via a screw in the tripod socket. Some people worry about this, but on any camera that is half well made, the tripod socket should be even stronger and more secure than the strap lugs. I certainly don't worry about carrying my Leicas on sling straps.
Perhaps more than any other carrying system, you need to try slings before you buy. Even a few minutes can give you a good idea. The BlackRapid sling I've used extensively since last photokina is wonderful, and I love it. It was designed especially for women, and I sling it so that the camera is on my left. Joby also makes a sling strap especially for women and I particularly liked the very positive positioning lock. This is an important feature; it keeps the camera in place so it doesn't bump and move around too much when you are walking.
Sun-Sniper's sling straps are impressive, too, with a new zigzag shock absorber and a steel cable inside. Their range of straps and harnesses needs to be seen to be believed, so it's best to look at their website.
Carry Speed's sling strap has mounting plates in two sizes with additional tripod sockets so you can use the camera on a tripod without removing the mounting plate. When I first saw it, it looked bulky and over-engineered. But when I tried it on, and started working with it, I found that it is both comfortable and practical, and the coupling between the plate and the strap is one of the cleverest and most secure I've encountered. Then I added an Arca-Swiss-compatible tripod mounting plate to the base plate and found it even quicker and easier to use, for a minimal increase in bulk and weight. Because the camera plate has multiple tripod sockets on it, you can even add a wrist strap, for three separate options: sling, tripod, wrist.
The French company Trekking also allows the camera to be used on a tripod without removing the sling strap. They call it the Swing Up system. Again, a plate is fixed to the camera; again, the baseplate can itself be fixed to the tripod via an Arca-Swiss-compatible plate, but this time, the plate is built in and projects in front of the camera baseplate. Then, at the front of the plate, there is a broad, heavy-duty nylon strap that carries the camera. As far as I can see, the plate can also be secured via another strap at the rear of the plate, but this is only surmise based on looking at the pictures when I got home: they didn't demonstrate it.
A different approach again to combining carrying and tripod mounting came from b-grip, who make the best belt-attachment device I've ever seen. They offer a simple (though non-Arca-Swiss-compatible) tripod mounting plate. Put that on your tripod, and the standard b-grip camera mounting plate latches impartially into either the belt carrier or onto the tripod.
Contacts
Aosta (Kenko Tokina): www.kenkoglobal.com
Artisan & Artist: www.artisan-n-artist.com
b-grip: www.bgrip.com
BlackRapid: www.blackrapid.com
Boblbee: www.boblbee.com
Braun: www.braun-phototechnik.de/en
Bron Imaging (Sun-Sniper): www.bronimaging.com
Carry Speed: www.carryspeed.com
Clik Elite: www.clikelite.com
Cullmann: www.cullmann.de
Domke: www.tiffen.com
F-Stop: www.fstopgear.com
Golla: www.golla.com
Gura Gear: www.guragear.com
HP Marketing (Boblbee, Braun): www.hpmarketingcorp.com
HPRC: www.plaber.com
Joby: http://joby.com
Lowepro: www.lowepro.com
M-Rock: www.m-rock.com
MAC Group (Tenba): www.macgroupus.com
Minox USA (Artisan & Artist): www.minox.com
ONA: www.onabags.com
OP/TECH: www.optechusa.com
Petrol Bags: www.petrolbags.com
R.T.S. Inc. (Cullmann): www.rtsphoto.com
Sun-Sniper: www.sun-sniper.com/en.html
Tamrac: www.tamrac.com
Tenba: www.tenba.com
Think Tank Photo: www.thinktankphoto.com
THK: www.thkphoto.com
Trekking: www.trekking.fr
Vanguard: www.vanguardworld.com
FEATURED VIDEO