Banff National Park: Alberta, Canada
A photo excursion to Canada isn't truly complete without visiting Banff, Canada's oldest national park, which encompasses 2564 square miles in the Canadian Rockies. Azure lakes, vast areas of wilderness, and of course, the splendor of the Canadian Rockies are some of the many great attractions that await you at this beautiful destination.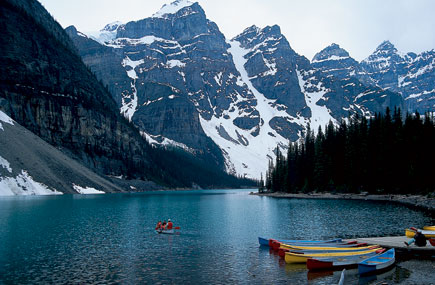 Getting There
You can approach Banff from the southeast via the Trans-Canada Highway (Highway 1) west of Canmore, from the northeast via Highway 11 southwest of Abraham Lake, or from the north, via Highway 93 from Jasper.
Where To Stay
These hotels and lodges represent only a few of the many accommodations in the Banff/Lake Louise area:

Banff Park Lodge Resort Hotel & Conference Centre, 800/661-9266, www.banffparklodge.com
There are 211 elegant guest rooms in this downtown hotel, in addition to several restaurants and a lounge, indoor pool, steam room, and whirlpool, as well as conference and meeting facilities.
Castle Mountain Chalets, 800/661-1315, www.castlemountain.albertanetwork.com
These charming log cabins and chalets are open year-round, and are located midway between Banff and Lake Louise.
Mountaineer Lodge, 403/522-3844, www.mountaineerlodge.com
This small-scale hotel near Lake Louise offers 78 units and great views.
The Fairmont Chateau Lake Louise, 800/257-7544, www.fairmont.com/lakelouise
This luxurious hotel is surrounded by mountains and set alongside Lake Louise. It has a beautiful grand lobby, and some rooms have views of the Victoria Glacier.
Visiting Banff National Park
The Bow River flows through this beautiful valley which is surrounded by mountains. The town of Banff and hamlet of Lake Louise are located within the park's boundaries. One of the best ways to see the park is via the Trans-Canada Highway, which will take you to Mount Norquay, Lake Louise, Moraine Lake and Valley of the Ten Peaks. These areas offer wonderful photo opportunities everywhere you turn.

You can see Bow and Peyto Lakes and Bow Summit by taking the Icefields Parkway. Short walks will take you to some dramatic vantage points, and you can get spectacular photographs by taking one of the many hiking trails in the park. Banff National Park is a wildlife refuge, and elk, deer and bighorn sheep can be seen in the park and surrounding areas. If you hike to some of the more remote places, you may see mountain goats or moose from a distance.
Changeable Weather
An old adage states that "Up north, there's July, and then there's the rest of the year." This is very true of Canada, where your chances of finding warm and sunnier days are much greater during the middle of the summer. Daytime temperatures typically range from 68--75° in Banff in July, but you'll want to bring some layered clothing and a coat or jacket for possible cooler days. Take plenty of water when hiking, and be sure to wear sturdy footwear.
You'll want to bring your wide-to-normal zoom (in the 24--55mm range) to encompass the lakes and striking mountainous scenery of the Rockies. If you have a long telephoto lens, you'll want to use it to photograph the wildlife you're likely to see.