Zoner Photo Studio X Image Editor Delivers Workflow Efficiency & Creative Options Pros Love
What is it about the innovative workspace created within Zoner Photo Studio X that lets pro Imagemakers be more creative and work more efficiently at the same time? Just ask rising star European photographer Zdeňka Povolen, and she'll tell you how ZPS X has improved her workflow and freed her creative energy.
"What I really love about Zoner Photo Studio X is that it's easy to master yet powerful enough for professionals," Zdeňka told us. "I worked with ZPS X when I was a complete beginner and I understood it even then. Those who are just getting started needn't be intimidated.
"As I got more and more into it I discovered new possibilities," she continued. "As I became a full time photographer I considered trying something else, just to see if I was missing out on something. And what I found was that I had everything I needed in ZPS X. But what I really appreciate is how inclusive ZPS X is. For example, the Develop and Editor modules are right next to each other, so within one program, you work with your picture without leaving the software."
Comprehensive Photo & Video Editor
Zoner Photo Studio X is inclusive. From the Browser through output options, you never have to change apps. Zoner Photo Studio X features five modules within the primary workspace. They're labeled Manager, Develop, Editor, Print and Video. There are flexible workspace layout choices, too. And you can select the Browser view and see all images and all of your image folders—without leaving the Zoner Photo Studio workspace.
"For me," Zdeňka said, "staying within one program is tremendously important. I love how compact it is. One icon to click, one program to start, one window to start and finish my entire photo."
How Zdeňka Has Refined Her Workflow
"How do I do the perfect workflow?" she began, "I recommend presets. But not putting them in the picture and being done with it. No. Just go through some of them to get the idea of what I want. It's a good way to start to see what I want to achieve with my Raw picture. Once I know what I want, I start from scratch, I delete the presets and I proceed step-by-step. From White Balance, through Exposure to Colors. Then I apply some filters (brush or radial) and sometimes I go for some extra touches like Vignette or Grain. Depends on the mood. This process can be really swift if I know what I want.
"My favorite part is using the Radial Filter to highlight the face," she went on. "I believe that in portrait photography, the face is the most important part; it should have the most light, and therefore most attention. That's why I like putting the Radial Filter to good use right there.
"Also tampering with colors is very entertaining and deal-breaking for my photography. It can get tricky, so if I succeed to my satisfaction, I take big pride in that. The whole process can make me really happy and quite honestly brighten up my whole day. If it comes to retouching, I usually move on to the Editor. I remove unwanted items from the picture and correct the face a bit and I'm done."
5 Great ZPS X Tips & Tricks from Zdeňka
1. Use local filters, particularly radial filters. They provide a super-quick way to highlight a certain area, change the colors and make magic.
2. Save and reuse your presets. Once you find a really nice setting for your picture, you can save and even export it. You can use your preset for the rest of the photoshoot and maybe in the future for other pictures as well.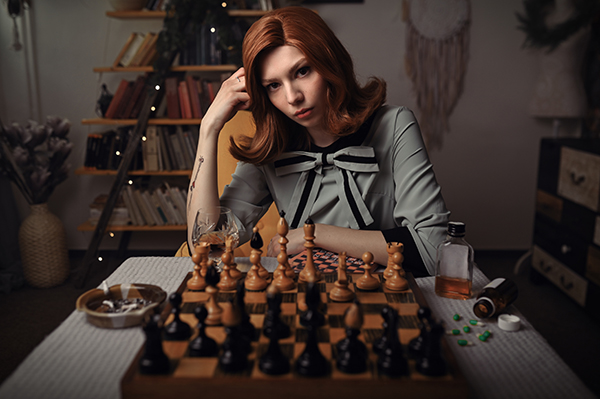 3. Master the Luma Curve, the amazing adjustment tool that can improve your light within seconds. It's the smartest exposure tool I've ever encountered. Raise highlights and scale down shadows, and you have instant fine art.
4. For simple retouching, use the brushes in the Develop module and you don't even need to go to the Editor. But I don't recommend using brushes alone for heavier retouching. I like to work with layers for those, and layers are options found in the Editor module.
5. One thing I love—you can always return to any edit you did within Develop. Because every step is saved in the form of an extra file, you can even backtrack what you did, change something or continue what you started the day before. And you don't lose your progress.
Zdeňka on Zdeňka
"I'm the kind of person who always finds a hobby for a couple of months and then abandons it. But that never happened with photography. I take this as a sign that it really is my ultimate passion. I love shooting, I love working with people while shooting. I take great pride in making people happy and confident. I'm the kind of photographer who constantly changes lenses. I have been shooting for four years now. I think it's not about the newest equipment but about the beauty of a moment. My favorite camera is a classic Praktica I inherited from my grandfather."
All images in this article are copyright Zdeňka Povolen. You can see more of Zdeňka's brilliant work on her website.
Download Free Trial of this Award Winning Software Today
If you haven't discovered Zoner Photo Studio X yet, don't wait. You can download the Free Trial and join the 100,000 customers in the U.S. (and millions worldwide) who use ZPS X and understand why Zoner Photo Studio X is the proud winner of two prestigious awards for Best Photo Editing Software from the world-renowned TIPA and EISA associations.
And if you are already a ZPS X user, here's news: The Spring 2022 Update brings a bundle of improvements! Read about them in this Shutterbug article: Zoner Photo Studio X Image Software is 100,000 Users Strong, Multi-Talented & Fits Your Budget
The Price is Right
Act now. Zoner Photo Studio X costs just $4.99 per month, or $49 for a full year. But at the end of April, the new price will be $5.99 monthly or $59.00 per year. Still a bargain, but don't miss out on the savings that are available now. Zoner Photo Studio X is one of the best money-saving, genuine values available to photographers.
Zonerama For Unlimited Free Storage
Bonus benefit, Zoner Photo Studio X sponsors Zonerama, a FREE online photo reservoir where you enjoy unlimited space for photos—in their original, uncompressed format—and video (4K and AV1 included). Upload as many image files as you want and protect access with custom privacy and sharing settings. For spring 2022, Zonerama has added a second data center in Florida to provide even faster photo loading.
∞ Shutterbug Staff
FEATURED VIDEO