GALLERIES
You are here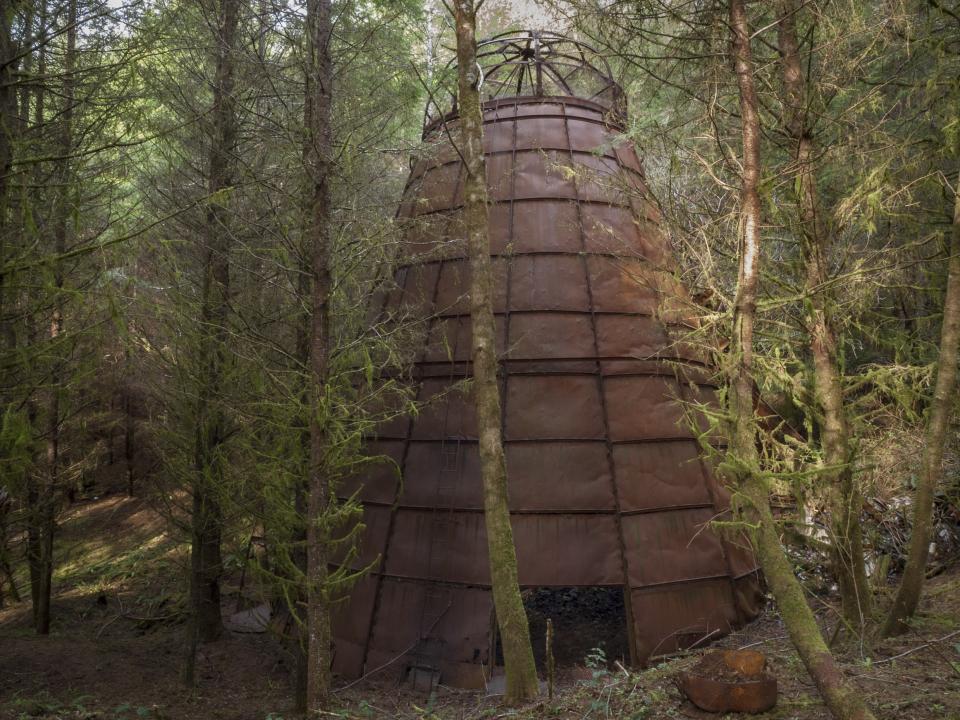 Submitting for "Talking Pictures"
This aging Wigwam burner, a proud sentinel from the rough and tumble hayday of Oregon logging, is slowly fading from sight, as well as from memory, under the new growth of a modern forest.
It sits at the site of a small sawmill, which is now gone, above the community of Lakeside, Oregon in the steep coastal mountains. It was used to burn debris and wood waste generated in the process of old-time logging. Sawdust and wood scraps were fed into the burner near the top. A steel mesh "cover" kept the ash and embers from spewing out.
Imagine what tales this relic might tell ... how Douglas Fir lumber from this area helped build San Francisco during the gold rush; how Sitka spruce wood was used to construct WWI warplanes as well as delicate musical instruments; how Alder lumber made good furniture ; how wood pulp made paper; and how hard-working men climbed steep hills to make a living.
Wigwam burners like this one were phased out in the early 1970's because of the air pollution they generated and because wood waste was being used in products such as particle board. In 1974 a family-owned timber company bought the land around this Wigwam burner and reforested the area. The Wigwam burner is still visible under their trees but is slowly disintegrating and soon the old logging way of life it represents will be remembered only in history books. Like Puff the Magic Dragon of song, this Wigwam "dragon" has " ...ceased its fearless roar..." and soon only pictures will remain to remind us of how things were done "back in the day".
Camera: Olympus E3, 0.5 sec, f/16, ISO 500, 12mm (12-60mm zoom lens)

Wigwam burner
Views: 234
Dimensions: 2478x1859
Size: 1977kb