Wacom's Graphire4 Tablet; Pen & Tablet Control For All
Wacom has long been a favorite among digital artists and photographers looking for more control than a mouse provides. The recently updated Graphire line of tablets has a number of enhancements that are sure to appeal to many, and all at prices that make them a great choice for the casual user (Wacom also offers a more advanced line of tablets, the Intuos3, intended for artists and photographers needing more features and control).

Available in both USB and wireless Bluetooth versions, the Graphire4 line comes in 4x5 and 6x8 sizes (6x8 only for the Bluetooth model). For most uses, the 6x8 model is a good compromise between tablet size and usability. For this review I looked at the 4x5 tablet. And, while it's smaller than I would want to use for everyday use, the smaller size made it a perfect travel companion, easily fitting into my laptop bag.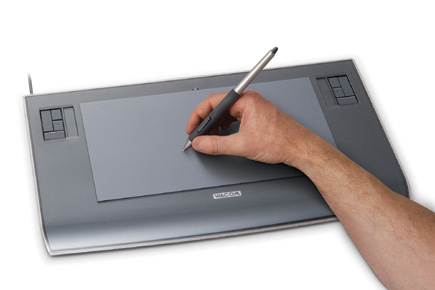 Pen Or Mouse Modes
All Graphire tablets include a pressure-sensitive pen and wireless mouse, neither of which require batteries. The tablet can be configured to work in Pen mode, where each point on the tablet corresponds exactly to a pixel on your screen, or in Mouse mode, where all movements are relative to the screen, which is the way your mouse normally works. Using the Control Panel application, you can program the pen to work differently for each application if you wish. As an example, I typically use the pen in Pen mode, especially with programs like Adobe's Photoshop and Corel's Painter. To make life easier, when I need to switch to Microsoft's Outlook, I have the pen programmed to work in Mouse mode, letting me continue to work easily without putting the pen down and grabbing the mouse.

The pen includes two programmable side buttons which default to mouse single and double click. The pen features 512 levels of pressure sensitivity, making it easy to control paint or line weights in pen-aware applications like Photoshop and Painter. A light touch draws a thin line while more pressure results in a heavier brush stroke, just like you'd expect with a traditional brush. When you need to erase (and don't we all!), flip the pen over for a pressure-sensitive eraser. The mouse includes two buttons and a scroll wheel, which can be programmed to work as a third button.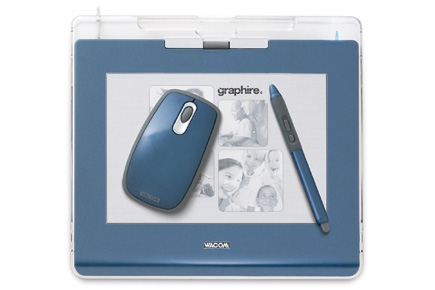 New to the Graphire4 are two ExpressKeys and a scroll wheel located at the top of the tablet. The scroll wheel is handy for scrolling through web pages or documents and the ExpressKeys can be fully programmed to perform mouse clicks or keyboard shortcuts.
Rounding out the new design is a compartment for holding your pen, which is especially handy when traveling, and a transparent overlay for the tablet, allowing you to customize the look with photos or artwork. The installation CD includes samples and templates for creating your own.
Excellent Software Bundle
The Graphire4 includes a very good software bundle with Adobe's Photoshop Elements 3, Corel's Painter Essentials 2, and a set of nik's Color Efex Pro 2 filters. Windows users also have JustWrite Office 4 and EverNote Plus for handwriting support. Macintosh users can use the Graphire4 with Apple's Inkwell. Considering the price of the tablets, with the 4x5 retailing for $99 and the 6x8 for $199, it's almost like getting the tablet for free.
Wacom's Mouse Performs like a mouse but it adds many more options and controls.
Using The Tablet
Using a tablet for the first time takes a little adjustment. We're all used to looking at the monitor while moving a mouse, but for some reason it seems to be natural to look at the tablet when you first use the pen. Of course, that doesn't work too well so you quickly adjust and soon wonder how you ever did anything with a mouse.
FEATURED VIDEO