Roundup Update: Dynalite, Interfit & Rime Lite, More News From The Lighting Front
The field of studio lighting equipment is a large one and advanced amateur and professional photographers have many different kinds of products to choose from. There are self-powered monolights, traditional power pack and head systems, or continuous light sources that let you see in real time the lighting effect that's produced. The kind of photographer you are and the type of images you make determines the lighting system that best fits your working style and Dynalite, Interfit, and Rime Lite are three companies that produce systems for every photographic discipline.
Dynalite
Dynalite lighting gear has been built in the U.S.A. for the past 35 years and the equipment's ruggedness and dependability has long made it a favorite of pros and advanced amateur shooters. The MP800 power pack is part of Dynalite's RoadMax series and produces 800 ws of power and has four head outlets, allowing you to direct its output—symmetrically or asymmetrically—over a six-stop range. In addition to flexibility for different kinds of lighting setups, that output is produced with short flash durations and a 1.2-second recycle at full power. A variator knob on the power pack lets you make exposure adjustments in 2/10 stop increments. As with the rest of the RoadMax series, the MP800 has a built-in 32-channel PocketWizard transceiver permitting wireless shooting but an optical slave and included sync cord give you a choice on how you want to interface your camera with the power pack.
Dynalite's MH2050 RoadMax Flash Head is fan cooled and has a 2000 ws capacity flash tube. It has a built-in recessed reflector with 140-degree coverage for even light dispersion but other reflectors can be mounted to produce different coverage. The MH2050 has several improvements over the 2040, which it replaces, including lighter weight, smaller size, and a direct-plug method for head-to-pack cables. The elimination of the "pigtail" ensures a better connection to the power pack and saves space when packing for a location shoot. The SH2000 Studio series head is a fan-cooled, bare tube flash head with a frosted glass dome for even light dispersion and can be used with a variety of reflectors or in all kinds
of softboxes.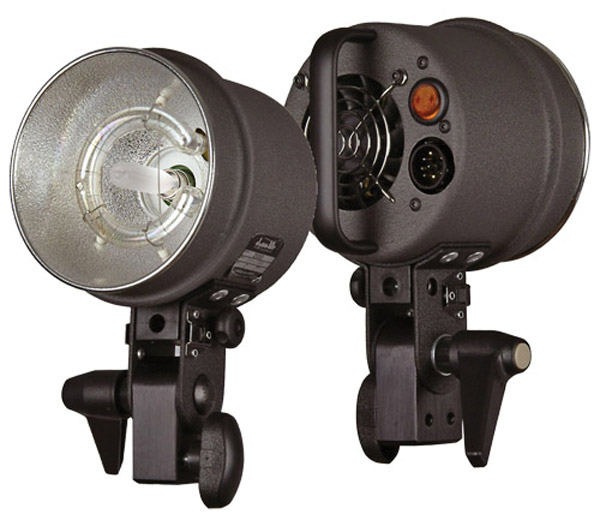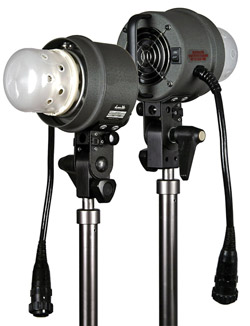 The RoadMax 800 ws Kit (MK8-1222) includes the MP800 power pack, two MH2050 flash heads, two light stands, two 40" white/black umbrellas, and a carrying case. The system is powerful and versatile enough to handle a wide variety of on-the-run assignments like fashion, corporate, portraiture, weddings, and interiors.
Interfit
Interfit Photographic Limited is a British company that makes lighting gear and accessories for everything from speedlights to monolights. Their EX300 is a 300 ws monolight that offers user-changeable flash tubes, switchable modeling lamps, infrared slave, and fan cooling all wrapped up in a purple-trimmed polycarbonate body. It's available à la carte or as a two-light kit that includes two light stands, an umbrella, a light bank, and a carrying case. Need more power? The 400 ws EXD400 monolight offers user-changeable flash tubes, switchable modeling lamps, fan cooling for prolonged use, and both IR and white light sensitive slave sensors along with an additional easy-to-use rear handle for positioning. The EXD400 features a preset flash function that lets it reduce the pre-focus flashes produced by some cameras, enabling the slave to correctly pick up the first, second, or third flash and ignore any pre-flash used for focusing. The monolight is available individually or as a two-light kit that includes two light stands, an umbrella, a light bank, and a carrying case.
Looking for a continuous light source? The rear panel of Interfit's Super Cool-lite 9 MKII houses six illuminated switches, allowing you to see which of the 32w fluorescent (4800-5200K) lamps are on or off. The 16" high-contrast reflector has a reflective dimpled silver surface, producing a soft diffused light that should be ideal for product photography when soft shadows are desired. Interfit offers a twin head kit (INT221) that features two softboxes and two high-contrast reflectors with diffuser panels and two light stands.
Rime Lite
I first encountered Rime Lite's awesome monolights and light banks when I reviewed their Fame monolights for Shutterbug in the November, 2011, issue. (In case you missed it, there's a copy online.) Their new Storm monolights are available in 200 and 400 ws models and, like the Fame lights I tested, are compatible with Rime Lite's RF Swing wireless triggering system. The back of these monolights feature two different control wheels much like a digital SLR and let you adjust power output (top) from the Xenon flash tube and the 50w halogen modeling light (below). Output may be controlled over a five-stop range in 1/10 stop increments and the power is shown on a 1.8" digital display on the monolight's back. Eight different reflectors are available ranging from standard, standard reflector (hard), medium reflector, beam reflector, snoot reflector, background reflector, narrow reflector, and wide reflector a.k.a. beauty dish.
Contacts
• Dynalite: www.dynalite.com
• Interfit Photographic: www.interfitphotographic.com
• Rime Lite: www.rimelite.com/en
All photos courtesy of the respective manufacturers.