Canon G1 X Camera Review
The new Canon G1 X quite an extraordinary camera. It has the compact body of a high-end point and shoot camera with a large CMOS 18.7x14mm sensor delivering 14 MP. This sensor is larger than Micro Four Third sensors (17.3x13 mm) in Panasonic or Olympus CSC cameras.
The camera has a bulky design, akin to past Canon G-cameras. A large swivel LCD on the back aids in creative composition and helps to shoot images near the ground or similar situations when it might be uncomfortable to use the optical viewfinder. However, the optical view finder is extremely small and we felt it should only be used when the ambient light is too bright to use the LCD screen. The AF system is based on contrast detection and is a bit slow. In our tests in low light conditions we noticed what could be described as "focus pumping."
The camera offers numerous manual modes, plus standard modes like P, Tv, Av and M. In addition, it offers two user-defined settings, which are directly available when using the large mode dial on the top. For changing the EV compensation, the photographer can use a special dial on the top. This helps to change exposure settings without using the menu system. The camera got two setup dials: The first one is located on the front and near the shutter release button, while the second encircles the cursor field on the back. In combination with the swivel LCD, all parameters can be changed in a very comfortable way in nearly every camera position.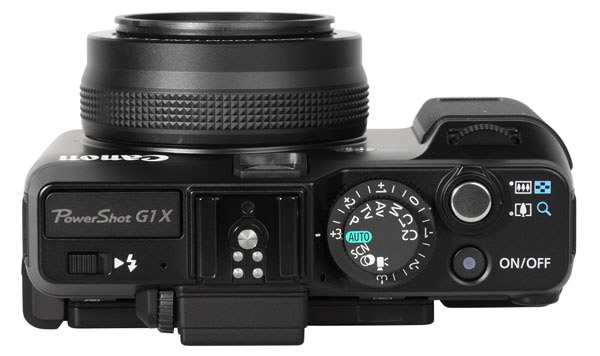 The G1 X offers an optical image stabilizer which uses a movable lens group in its integral 28-112 mm zoom lens (35 mm film equivalent). This helps in making photos in low light conditions and with longer exposure times--up to 1/6 second in full tele setting.
The GX 1 allows for the simultaneous recording of raw and JPEGs images. It comes supplied with Canon's Digital Photo Professional software, which allows for a professional raw workflow. It is also able to record Full HD video with 24 frames per second. The movies are saved as QuickTime files with H.264 compression.
Image Quality
Color: The colors are natural and slightly undersaturated, which is an unusual result for a compact camera. Nevertheless, some red nuances are boosted by a higher yellow rate and cause nearly a "color glow" in some elements, like the red t-shirt in the model shot and some red elements in our standard test box shot. The automatic white balance system causes a slight shift into cooler color areas, but our standard test box shot looks very natural and realistic with only a minimal shift into the blue colors.
Sharpness: The camera created very crisp and clear images with only minor color moirés. The ISO12233 chart was reproduced with 2909 lines per picture height, which is a very good result for a camera with a nominal resolution of 3264 lines per picture height. The camera uses an intense sharpness filtering to gain these high results, but the overshot results are still acceptable, especially for a compact camera. The crips results are also noticeable in the standard test box shot and the portrait shot. The structure of the model's eyelashes is perfect and the red elements (t-shirt) is differentiated, even if some red areas are a little oversaturated.
In wide angle shots and shots with standard focal length (the standard test box shot, for example) we noticed decreasing sharpness in the image corners.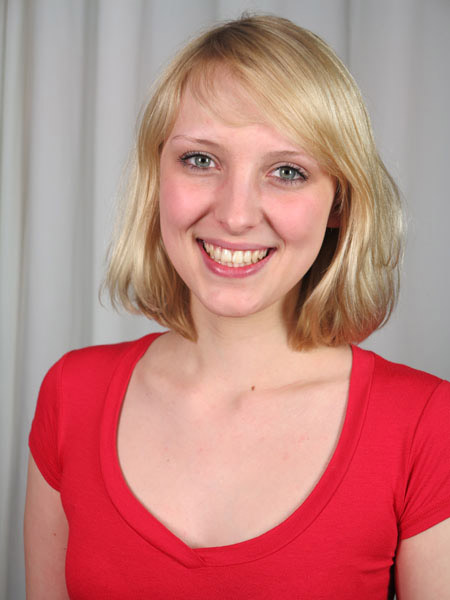 Noise: The camera showed nice and clean reproduction at nearly every ISO speed setting up to ISO 3200. In higher ISO speed settings we noticed some color clouds in homogenous color/gray areas. Just as in images taken with SLR cameras (and larger sensors), the anti-noise filtering is very decent and doesn't cause visible anti-noise filtering artifacts. The luminance noise results may be a little higher than in images taken with other digital cameras, but the color noise is nearly invisible due to a very smooth noise spectrum result and a similar progression of the RGB graphs. The dynamic range results are extremely good for a compact camera. The G1 X offers a maximum of 11.2 f-stops and keeps a high level of about 10 f-stops up to ISO 3200.
Pro:
* Very sharp, very clean images due to a very large sensor for a compact camera
* Manual settings with large and handy setup dials
* Optical image stabilizer
* Massive and robust body
* Swivel LCD screen (fully articulated)
* Full HD video (but only 24 frames/second)
Con:
* Very small optical viewfinder
FEATURED VIDEO