Sony Launches A6100 & A6600 Mirrorless Cameras & 16-55mm F/2.8 & 70-350mm Lenses
Sony's not getting out of the APS-C mirrorless camera game. That was the message at a Sony press conference in New York City this morning where the company unveiled two new APS-C sensor-based mirrorless cameras: the 24.2MP Sony A6600 and the entry-level Sony A6100 models.
Sony also introduced two new lenses for those and other cameras in Sony's APS-C mirrorless line this morning: the E 16-55mm F2.8 G and E 70-350mm F4.5-6.3 G OSS lenses.
"We are very much committed to APS-C, as we are to full frame, so we can bring these technologies to a wide variety of creators," said Mark Weir, Sony's Senior Manager for Technology at the press conference where all the new Sony photo gear was unveiled.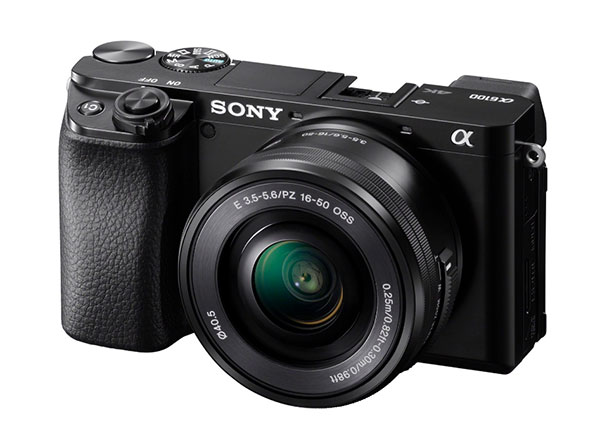 The annoucement of these new APS-C mirrorless cameras comes on the heels of several new full frame mirrorless cameras lenses from Sony, including the 61MP Sony A7R IV, which we reviewed here. This has led some to believe that Sony might be transitioning from the smaller APC-C cameras to the larger full frame models with bigger sensors. Today's announcement of the Sony A6600 and A6100 changes that perception, at least for now.
The Sony A6600 will go on sale in November 2019 for $1400 US/$1900 CA (body only), and $1800 US/$2400 CA as a kit with the Sony E 18-135mm lens. The Sony A6100, meanwhile, will go on sale in October 2019 for $740 US/$100 CA (body only), and $850 US/$1100 CA as a kit with the Sony E 16-50mm lens, and $1100 US/$1500 CA, as a kit with the Sony E 16-50mm and E 55-210mm lenses.
More details and specifications for these new Sony cameras are in the images below. You can also read Sony's official press announcement about all of this photo gear on the Sony Alpha Universe website.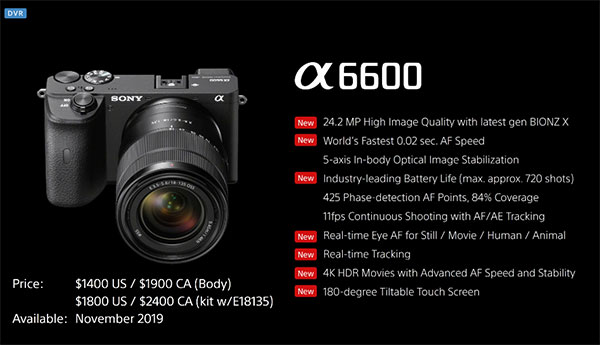 LATEST VIDEO