Slik Tripod and Head Buying Guide
How many times have you come across the perfect evening scene – camera in hand – only to be left watching instead of shooting because there was not enough light?
Should have had a tripod!
It's not just about nighttime photography either. If you snap landscapes, events, product shots, macros, or fireworks – just to name a few – a solid camera support system will massively improve your photos.
In this product buying guide, we look at tripods, ball heads and other useful accessories from one of the most trusted designers and manufacturers of camera support gear in the industry: Slik.
Camera Support Basics
Options abound when it comes to supporting your camera, so it helps to have a general idea of what you're after before you pull out your wallet.
If you travel or work in the field, a lightweight tripod will be right for you. Just keep in mind, travelling light comes at the expense of some stability and load capacity.
Heavier tripods offer far better stability and can handle larger camera setups. But you may find yourself leaving it at home simply because it's not practical to carry around all day.
Working in cramped spaces? You'll want a compact tripod for those places where no full-size tripod can go. But there's a catch: smaller tripods can't support large cameras and heavy lenses. It's physics!
Aside from a suitable tripod, you will also need a tripod head to mount the camera.
For maximum flexibility you can't go wrong with a ball head. This type of head lets you adjust and lock your camera in almost any position.
If you use very heavy, long lenses, a gimbal head will be your best choice. Gimbal heads handle heavy loads while giving you flexibility to move camera as if you were shooting handheld. Wildlife photography, anyone?
With the basics out of the way, here is a selection of gear from Slik. They have been designing and building quality camera support systems for over 70 years, with products for every kind of photographer, regardless of skill level. Whether you are a traveler or a studio creator, amateur or professional, Slik has the right equipment to help you achieve your creative goals.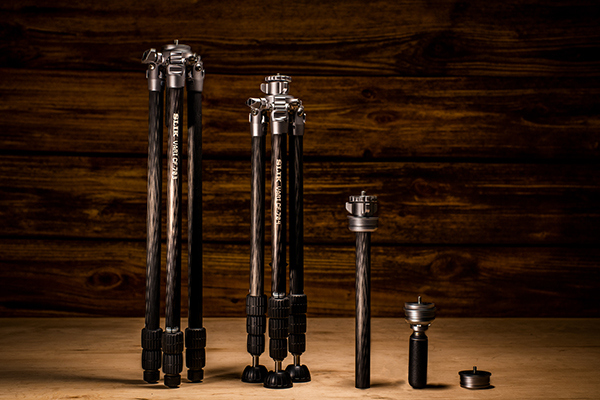 The tool-free Rapid Column Exchange system is at the heart of the VARI series Carbon Fiber tripods. Quickly switch between a traditional center column, a flat plate for low angle work, or a video bowl mount. The 8-ply carbon fiber legs provide an excellent strength to weight ratio making them ideal for hybrid shooters who need an all-in-one tripod. Kits start at $499.95.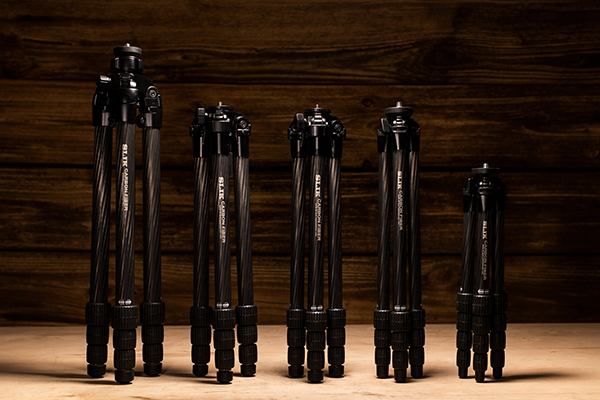 Slik Carbon Fiber (CF) tripods are lightweight, compact, and built for rigidity. Designed to hold professional equipment in any conditions, the legs weigh from 2.2 pounds - 5.2 pounds and hold from 6.6 pounds - 22 pounds. The carbon fiber tripods offer professional quality and flexibility to fit your needs. Legs start at $229.95.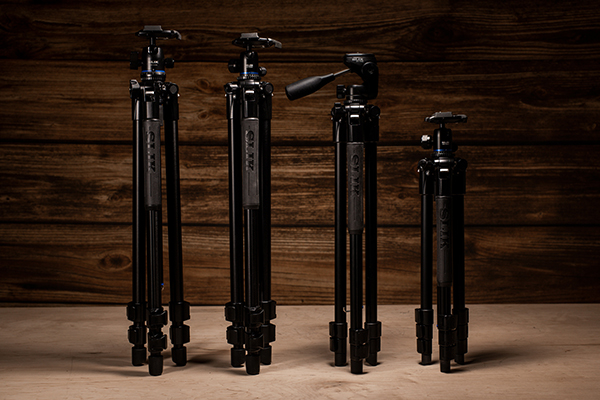 Aluminum (AL) tripods are ultra-sturdy, quality-built, rugged tripods. The AL series utilizes a Rapid Flip Mechanism (RFM) that permits one-handed operation when setting the leg-angles. The center column can be removed or inverted for low angles. Slightly heavier than the CF tripods, the aluminum kits offer affordable alternatives without sacrificing quality. Full kits, with a head, start at $119.95.
The Sprint series are ultra-compact, lightweight tripods designed for travel. With a folded length ranging from 13.2" - 18.5" the Sprint series is a traveler's companion. All Sprint series tripods weigh less than 2.5 pounds and offer the Rapid Flip Mechanism. Sprint tripods are ideal for mirrorless and small DSLR cameras. Kits include your choice of head and start at $89.95
Table top tripods are designed to fit where full-size tripods can't, including counters, desktops, and other small spaces. Table top tripods are about the same size as a standard DSLR lens. Starting at just $29.95, including a small, removable ball head, this is an economic choice for creators and photographers.
Slik's newest professional ball heads, the PBH-52LP ($299.95) and 45LP ($249.95) offer a low-profile design. Each head sports dual-drop notches to switch between landscape and portrait compositions, an independent pan knob, and a custom tension dial. The slightly larger 52LP holds up to 66 pounds while the 45LP holds up to 44 pounds of equipment.
Gimbals are designed to support large telephoto zoom lenses making it easy to photograph wildlife and sports. While most gimbal heads are big and heavy, the ultra-compact SGH-300 ($249.95) weighs just 1.7 pounds and holds up to 10 pounds of gear.
The ECH-630 Astro Tracker ($339.95) is a portable, lightweight star-tracker designed for backcountry photographers. It allows you to capture the night sky in greater detail with lower noise and permits longer exposures at lower ISO settings with longer focal length lenses. The SMH-250 is an additional accessory that assists in aligning the ECH-630 with Polaris.
The Sliding Arm II is a universal mini-boom that works with almost any tripod. The arm adjusts up to 19.5" from the tripod's center. The fulcrum design allows for 360° rotation, tilt, and slide for free movement in almost any direction. At $69.95, the Sliding Arm II is essential for vlogging, product, and macro photography.
A good tripod is an essential tool in every photographer's kit. It will give you more freedom and flexibility to shoot in every situation and location – it's just a matter of bringing the right gear.
Did you recently add a tripod to your kit? How did it change your photography? Let us know in the comments.
For more information about Slik and the products we make, please visit www.slikusa.com and follow them on Social Media @slikusa.
About the Company
Kenko Tokina USA, Inc. is the exclusive U.S. distributor for Tokina lenses, Hoya filters, Cokin filters, Kenko photo accessories and Slik camera support systems. Kenko Tokina USA provides marketing, sales, distribution, and technical/consumer service and support. Kenko Tokina is located in the original Surf City USA, Huntington Beach, CA and on the web at www.kenkotokinausa.com.
FEATURED VIDEO