Shoot to Thrill: We Pick Our Favorite Photo Gear for Capturing Adventure Sports & Extreme Action
"It is not the mountain we conquer but ourselves."—Sir Edmund Hillary
Living in Colorado I'm surrounded by people who love extreme and adventure sports. Even though my time spent pursuing these activities has passed, I took advantage of these folks' availability and opinions to put together my gear selections for this month's column.
All agreed that photographers pursuing the extremes needed three major categories of gear: drones, action cams, and camera harnesses. Here is our favorite equipment for shooting risky (and exciting) situations.
Flying High in the Sky
Much as GoPro may be the de facto action cam for some people, DJI produces the go-to quadcopter or drone (if you insist) and is the gold standard in consumer drones with a price tag to match. The Mavic Pro ($999) features a flight control system that draws from a host of sensors—a ground-facing camera, an ultrasound, a GPS, dual redundant inertial measurement units, and more—to keep track of where it's flying and even avoid collisions, something I've not yet managed to do.
DJI's GO mobile app lets you access settings, obtain a telemetry readout, view a low-latency video feed, and edit and share footage. You can fly the drone using joystick-style controls and tap-based commands. The Mavic Pro even recognizes gestures to capture the perfect selfie for those who aren't already over this trend.
Who's It For: Photographers looking for a quadcopter that is as well built as their pro camera gear.
Why I Like It: As someone who's owned and crashed beyond repair two different quadcopters from two different manufacturers, a lightly used Mavic Pro is on my bucket list—the ideal previous owner is a little old lady who only flew it after church on Sunday.
For that "black helicopter" look so beloved by conspiracy theorists, there's the Holy Stone F181 RC Quadcopter Drone ($109) aka UFO Chaser. It's equipped with a key return and a headless security system designed to prevent any level of flyer from losing the copter. Its Altitude Hold Function lets you release the throttle stick while the drone hovers at the current height, making it easy to shoot 720p video clips or 2MP images with the built-in camera.
If you enjoy stunt flying, you'll like the 360-degree Four-Ways Flip feature—left, right, forward, and backward. The quadcopter comes with two batteries to produce a runtime of seven to nine minutes, with an 80-minute charge time.
Who's It For: Photographers looking for a quadcopter that provides the best bang for the buck.
Why I Like It: While awaiting delivery of my low-mileage used DJI, the modestly priced Holy Stone might be the Holy Grail for me.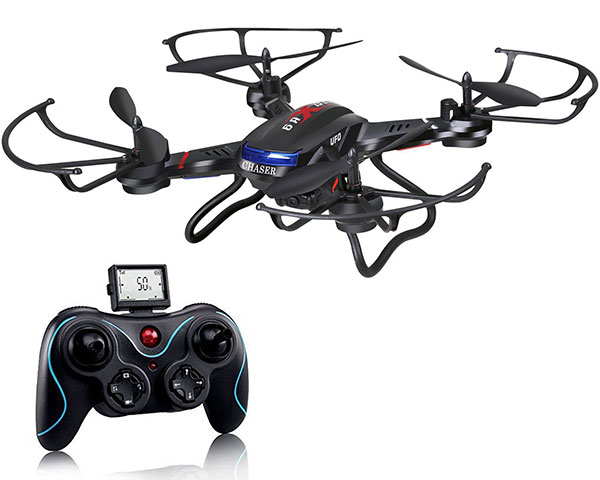 On a tighter budget? Syma's X5SC Explorers 2 ($49) might be what you're looking for. It only has a 2MP camera but will help you hone your flying (and crashing) skills until you can move up the quadcopter ladder.
The X5SC has a six-axis gyro and 3D lock. Usually the forward direction of a flying multi-rotor is the same as the nose direction but using Syma's Headless Intelligent Orientation Control function lessens the steepness of the learning curve and lets you enjoy flying—and it is a joy—while learning the quadcopter's orientation. The X5SC has blade guards and color flashing lights for those late-day flights.
Who's It For: Photographers on a really strict budget looking for a quadcopter.
Why I Like It: At this price I can afford to crash my third quadcopter in a row as I work on my Steve Canyon impression.
Action Cams
The Olympus Stylus Tough TG-Tracker ($279) is an action camera that captures video up to UHD 4K at 30 frames per second (fps), 1080p video up to 60 fps, 720p video up to 240 fps, and 8MP stills. Its dustproof, shockproof body handles drops up to seven feet and operates in temperatures as low as 14 degrees F. It is also waterproof to depths of 98.4 feet and, unlike other action cams, it doesn't require a separate camera housing.
The Olympus TG-Tracker is equipped with a lens that has a 204-degree angle of view and has a built-in LED headlamp for dimly lit environments. Unlike some GoPros, you can frame your shots with a tilt-out 1.5-inch LCD screen or connect to a mobile device via Wi-Fi and use the Olympus Image Share app to remotely operate the camera and transfer files for sharing.
If you switch the camera to LOG mode, you can record data from the built-in GPS, compass, accelerometer, thermometer, and barometer. The location data from these sensors can be viewed on the camera's monitor and downloaded using the Olympus Image Track app. Unlike GoPro who disguises its prices by not including a $50 charger, one is included with this action cam.
Who's It For: Photographers who want to see what the action cam phenomenon is all about without breaking their piggy banks.
Why I Like It: Its price and badass styling.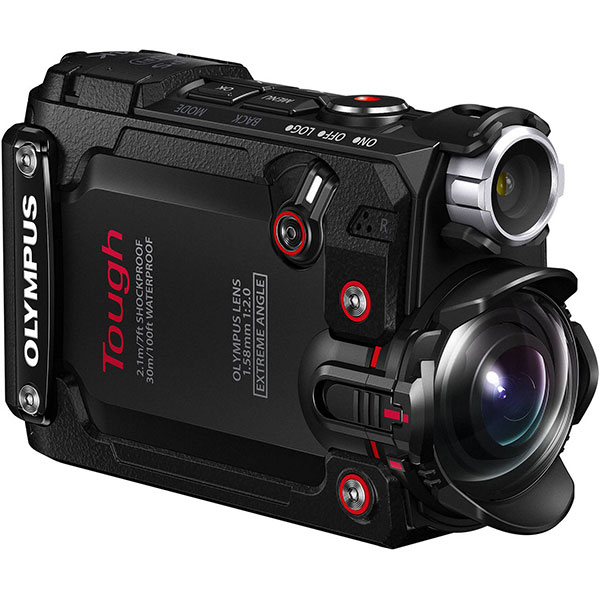 While Nikon's KeyMission action cams have received mixed reviews, you can't deny the company knows a lot about making fine cameras and optics. The KeyMission 170 4K action camera ($396) captures 4K resolution at 25/30 fps with internal electronic Vibration Reduction (for 1080p and 720p capture) to reduce the effects of shakes and jitters. You can also capture 120 fps slow motion, 720p HD at 200/240 fps super slow motion, and "high-resolution" still images. The glass Nikkor lens offers a wide 170-degree angle of view.
The camera is waterproof to 33 feet, shockproof from a 6.6-foot drop as well as freezeproof and dustproof. It has a 1.5-inch rear display to set up and monitor shots in real time. When shooting video, the battery runs up to 110 minutes, up to 250 still shots, or up to an hour underwater. The free control and playback app is compatible with iOS and Android mobile devices.
Who's It For: Those Nikon-loving photographers who want to try an action cam.
Why I Like It: It's a real camera from a real camera company.
At just 1.6 ounces and 3.3-inches long, Panasonic's HX-A1 Wearable HD Action Cam ($99, orange) is waterproof to depths of five feet without a housing, shockproof from drops up to five feet, dustproof, and freezeproof to temperatures as low as 14 degrees F. The camera comes with a Tripod Mount and a Multi Mount for attaching to goggles, shoulder bags, or helmets.
The Panasonic HX-A1 incorporates a 1/3-inch MOS sensor that supports 1080p 30 fps video with AAC audio recorded to microSD/SDHC/SDXC memory cards. You can record slow-motion 720p video at 60 fps or 848x480 resolution video at 120 fps. It's equipped with a 2.6mm f/2.8 wide-angle lens and includes an IR lens to shoot in darkness when used with an optional IR light source. The camera has built-in Wi-Fi and supports a wireless twin camera function that lets you send a video feed to a compatible Panasonic camera for simultaneous, dual-angle picture-in-picture recording.
Who's It For: Photographers who want the smallest possible action cam when climbing or engaging in physically challenging pursuits.
Why I Like It: Panasonic knows a lot about video.
Getting a Grip
When dangling off the 9,000-foot Georgetown Buttress, that camera/guitar strap you bought at Crazy Charlie's Flea Market may not be the best way to secure your camera. You need something like Cotton Carrier's CCS G3 Camera Harness System and side holster ($159) that supports and secures two cameras.
The ergonomic design of this harness distributes the weight of the cameras to lessen the fatigue of a long shooting day. The one-size-fits-all adjustable harness is made from Kodra synthetic canvas and is available in a Charcoal Grey or Camo finish for wildlife photographers. The G3 harness has a water-repellent (DWR) coating and is fitted with Cotton Carrier's Twist & Lock camera mount. A removable Wanderer Side Holster is included for that second camera. The holster can also be removed and placed independently on your pants belt or the waist strap of your camera bag.
Who's It For: Rock climbing and serious adventure photographers but it might also work for kayakers with waterproof cameras.
Why I Like It: The Charcoal Grey G3 Camera Harness System makes me feel like a ninja.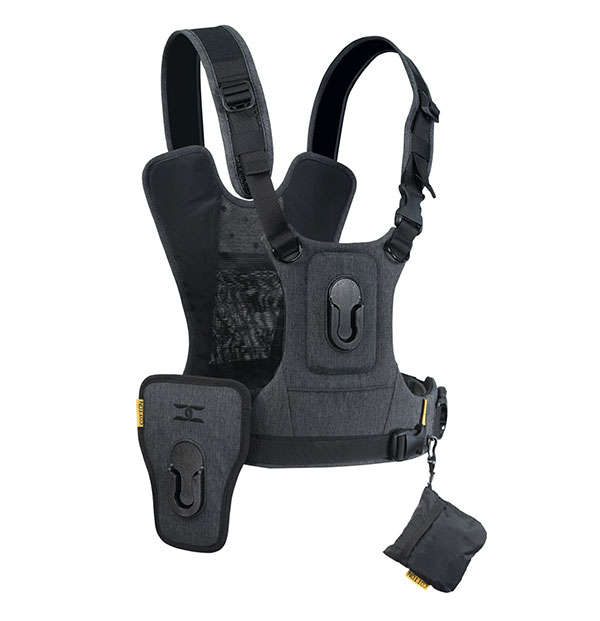 Think Tank Photo makes lots of interesting specialized gear for securing and hanging cameras and lenses. One of the most interesting is the affordable ($42) Pixel Racing Harness V2.0. Rather than offering a complete solution, it's the building block of a system that provides vertical support to Think Tank's optional belts, modular pouches, and belt packs. It attaches to any (sold separately) Think Tank belt to distribute weight between your shoulders and waist. It has additional loops, D Ring and stretch pockets as well as airmesh construction for comfort and breathability.
Who's It For: Motorsports and aspiring motorsports photographers.
Why I Like It: Great design, great price—I gotta get me one.
At $34, the Backcountry Solutions Keyhole Hands-Free Camera Harness represents one of the better values in a camera harness. The Keyhole is designed to hold your camera and lens attached to your backpack or chest harness, with the lens facing downward and held steady. It's made with polypropylene straps and a hard plastic plate for the camera. You can use the quick-attach sternum strap adjusters to attach the harness to your backpack or chest harness straps.
The buckles come with four connectors that mesh with connectors on your backpack's straps. The design includes a special cap keeper that prevents your lens from swaying from side to side. One of the best features of this system is that it limits the strain of your camera on your neck and with the lens held tightly against your body, there's less chance of it banging into a rock, bush, or the ground. Made in the U.S.A., the Keyhole comes with a one-year warranty.
Who's It For: Hiking and skiing photographers looking for a solid product at an attractive price.
Why I Like It: Funny name but a well-made, functional product.
Grip & Go
For smartphone shooters Zeta Manufacturing's GRIP&SHOOT Smart Grip ($99) lets you grip, then shoot photos. When attached to the phone, the Bluetooth Smart Grip adds comfort and stability with wireless buttons that provide one-handed control without having to touch the screen. To capture a photo or start/stop a video, you just squeeze the trigger.
You can use plus and minus buttons to zoom, control exposure, or switch cameras; you can also customize the buttons to your specific requirements. You can remove the bottom of the grip to use as a stand, while the remainder of the Smart Grip acts as a remote to control your device up to 100 feet away. The included JawZ Universal Adapter holds any phone, with or without a case, up to 3.5-inches wide.
Who's It For: Smartphone shooters.
Why I Like It: Not a fan of photography with smartphones but this seems like a clever device.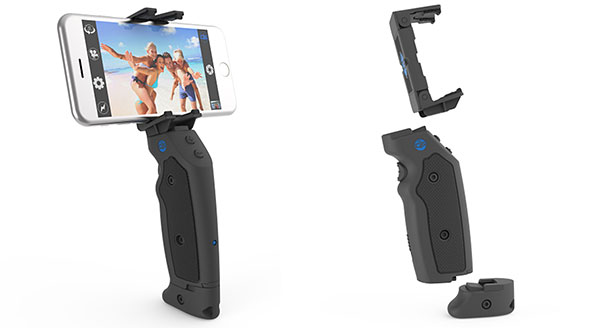 To shoot his non- or semi-adventure images, Joe Farace uses Canon EOS DSLRs and Olympus and Panasonic mirrorless cameras. He owned a GoPro for two days but was frustrated by it; he continues to search for an alternative to use with his model train layout. More information about the gear he uses can be found at joefaraceblogs.com, joefaraceshootscars.com, and mirrorlessphototips.com.
FEATURED VIDEO