Sell or Trade Used Camera Gear for Max Value: MPB is Safe, Fast and Easy
It's completely understandable. You have camera equipment that you seldom use but you're reluctant to trade or sell it because you have some legitimate concerns—despite the fact that you could trade your underused gear for photo items you really want or plain hard cash. Here's some advice that can help you make an informed decision.
You're shy about selling or trading because you believe that you won't get much money in return. Or you're afraid you'll get ripped off altogether (which can happen if you take the online auction route and sell to a stranger.) Or maybe you're convinced that trading or selling is just too big of a hassle.
Sell or trade with MPB and those concerns dissolve.
Here are seven reasons to rely on MPB.
1. MPB is the largest global platform to buy, sell and trade used photo and video gear. MPB has served more than 625,000 visual storytellers worldwide and they recirculate over 485,000 pieces of photo equipment every year.
2. MPB provides free instant quotes so you know what your gear is worth before you commit. And you can change your mind right up until the last moment.
3. MPB is highly reputable and has a 5-star rating on Trustpilot.
4. MPB pays for the shipment of your trade-in or sale item and after inspection deposits your payment directly to your bank account. No delays and no runaround. And as a matter of fact, MPB customers earn an average of $900 every time they sell to them.
5. MPB has a vast inventory of used cameras, lenses, video equipment and drones. If you're looking to trade, they have an extensive selection to choose from. If you don't see what you want, enter your email address to create an alert; MPB adds more and more gear every day.
6. MPB provides friendly expert help and support. MPB provides first-class customer service. Customers can receive support through our Help Center or by speaking directly with a gear expert.
7. Even if you have nothing to trade or sell, you should consider buying from MPB's assortment of used photographer and filmmaker tools. Each item is individually photographed—the camera or lens you see in the listing is the one you receive, no "stock pictures." Every item is inspected carefully by trained specialists. Every used camera body or lens includes a 6-month warranty.
Where to start?
Before you go to MPB's website for an instant quote, take a moment to familiarize yourself with their condition rating system. Start by watching this MPB video.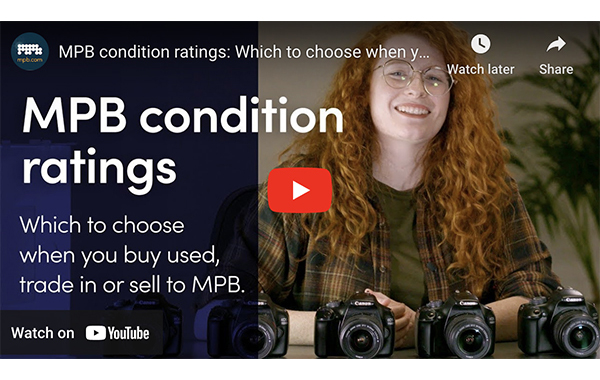 As you'll see, MPB uses five condition ratings. Don't worry if you're not sure which one to choose—they check over your gear to confirm its condition. The five levels are Like New (mint condition, only minor wear); Excellent (minimal signs of wear, otherwise pristine); Good (fair amount of use, but well-kept and may have marks or scratches); and Well Used (significant use, noticeable signs of wear and tear); and Heavily Used (significant signs of wear and tear, primary functions still work).
Next step, carefully examine the equipment you plan to sell or trade and be as objective as you can be. Call out and disclose scratches and dings – which will be discovered anyway. A dent in the pentaprism doesn't make a camera worthless or useless, but it does reduce the resale value. Put yourself in the other guy's place—pretend that you are the buyer who wants to make sure everything is good.
Charge the battery and check camera functions. Fire a few test shots.
While you're in the hands-on scrutiny phase, give the camera body and/or lens barrel a careful wipe down with a soft microfiber cloth. Dust often collects around dials and buttons, so clear the visible debris with a completely clean, unused paint brush (works better than a blower brush). Don't overlook checking inside the battery compartment.
Do not clean the sensor, mirror or rear lens element.
Gather up all of the accessories starting with the battery(s) and—very important—the battery charger. Still got the original box, owner's manual and packaging material? All the better. You won't need that any longer.
If you have a flash unit that works only with the camera you're selling, might as well sell it too. Likewise if you're changing camera systems altogether, find and inspect the lenses you will no longer need.
Now you're ready to go online at MPB and obtain an instant quote.
If you accept MPB's offer, carefully wrap each item and pack it in a sturdy box. Here's where having the original packaging comes in useful. Important: Don't forget to remove the memory card before you start packing and be sure to include your name and address inside the box.
MPB pays for shipment to their facilities. You can choose to take your gear to a courier drop-off location or you can schedule a free pick-up from your address. After a complete inspection, they confirm the condition you described and then you consummate the transaction. If your equipment is in better condition than expected, they'll automatically increase the amount indicated on your quote and pay you more. On the chance there's a negative price adjustment, you can decline and get your gear returned for free.
Once the deal is complete, MPB deposits the agreed amount directly into your bank account within days. It's really that easy, fast and safe.
MPB is a Community
MPB has a robust and informative website with valuable original content including competitions, gear guides, how-to tips, videos, interviews and other items of interest to photo and video storytellers. They also offer a free newsletter. The newsletter is always packed with helpful information, guides and tips covering a wide variety of photo and video topics. Once you feel at home—and you will—open a free MPB account to unlock faster checkout, manage your transactions online and get more relevant content.
—Shutterbug Staff
FEATURED VIDEO