Personal Project: Photographer (& Family) Head Into the Wild for Horse Pack Photo Trip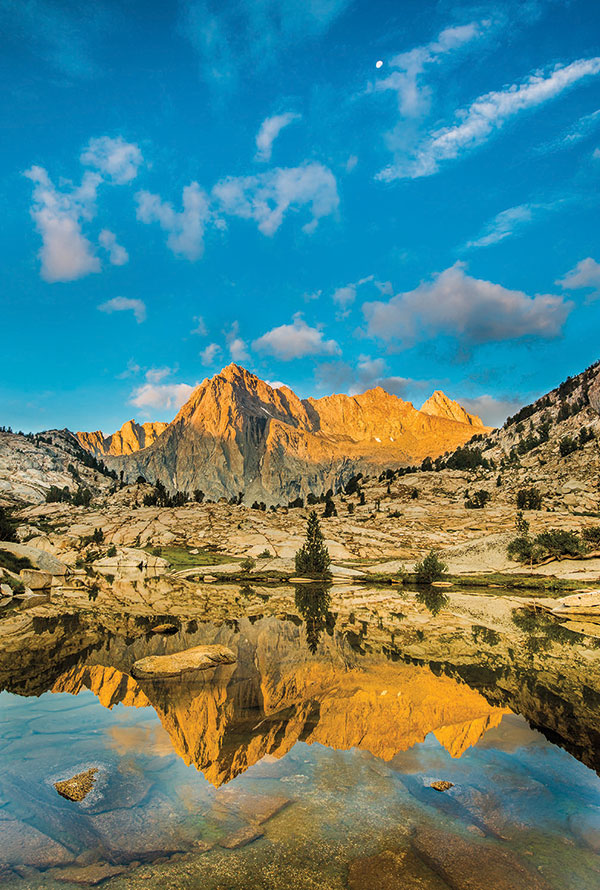 "The value of planning photography trips with lots of extra time cannot be overstated, and that proved especially so on this trip."
It all started with a conversation at a family holiday with my aunt and uncle about doing a summer hiking trip in Yosemite to stay at the High Sierra Camps. These camps are supported by daily mule trains that haul in supplies, including delicious meals and luggage, thus allowing visitors to carry a light daypack while getting to enjoy the experience of a backcountry trip.
As a photographer, I am always on the lookout for new locations to explore that are bit off the beaten path, and the idea of not having to carry a huge pack while getting to spend a lot of time shooting deep in the Yosemite High Country sounded wonderful. The idea of staying in well-stocked backcountry camps that provided meals and lodging appealed to the older yet adventurous spirit of my aunt and uncle.
Travel Options & Locale
But after doing some research I realized that taking the entire group to the High Sierra Camps would cost more than doing our own private horse pack trip. Having done several previous pack trips in the Sierra, I knew we could arrange to have all our gear dropped by mules almost anywhere in the "range of light" up to 10 miles from a trailhead and have a private High Sierra Camp for as long as we liked. I began pouring over books, maps, and websites trying to find a location that would offer great day hikes for the non-photographers while offering world-class photography options as well.
After picking a few potential locations I talked with different horse packers to tap into their firsthand knowledge of these locations. If there is anyone who knows the ins and outs of an area it is the horse packers who are on the same trails every day, all season long. In the end we opted for a lake about seven miles from the end of Lake Sabrina above the photographer's paradise town of Bishop, California. Because we had to pick our dates months in advance, we based our trip around a full moon at the end of July, when the wildflowers were likely to still be in bloom.
The Group
When the day finally arrived our group had grown to 13 people, including a couple of 70+ year olds, four elementary age kids, and our newly adopted 1 1/2-year-old toddler. The beauty of doing a horse pack trip is that you can take as much gear as you want, but you don't have to carry it (a real boon for families and photographers alike). Normally, due to weight constraints, most serious photography only happens within a couple of miles of a trailhead. But with mules carrying tents, food, cameras, and even a bottle or two of wine, photographers are able to spend days deep in the wild waiting for perfect light, all the while enjoying great meals and the solitude of rarely photographed locations.
While it is possible to do an all-inclusive pack trip with a cook, rented camp gear, and horses for everyone to ride, we had chosen to just have our gear carried to a preselected location while we hiked into our chosen base camp. After loading our five mules, which quickly turned into seven because everyone brought so much gear, we headed for the trailhead and were quickly passed by the pack train on its way to our camp. Being the planner of our trip, I had worked with the packers to choose the most photogenic location in the entire area for our camp. By setting our camp right on the shores of a lake I was literally a stone's throw from Moonlight Falls and Picture Peak, both of which would make gallery-quality images—if the light cooperated.
The Season (& Weather)
While I love hiking and photographing in the Sierra, sad to say that the summer is often the least photogenic season due to days of "perfect" blue skies without a cloud in sight. When checking the weather forecast prior to a trip, I always pray for thunderstorms that will clear at sunset or sunrise, offering dramatic clouds and saturated light. So, when we checked the forecast and it called for partly cloudy with a chance of rain, I silently cheered as everyone else was groaning saying things like "I thought you said it didn't rain in California."
After a wonderful seven-mile hike we arrived at our camp in time to pitch our tents and enjoy cocktails while watching the sun leave and clouds build. Because we had only had our adopted son for about a month, it was an entirely new experience figuring out how to toddler-proof our tent with the chance of rain. By midnight we could hear thunder and the steady patter of rain falling on our tight tent fly. As a rule on a photography trip, no matter what the weather might be, I always get up for the sunrise, just in case. But after a stormy night and quick peek out the tent door into the pouring rain, I knew there would be no sunrise and instead it was tent-bound toddler playtime.
The value of planning photography trips with lots of extra time cannot be overstated, and that proved especially so on this trip. We were to be there for six nights and seven days and, while it did stop raining sometimes for a few hours during the day, it rained the majority of the time, making it the wettest trip any of us had ever experienced in the Sierra and bringing back memories of weeks spent tent bound in Alaskan rainstorms. Despite the rain everyone remained positive and donned rain jackets for day hikes, fly fishing, and tent-draining parties.
While parenting duties like washing and drying cloth diapers did slow down my shooting quite a bit, I worked hard to take advantage of the overcast skies during these breaks to shoot flowers and smaller scenes. I also did a bunch of scouting while fly fishing in the rain, taking quick snapshots as reference points in case the weather cleared or for future trips.
Of a total of six sunrises only two were clear enough to even get the camera out of the bag. As it often happens, the last sunrise of the trip was when everything came together (sort of a Zen thing for those who are patient). I still didn't have any great sunrise shots of Picture Peak, so I was determined to get up if there was any chance of light. Standing next to my father we watched as the days-long storm broke right as sunrise was hitting the peak, and the moon we had almost forgotten about appeared among the clouds.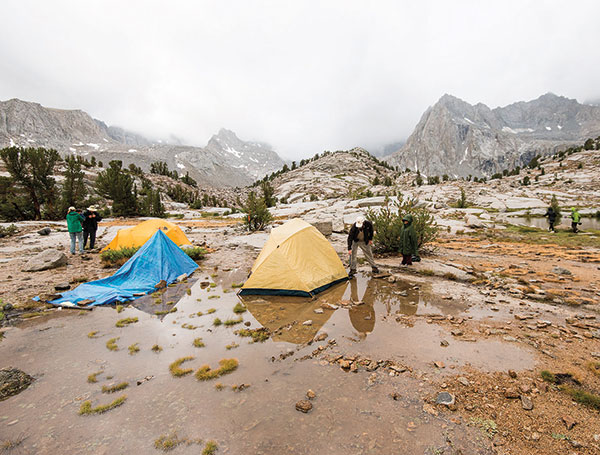 The Gift
As a professional photographer I always feel the pressure to produce new material on every trip, and the days of rain had added to this pressure. While I came home with fewer images than any trip of similar length, I also came home with one image that was truly unique and special from the sunrise spent with my father. I was also reminded that the best-laid plans change and that unless we as photographers are willing to adapt and move past the shots that won't work due to weather or bad light, we likely miss those unique shots that are possible. As a photographer who does a lot of logistical planning for my shoots, it is never easy for me to give up on my well-laid plans. But by looking for images that do exist rather than fretting about the ones that don't, I always come home happier and most of the time with a special "gift" in the camera bag as well.
Horse Packing For Photographers
For photographers who are comfortable camping, a horse pack trip is a great option to get farther into the field for both solitude and unique images. Many mountain ranges within the country are served by pack stations, which are located at trailheads leading to the more popular locations. When planning a trip the best resources are usually the horse packers themselves. Many packers go back generations at the same pack station and are true, hard-working cowboys who spend their days outside and enjoy sharing their knowledge of the places they love so much. Packers can offer advice about photographic locations, camp locations, and typical wildflower blooms. Most pack stations offer services ranging from a simple gear drop to full-service trips with cooks and camping gear. Just tell your packer what type of shooting you hope to do, and they can help tailor your trip to be one of the best of your life.
Packing Camera Gear For A Pack Trip
When organizing my gear for a pack trip my first priority is having the right gear and power for the type of shooting I think I might encounter. I pack lenses, cameras, and solar gear into padded F-stop ICU compartments or lens cases and then place them along with tripods into XL North Face Base Camp duffle bags. When I carry my 500mm I roll it in my sleeping pad, then inflate it, which makes a nice air-cushioned lens case. I typically don't use "formal" camera bags in the wilds, and the duffels are nearly waterproof and ride well on the sides of mules. I do my best to place the camera gear in the center of the bag, with clothes and sleeping bags/pads providing additional padding. On the trail I typically only carry a body and a couple of lenses in either an F-stop or regular daypack. I send the majority of my gear on with the mules because most of the day will be spent hiking, and once in base camp there will be plenty of time for more serious shooting.
FEATURED VIDEO