Rugged Point-And-Shoot Cameras; Hitting The Digital Trail
"Happy trails to you, keep smilin' until then."—Roy Rogers & Dale Evans
A growing trend in the world of compact digicams is "rugged" cameras that are capable of taking a modest beating as well as splashing in the surf or playing in the snow. Many of these cameras are festooned in bright colors and lest you think that's just a fashion statement let me tell you a story: A few years ago I gave my pal Gary his "dream camera," something small he could take on hikes in the mountains and that's exactly what he was doing when he accidently dropped the silver digicam into a deep snow bank, never to be found again. It never showed up on Found Cameras and Orphan Pictures (http://ifoundyourcamera.blogspot.com) and the camera was lost forever. It might have been easier to find if it was red. Tip: Found Cameras and Orphan Pictures also posts images from lost memory cards so it's a good resource for many reasons.

This new breed of rugged compacts is relatively affordable and packs so many features, including facial recognition, video capture, and special effects, that, just as many SUVs spend much of their time on instead of off-road, these rugged cameras are also useful for all-around photography. Join me on a trip through the rugged camera maze with a look at some of the newer offerings in this category. For a quick overview of the different models featured take a look at the "Rugged Compact Camera Overview" chart in the Instant Links section of the Shutterbug homepage.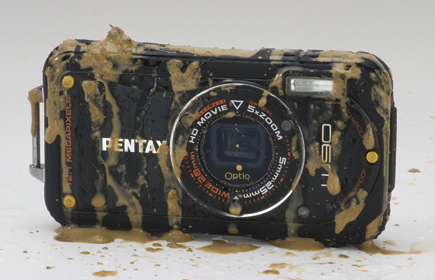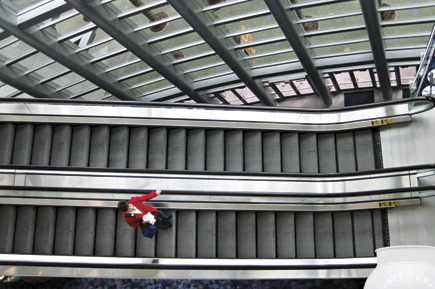 Canon's PowerShot D10 is so pocketable; I took it with me to the PMA Show in Anaheim, where I made this image. I was hanging out with fellow correspondent Jack Neubart when I leaned over a railing at the Anaheim Convention Center and saw this potential photo. "Now all I need is someone wearing red to come along," I told Jack. After a few minutes this lady appeared and I made a few exposures, including this one, although I was somewhat frustrated by the long shutter lag—compared to an SLR—with a moving subject.
© 2010, Joe Farace, All Rights Reserved
Canon
Looking all the world like a blue tetraodontidae (puffer fish) with a lens, Canon's PowerShot D10 is waterproof to 33 feet, cold resistant to 14?F, and shockproof for up to a 4-foot drop. It features a 12.1-megapixel sensor plus a 3x zoom lens with Optical Image Stabilization (OIS) to minimize and maybe eliminate unwanted blur caused by camera shake. Like all these cameras, there's a "mostly useless" digital zoom option and in this case it's 4x, which should only be used when you have no other choice. The camera's DIGIC 4 image processor does a good job and in low light and modest ISO settings (400) produces minimal noise. Canon's Face Detection technology has evolved and now includes Blink Detection to alert you after a shot has been made that a subject has closed eyes, if for some reason that wasn't already obvious when looking at the photo on a 2.5" LCD preview screen that's been brightened for better outdoor viewing. There's even a Face Detection Self-Timer that simplifies group shots by waiting until the user enters the frame before snapping the shutter.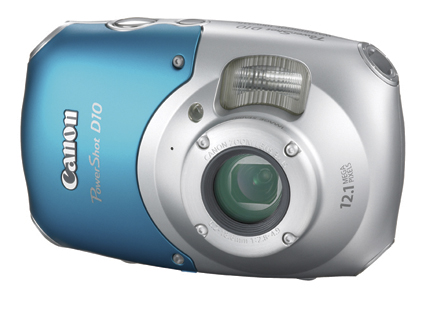 Canon's i-Contrast feature brightens dark areas in an image without blowing out lighter areas and newbies will appreciate the Smart AUTO mode that uses Scene Detection Technology to check subject brightness, contrast, distance, and overall hue before selecting an optimum Shooting mode from 18 possible choices. And since no camera these days would dare show its face without some kind of video option, the PowerShot D10 lets you shoot 30 fps (frames per second) VGA video of your (not my) skateboarding exploits. A range of protective accessories are available to protect the camera in challenging environments, including a soft case, plus shoulder, neck, and carabiner straps that interact with a connection system built into the camera's body and can be tailored for different activities. Users can also customize the camera's appearance with optional "skins" that I never figured out how to use. The PowerShot D10 ($284, street) comes bundled with useful software for Mac OS and Windows computers that should work well for beginning shooters.
Panasonic
The Lumix DMC-TS2 is Panasonic's newest rugged camera. It's waterproof to 33 feet, shockproof to 10 feet, freezeproof to 14?F, and dustproof. Inside this 14.1-megapixel camera you'll find rubber padding, reinforced glass, carbon resins, and an LCD cover panel that's 1.3x thicker than its predecessor to withstand increased underwater pressure. A supplementary damper absorbs impact forces to protect the lens and an included silicon jacket protects it from scratches. The TS2 features an optically stabilized 4.6x Leica DC VARIO-ELMAR lens. The camera has a 2.7" LCD with a wide-viewing angle and a built-in LED light that's convenient when shooting in dark situations, such as underwater. The TS2 features HD video-recording capability, using the AVCHD (Advanced Video Coding High Definition) Lite format that doubles recording time when compared with Motion JPEG. It also features Dolby Digital Stereo Creator for high-quality audio and is compatible with SDXC memory cards.
The TS2 has a short start-up time of 1.1 seconds, Sonic Speed AF, which enables fast response time, and a shutter release time lag (the biggest compact camera bugaboo) that's as short as 0.005 seconds. You should be able to lock onto a subject in 0.24 seconds (wide)/0.28 seconds (tele). All of which translates into an SLR-like response and is the best I've seen—so far—for any compact camera and makes me wonder what Panasonic knows that the other companies don't.

The camera features Face Recognition for up to 15 faces and lets you register up to three different images for a person. It also has an Intelligent Scene Selector that automatically selects whichever of six Scene modes—Macro, Portrait, Scenery, Night Portrait, Night Scenery, and Sunset—best suits the shooting situation. It even works in Video mode to reduce blur due to camera motion and improves focus, brightness, and exposure. My favorite feature is the uniquely Japanese "Happy" mode that optimizes color, saturation, and brightness. The TS2 ($399.95, MSRP) is available in silver, blue, orange, and electric banana yellow.
(Top): Everybody needs to have a series to work on; mine is ceilings because people often forget to look up when making photographs. This is the ceiling at Red Robin made with the Panasonic Lumix DMC-TS2's Vivid Color mode and an exposure of 1⁄13 sec (hence the fan blur that I like) at f/5.9 at ISO 200. You can see ceiling shots made with this camera and others on my "Ceiling" gallery on Flickr (www.flickr.com/photos/joefarace). (Left): The Panasonic Lumix DMC-TS2 has seven Color modes, including Standard, Natural, Vivid, Black and White, Sepia, Cool, and Warm. The photo of Mary at left was made in Vivid mode using only natural light (there is a window at camera left) and the right-hand photo was captured in Sepia mode. Exposure for both shots was identical: 1⁄40 sec at f/3.3 at ISO 200.
Photos © 2010, Joe Farace, All Rights Reserved
Casio
The EX-G1 is a shock-resistant, waterproof, dustproof digital camera and the first in the company's new EXILIM G (as in Casio's G-Shock watches) series. While eschewing the Navy Seal good looks of the G-Shock, the 12.1-megapixel EX-G1 features multi-image capture and interval shooting that automatically makes still photos or video clips at fixed intervals, enabling users to capture great shots while engaged in active sports. The EX-G1's shock-resistant shell passes drop tests, including multiple falls from 7 feet.
(Top): I was outside shoveling 16" of snow (no kidding) when my FedEx delivery person dropped off the Casio EX-G1. I took a break and since the camera had a charge and internal memory (see text), I was able to get off a few shots before going back to my duties. The sun had just come out so the exposure was 1⁄250 sec at f/8.9 at ISO 64.
(Bottom): The Casio EX-G1 is lightweight—it's the lightest digicam of the bunch—making it perfect to stick in a parka pocket for a walk around Barr Lake in Colorado. The temps during this somewhat snowy stroll were cold but didn't come near to the Casio's 14? limit. Exposure was 1⁄640 sec at f/3.9 at ISO 64.
Photos © 2010, Joe Farace, All Rights Reserved
Featuring a two-layer construction with a stainless steel outer casing, the EX-G1 inner body withstands shock and can be used at water depths of 10 feet for 60 continuous minutes. The camera is constructed with a resin cover to protect the body and a resin lens ring to protect the lens. The EX-G1 uses microSDHC cards but does have 35.7MB of internal storage, much of it taken up with locked video animation files so I was only able to make three Fine (other quality choices include Normal and Economy) shots before that internal memory was full.

This thin stylish model has a non-extending 3x zoom lens ranging from 38-114mm (equivalent) and features a 2.5" LCD. When the camera is pointed at a subject, the Intelligent AF function automatically detects it even if it is not a human face and determines the focus and exposure area accordingly. The EX-G1 will capture wide format (16:9) video clips. Just press the dedicated Movie button to shoot video at 848x480 pixels. It will also let you add "moving graphics such as hearts and bouquets of flowers…so users can have fun decorating their still images using the Dynamic Photo function." Hearts and flowers? Seems a bit out of character for a rugged camera but Casio's take on this genre allows users to have fun taking and viewing photos. The MSRP is $299.99.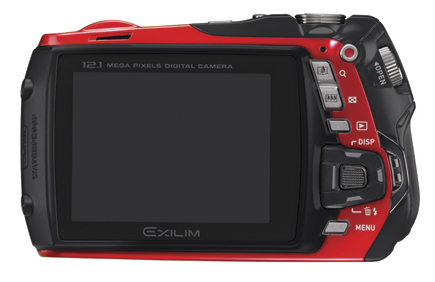 LATEST VIDEO