Practical Accessories For The Field Photographer; A Pro's Recommended List Of Gear For The Road
Photographers, by nature, love accessories. But sooner or later we all have to face the fact that we can only carry so much equipment. When I go out I go through a mental check list and include the basic equipment that I've outlined in this article. Please keep in mind this is my personal list; vary yours to suit the terrain, subject, and distance covered.

Looking To The Right
One accessory that I cannot do without is the right angle finder. This accessory is much different than a waist-level finder in that it simply screws into the eyepiece of your camera's viewfinder, shows 100 percent of the image, and does not disturb the metering system of the host camera body. This in turn now allows you to place the camera directly on the ground yet allows you to view the scene without stretching or getting into sometimes awkward or impossible positions. Most have built-in diopter adjustment, a rubber cup to keep extra light out, and weigh mere ounces. Nikon calls its right angle finder the DR-4; Canon refers to its as the Angle Finder C.
For subjects like this, packing the right accessories can make a difference in the way the day turns out. I took this heron with my Nikon F5 and Nikon 600mm lens with a 1.4 tele-converter.
Photos © 2005, Stan Trzoniec, All Rights Reserved
Getting Close Without A Prime Macro
These add-on lens accessories are simply called a "close-up" lens by both Nikon and Canon. While it will not take the place of a true macro lens in the field, it will allow you to use your longer 80-200mm or even a 300mm lens and focus as close as 20"!

Simply attach these magnifiers to the front of your prime lens. Both Nikon and Canon state that "they will not degrade the high performance of your prime lens." Note that they do correct for chromatic aberrations and in two element sets, they are the best you can buy. Regrettably Nikon's attachment lenses are available only in 52-62mm thread size. Canon has their series run through 52, 58, 72, and 77mm diameters.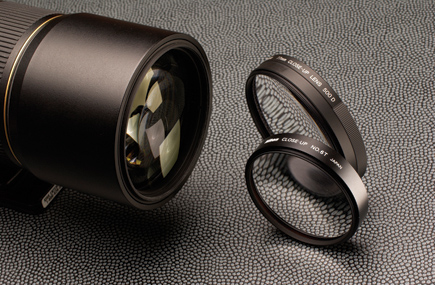 For sharp close-ups in the field, you can use these attachment lenses on the front of your longer lenses. Both Nikon and Canon make them and for the ultimate in sharpness make sure you get the twin-lens design.
Fill When You Need It
Small and portable (read handheld) flash units that have systems dedicated to the host camera are very popular and lend themselves to hundreds of situations. For different effects you can dial in compensation, scale up or down power, and even use the built-in infrared focusing light to assure razor-sharp images even in the bleakest of lighting conditions. Working off the camera's TTL metering system makes for right on the money exposures. You can even take these flashes off the camera via an accessory cord, which allows you to put the light exactly where you want it. Make sure you look for a flash that has a zoom head and provision for a wireless slave. One special flash I recommend is a twin-bulb macro unit, which is the ultimate in close-up flash control.
This is a close-up of one of the house plants in the sun room. The camera was equipped with a 300mm lens and taken from around 20". Total area in the photo is just under 2"!
Supporting It All
If nothing else, a sturdy and lightweight tripod is very important to the success of a day's outing. Looking around, the choice presently centers on either aluminum or carbon fiber and in my kit I have three that I use constantly in my work. The first is a Bogen #3021, which is made from aluminum, has a center column that I can adjust to within inches of my intended subject, remove, or even shorten within minutes. The others are carbon-fiber models that I use for long trekking days or for long heavy lenses where a sturdy platform is mandatory. The Gitzo #1325 (weighs only 41/2 lbs) is a medium-weight rig that I find suitable for lenses up to 400mm with great results; I use the heavier Gitzo #1548 (checks in at 63/4 lbs) for lenses from 500-600mm and beyond with tele-converters.

Finally, height is another consideration, especially if your photography is done on uneven terrain. If you like to photograph wildflowers, don't buy a tripod with a long center column that will interfere when you lower the head down toward the ground. In addition, for best results when working with any tripod use a cable release and don't forget your head. Along with that tripod, a good head will certainly make for a fine day in the field.

For more on tripods and heads see Jack Neubart's article in this issue.
This is the Nikon DR-4 right angle finder. With it you can lower the camera for very unusual photographs.
Beanbag Steadier
Now here is something you might never have thought of--it's called a beanbag and can substitute for a tripod in more than one location. Placing the beanbag on the hood of the car lowers your profile and in some instances makes it easier to capture images of wildlife. Believe it or not, I found mine in a sporting goods store under the name "Bulls Bag." Filled with crushed walnut shells (available at pet stores) it measures about 15" long and weighs a few pounds. Placing a long lens like a 500 or 600mm within the top flaps eats up just about all of its length, giving one stability never possible even with a gimbal mount.
For using a super telephoto for wildlife, there is nothing like the support of a beanbag. The lens will cradle itself right in between the top flaps.
FEATURED VIDEO