Picturing Colorado; Glenn Randall
As a teenager, Glenn Randall got his first 35mm camera to document his rock-climbing excursions, skiing trips, and "outdoor sports in general." His adventuresome spirit and love of the Colorado wilderness has paid off. At age 47, he's accumulated over 900 photo credits, which include 50 covers and images published in Audubon, Outside, National Geographic Adventure, and New York Times Magazine, among many others. And, although Randall's work has been included in numerous publications, his own book of landscape photographs, Rocky Mountain National Park Impressions, was published in 2004. His second book, Colorado: Wild and Beautiful, will be available this spring. He describes himself as primarily a mountain fine-art photographer. "Galen Rowell was a huge influence, although I went the 4x5-format route," he comments.
Notchtop and the Little Matterhorn after a 16-inch snow, Rocky Mountain National Park, Colorado.
Taking a Critical View
Originally from California, Randall attended college at the University of Colorado in Boulder, where he majored in journalism. He was offered an internship at a newspaper called Silverton Standard & Miner, and then some friends told him about a climb they were planning in Alaska. He declined the internship, he says, "And off I went to Mount Huntington." He shot numerous images with his Olympus OM-1, and some accompanied a story he wrote about the excursion, which appeared in Alaska magazine in April, 1980. "This article marked starting point of my free-lance career," he says.

Originally, he point out, "I was primarily a writer and shot pictures on the side." Then one day he lost a job with Ford Times because they didn't like his photos. "I decided it was either time to sell my cameras or learn to use them much better." He improved his work by going out and shooting often, taking workshops, "and looking at my results critically." He learned much from Galen Rowell's book, Mountain Light, which taught him about atmospheric optics (the science of how sunlight interacts with our atmosphere), and impressed him with Rowell's tremendous passion for outdoor photography and knowledge of his craft. During the late '80s, Randall took a workshop in Telluride, Colorado, conducted by several photographers from National Geographic. "I learned how hard pros work to produce their best images; how much time they spend planning and scouting their shots."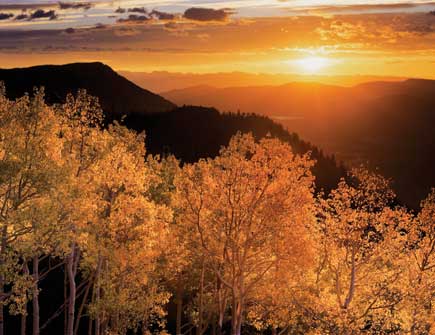 "Sunrise Aspen," Rocky Mountain National Park.
All Photos © Glenn Randall, All Rights Reserved
He made the transition to doing more outdoor photography and invested in a 4x5 Zone VI camera. Later, he got an Ebony SW-45, a high-end wooden field camera that's relatively lightweight. "I built a good focusing hood for it that will stay on in windy conditions," he says. He sought ways to make a cumbersome large-format camera handle more quickly. The SW-45 allows Randall to keep the focusing hood and lens attached to the camera even when it's packed, speeding setup. "I'm on a constant quest to save weight," he adds. On a typical one-day photo shoot, he carries a pack that weighs about 55 pounds.

Randall's investment in serious photo education and equipment has really worked in his favor. In addition to his photo credits in various publications, he attributes 85% of his income to selling prints through galleries and gift shops in Colorado. He feels that selling prints is the toughest photo market, "Because people have to love the image in the long run," as opposed to glancing at it briefly in a magazine or for a month in a calendar. His corporate clients include Sun Microsystems, Colorado Outward Bound, Cobe Laboratories, and many outdoor-equipment companies. And he's still writing--currently, Randall has authored seven books and over 200 magazine articles. He also teaches photography field seminars through the Rocky Mountain Nature Association (www.rmna.org).
Columbine in Vestal Basin at sunset, Weminuche Wilderness.
All the prints he sells are fine-art landscapes. "Typically in the summer, I backpack to shoot images. In the fall, I go on driving trips." He also does a lot of snowshoeing in the winter, "Usually on day trips and occasionally on multi-day trips, where I haul my gear in a mountaineering sled."

By his admission, Randall's favorite areas to photograph are Rocky Mountain National Park, the Indian Peaks Wilderness, the Maroon Bells/Snowmass Wilderness and the San Juan Mountains of southwest Colorado. As camping in Rocky Mountain National Park and the Indian Peaks Wilderness is restricted to protect the environment, many of his photo shoots are "one-day blitzes" from his home in Boulder. This often involves getting up at 1:00 or 2:00 a.m. to photograph the sunrise in remote locations.

He's learned to have patience and take his time. "It takes me about 10 days in the field, on average, to produce one image that will sell strongly as a print." Randall estimates. "It's a slow, meticulous process." He says that he produces his most powerful photographs in areas he knows well and visits repeatedly.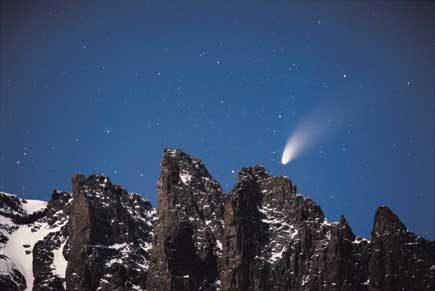 Comet Hale-Bopp setting over the Saber, Rocky Mountain National Park.
FEATURED VIDEO