GALLERIES
You are here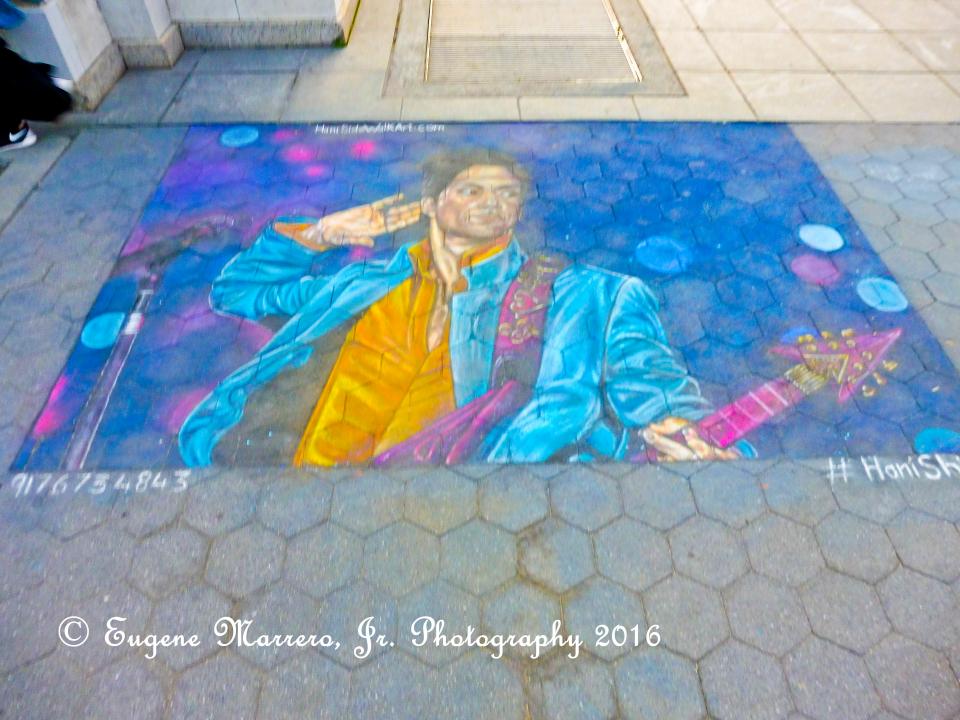 I guess the older one gets, the more common the news of someone we know or in this media rich age we live in, an entertainer, politician or athlete that we grew up listening to or watching has passed. Yesterday I found out a dear friend had passed away, a guy full of life and laughter, who had retired several years back last week. He will be missed, but one of the things that particular stinging right now is that I was planning to see him next month, but actually was in his vicinity several months back, but decided not to call and stop by because I was running late. Just a lesson learned how precious time is and opportunities to be with one's friends and loved ones shouldn't be put aside, because frankly speaking, you don't really know if and when you'll see them again. Work and responsibilities are important, but it way too easy to use those as an excuse; food for thought in setting one's priorities.
This image of a beautiful chalk rendition of the performer Prince in one of his signature outfits with one of his special guitars, who passed away unexpected this past April 2016 was done right next (due east) to the arch in Washington Square Park, one of several tributes there at the park and of many throughout the city of New York. The work is truly remarkable and in addition to tributes such as these, there is a plethora of this type of 'sidewalk' art that can be found in places like Washington Square Park, Central Park especially by Bethesda Terrace/Fountain and many other places when the weather warms up. My friends passing as well as that of Mohamed Ali (a business across the street from me has one of Ali's famous quotes on his marquee) made me remember this image which I wanted to post, Prince was a special entertainer, gifted musician and one of those icons from my youth. The Rock and Roll Hall of Famer, multi Grammy winning, Academy Award winning and Golden Globe winning Minneapolis Minnesota native Prince Rogers Nelson was a unique artist, his music a blend of funk, disco and rock n roll with strong sexual undertones was uniquely his back when he hit it big when I was in high school.
Image captured with Panasonic ZS45 camera processed in Adobe Photoshop Lightroom.
New York City Prince Tribute Streetart
Photographer: Eugene Marrero, Jr.
Views:
Dimensions: 6000x4500
Size: 24323kb