New Gear For 2007: PMA Report; Medium Format Digital
You'd think that with 12- and 16-megapixel digital SLRs so readily available that demand for digital backs and medium format digital bodies would be languishing. But 2007 looks like another good year for the big guns with both Rollei and Hasselblad showing very impressive new products, Pentax still showing a prototype digital body, and Phase One still doing very well with a variety of backs for existing medium format users. Now, I'm a Canon shooter and I love my EOS-1Ds Mark II, but the image quality from these larger sensors has to be seen to be believed. If I was a studio shooter, you can bet I'd be trying to justify one of these babies.

Rollei is still playing both sides of the fence with their new Rolleiflex Hy6, supporting both film and digital backs. As a replacement for the 6008, the Hy6 updates many features to optimize the body for digital use with the Sinarback eMotion75. This back uses a 48x36mm sensor, fully twice the size of a 35mm sensor for big, beautiful photo sites that exceed the dynamic range of their smaller cousins. The new body is smaller and lighter than the 6008 and includes multi-zone AF metering, multiple exposure control, TTL flash, and direct connection to a PC for remote control of the camera from your Windows computer. The Hy6 works with backs from Sinar and Leaf, as well as 120 and 220 film. It should be available about the time you read this.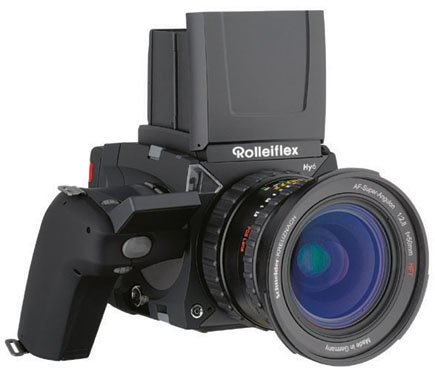 Hasselblad has embraced digital in a big way. The H1 and H2 bodies were excellent steps in this direction, but the newest body, the H3D, is designed from the ground up for digital goodness. Hasselblad is selling the H3D in three configurations--a 22-megapixel, 31-megapixel, and 39-megapixel model. Rather than buying the body and choosing the back, you get the whole kit, with a camera that is matched and tuned for the back you select.

If you decide to upgrade, from the 22 to the 39 as an example, you can send your camera in to Hasselblad and they'll perform the upgrade for you. While the 22-megapixel and 39-megapixel models sport full frame 48x36mm sensors, the newest model, the H3D-31, uses a 44x33mm sensor with new micro-lenses that boost the ISO maximum up to 800 from the ISO 400 available in the other models. For someone like me who shoots outdoors, this is a huge advantage for available light photography.
The H3D also sports more customization features, making it easier to go from one setup to another quickly. The cameras are compatible with the full line-up of HC-series lenses, including a new 28mm lens that is stunning. For you diehards, you can use a film back as well.

Along with storing images to CompactFlash, or directly to a computer if you're shooting tethered, I had a chance to check out the ImageBank II, a 100GB external storage device that can be plugged directly into the digital back to give you plenty of storage for a full working session.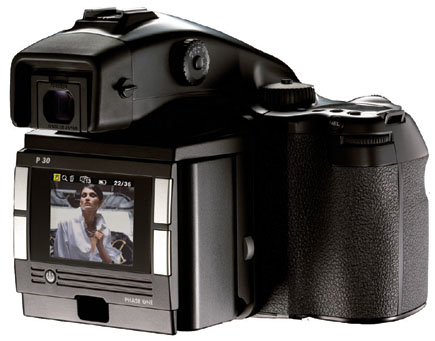 Phase One keeps pushing the boundaries with their P-series digital backs. These fit most medium, large, and technical format bodies and come in sizes from 16-39 megapixels. The P30+ will appeal to location shooters with ISO settings up to 1600. The entire line now supports Live Preview with a scalable focus window on an extra high-resolution LCD. Another new feature, XPose+, allows you to capture images with exposure times of up to one hour. Dynamic range and color reproduction have also been enhanced in the P+ series. If you've got an existing medium format system and have been considering a move to digital, Phase One is well worth a look. Combined with their Capture One software, it's a tough combination to beat.
Manufacturers/Distributors' addresses can be found by visiting the Instant Links section of our website at: www.shutterbug.com/currentissuelinks/.
FEATURED VIDEO