GALLERIES
You are here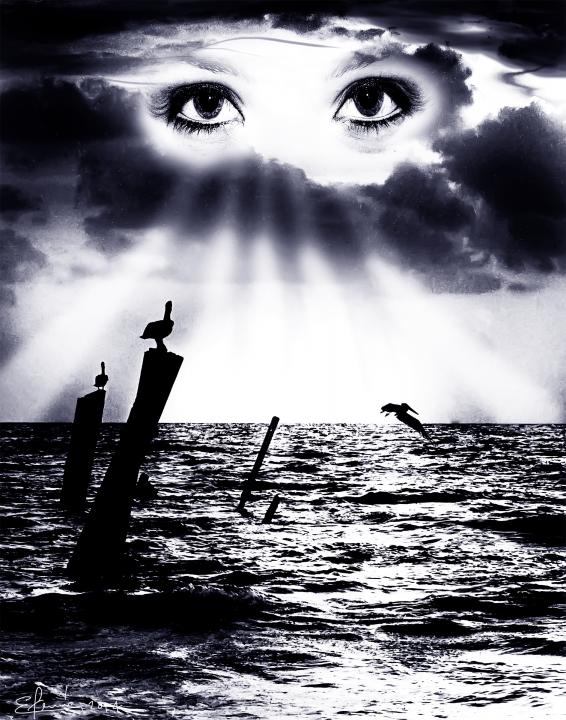 Emilio Fernandez
I have done for many years photo montages in color and black and white, inspired by Jerry Ullsman artwork, since I was not motivated any more just doing "recording" photography. Really, Adobe Photoshop opened the doors for me to new approach since 2000, making this type of work most easier, instead of expending 3 or 4 days to produce one image.
This is a composite image of two exposures, one the eyes in the sky and one taken in 1980 in Boca Grande, Florida. It is done in memory of my mother, which I still feel she is watching for me yet upstairs after 84 years.
I believe in creative photography myself, which give me the freedom I do not have as such in my profession, architect, due to so many restrictions
The 1980 image was done with a Hasselblad and a 40 mm. lens on tripod, exposure 1/15 sec., f/22, T Max Kodak film, 100 ISO. The film was scanned with Plustek OpticFilm 120 The image of the eyes where done with a Canon EOS 5D Mark II, Tamron 28-300 mm. lens @ 80mm., f/11,ISO 800, 1/250 sec.
Image edited in CS6, using Silver Efex Pro plug in for black and white conversion. The light rays were done with Lazo selection at 80 feather number.

Mirame by Emilio Fernandez
Views: 187
Dimensions: 1888x2400
Size: 2816kb