Lowepro Road Runner AW
A Rolling Backpack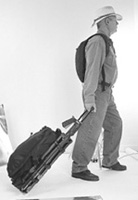 The Road Runner AW converts in seconds from a backpack to a rolling case, highly convenient in airports, parking lots, and along reasonably smooth trails.
The most popular type of camera bag among serious outdoor photographers, the photo backpack, has two major advantages. Models with a sophisticated harness system offer the most comfortable method for carrying a lot of weight. Because photo backpacks are available in large sizes, they're great for those who own super telephoto lenses or a medium or large format system. Unfortunately they're inconvenient to carry elsewhere, such as airports and parking lots.
This spring, Lowepro announced a solution to the problem. The Road Runner AW is a photo backpack with wheels that will hold a 600mm f/4 telephoto plus the other essential gear. While shooting stock in the red rock canyons of Arizona and Nevada, I carried my gear in the new pack and quickly understood its advantages in both airports and in the field. After returning home, I loaded it up with even more weight, for another hike.
Primary Benefits
Before moving on to additional specifics, let's review the most important features, many protected by a series of patents acquired during a long development period. This is the first rolling backpack with the wheels and handle extension located on a side opposite to the harness system. This design is said to allow for a truly sophisticated harness system and maximum comfort. There's also an internal frame with built-in aluminum stays intended for heavy loads.
The wheels--with ball bearings for smooth operation with heavy loads--are oversized. A very long, rigid bumper system provides protection for the fabric in case you bump it against a cement curb or a rock while rolling the case.
The entire harness and ergonomic waist-belt system can be removed quickly or tucked into a built-in, water-resistant travel cover when not needed to maintain a slim profile. The accessory daypack holds even more gear but the pack and waist belt also accept pouches and lens cases from the Lowepro Street & Field series. And although this is a high capacity pack like the Pro Trekker AW, it meets current international standards as a carryon bag with the daypack removed.
Construction
The Road Runner AW is built to withstand long-term professional use while providing maximum comfort. Exterior fabrics include water-resistant 600D Endura and 600D ripstop nylon, lined with a polyurethane sheet so the pack is nearly waterproof. In driving rain or sandstorms, slip on the All-Weather Cover.
The Collar Cut harness and the oversized waist belt are fully adjustable and heavily padded. The waist belt transfers 2/3 of the load to the hips to reduce shoulder fatigue; load adjustment straps and a poly board behind the lumbar pad are for extra substance.
The harness, waist belt, and back pad include a DryFlo pad that wicks away sweat for comfort in warm climates. All straps are thick and wide and the quick-release buckles seem very rugged; made of flexible resin, they're unlikely to break. The "self-healing" zippers have metal sliders with a coating for ease of operation. Even if the main zipper is damaged, straps on both sides of the pack will prevent it from popping open.
Other niceties include three handles so the pack can easily be lifted in and out of vehicles and overhead compartments. And it has a built-in "back prop," a stand for setting up the pack on wet or muddy soil so the fabric doesn't get dirty.
With wheels said to be of the highest quality and a very solid, steady axle, the roller system is rugged and corrosion-resistant.
Evaluation
During extensive use, I judged the entire roller system to be very well designed for convenience and durability. The wheels are larger than those on luggage cases and the wheelbase is also wider for greater stability on uneven surfaces, so I could roll the pack along hard-packed trails for short distances.
After the first hour of hiking I began to appreciate that the Road Runner AW is not merely a backpack with tacked-on wheels and a retractable handle. I cannot imagine a more comfortable and effective harness/waist-belt system.
Because the wheels and the harness are on opposite sides of the pack, the switch from backpack to rolling case was quick and convenient. When I reached a park's Visitor's Center, I could quickly drop the pack, extend the handle, and be on my way inside in 30 sec. There was no need to tuck the harness into its travel cover before rolling the Road Runner AW.
During one outing closer to home, I intentionally stuffed the Road Runner AW full of extra weight so my burden totaled some 50 lbs, surprisingly manageable with this pack. While climbing a steep trail with a heavy load, the pack did not shift around, so there was little risk of early fatigue.
This is a high capacity pack, like the Pro Trekker AW. Clothing and food can be stashed in the accessory daypack (included) and optional components can be attached for carrying extra gear.
Conclusion
Equally effective as a backpack and as a roller case, the Road Runner AW offers the best of both worlds. If you like the concept but find that the pack is too large/heavy, consider this hint from Lowepro President Uwe Mummenhoff: "We know that this pack is not for everybody, but it answers specific needs and the feedback from photographers has been very positive. So, it will not be our only rolling backpack; it's only the first in a series." I'll keep my fingers crossed for a model with the capacity of the current Photo Trekker AW. A rolling case of that size should satisfy the needs of the vast majority of outdoor and travel photo enthusiasts.
For more information, contact Lowepro at (707) 575-4363; fax: (707) 575-4389; www.lowepro.com.
A Second Opinion
In addition to covering four Eco Challenges, Reed Hoffmann has photographed ice climbing, kayaking, rock climbing, and winter mountaineering. Assignments have taken him from the Adirondacks and Rockies to Africa, Australia, Argentina to Morocco. (Visit his web site www.reedhoffmann.com for more information.) After using the Road Runner AW extensively, he offered the following comments.
"I travel a great deal, often by air, and I absolutely hate to check my photo equipment as baggage. A regular backpack just kills me when I have to carry it around airports or while moving between Jeeps and buses. So, when I first saw the Road Runner AW, I was intrigued by the wheels. I packed it full of Nikon gear until it weighed 45 lbs; it was great to be able to roll such a heavy pack along. And it fit perfectly into the overhead bin of the aircraft. I carried my laptop computer and other stuff in the daypack, and I stuffed that under the seat in front of me.
"Once I got off the plane, I pulled out the handle and rolled the pack along, with the daypack and other stuff stacked on top of it. The wheels are adequately sturdy to handle a great deal of weight. I wish I'd had one for my Morocco trip for example; it takes a day and a half to get there and it's a real hassle carrying most other types of bags.
"While out shooting, I found the backpack extremely comfortable because the wheels were not against my back or hips; Lowepro really takes the time to study what features will work best and most comfortably. This pack also has a serious hip and shoulder belt combo, not just a small hip belt and straps like some packs, so I wouldn't mind carrying a full load all day long.
"If I were trekking for a week, I'd take less photo equipment, because I would also have to carry a tent, sleeping bag, and all the other gear. But if I were on a guided trek, or if we were using mules, I'd take a full camera system in the Road Runner AW. I've dragged photo equipment up rock faces and across rain forests, bounced it on the roof of vehicles across a desert, and their various bags have always protected my gear. I feel just as confident with this new pack."
Technical Specifications
Type: Pro backpack with internal frame, adjustable harness system, and roller wheels
Accessories (Included): All-Weather Cover and detachable daypack with harness
Internal Insert Size: 13x6x20.5" (removable)
Daypack Interior: 12x3x18"
Weight: 15.7 lbs; with daypack 1.4 lbs
Color: Black
External Size: 14x9x22"
Accessories: Daypack and tripod mount, included; accepts Street & Field system pouches and cases
Price: MSRP $650; Street Price approximately $450
FEATURED VIDEO