How to Customize Lightroom so it Works Best for You (VIDEO)
Not long ago we featured a very helpful tutorial, explaining how to customize Photoshop's interface to facilitate your personal workflow. The point was that Photoshop is designed for photographers, art directors, and a variety of other content creators, and the default workspace isn't equally conducive for all users.
As you'll see in today's quick episode, much the same holds true for Lightroom and if you set it to work best for you, the result will be faster more effective processing. In barely nine minutes, image-editing expert Anthony Morganti demonstrates how it's done.
Morganti notes that while Lightroom doesn't have a workspace that's as customizable as Photoshop, "there are things you can do to help make it better suit your needs." He's specifically addressing Lightroom Classic and he has some really great tips.
Turning to Lightroom's Library Module Morganti begins with several keyboard shortcuts to speed up the process and customize various panels. He also discusses the pros and cons of leaving the filmstrip visible at the bottom of the screen.
Morganti's suggestions are based upon his personal style of editing, and the specific types of images he's working on is often a factor. He's also big on keeping things organized when it comes to tabs, folders and tool icons, and he has some good advice in this area if you like to work with a clean, simple interface.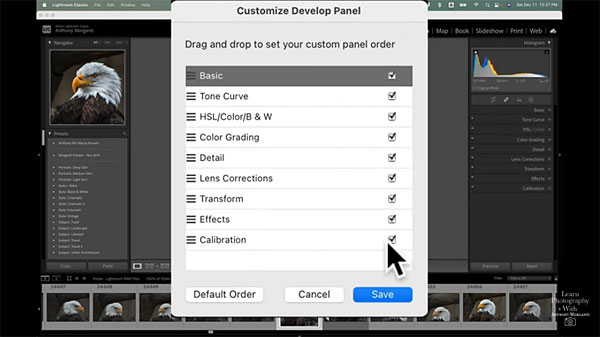 In addition to hiding tools and panels you use infrequently or not at all, Morganti explains Lightroom's Solo Mode, and how by choosing that option only one tab will be open at any one time. He also demonstrates the power of the Customize Develop Panel for simplifying your workspace.
The video contains a variety of other helpful tips for making Lightroom as comfortable as possible, and you may want to take a few notes. After watching this episode head over to Morganti's YouTube channel for more tips and tricks.
And don't miss the earlier tutorial we posted recently, explaining how to customize Photoshop's interface for faster, and more effective editing.
FEATURED VIDEO