Give Nature Photos Blue-Hour Tones: Easy Edit in Photoshop (VIDEO)
Experienced landscape photographers prefer shooting at two primes times of day, early morning or late afternoon. That's because Blue Hour, just before sunset, is a great opportunity to make images with calm, blue tones. Golden Hour, at the end of the day, enables you imbue scenes with striking warm colors as the sun is about to set.
Yesterday we featured a tutorial from our friends at The Photo Photography, explaining how to enhance bland sunset photos with a super easy Photoshop technique. Today we're moving on to early-morning photography with tips on enhancing images with a beautiful Blue-Hour Look.
Some folks don't have time to get out in the field before the sun peeks over the horizon—either because they're getting ready for work or dropping kids off at school. With the easy method in today's episode, you'll be able to quickly simulate a Blue-Hour effect in Photoshop, whenever it's convenient.
German landscape pro Christian Mohrle demonstrates how to get the job done in barely 11 minutes so you never have to feel guilty about sleeping in. And he provides a link to the sample image in the description beneath the video so you can make the adjustments yourself while watching the lesson.
Mohrle does most of the work in the Raw editor, and you'll notice vignetting at the top of the shot, resulting from filters he attached to the lens. This tutorial is faster and easier than others we've posted from Mohrle, and he begins by changing the profile to Adobe Standard for a bit more base saturation.
Next are a few basic adjustments to prepare the image for what follows. He modifies White Balance, bumps up contrast, and makes a few other simple tweaks. Now comes masking using Photoshop's new capabilities to selectively enhance different portions of the scene.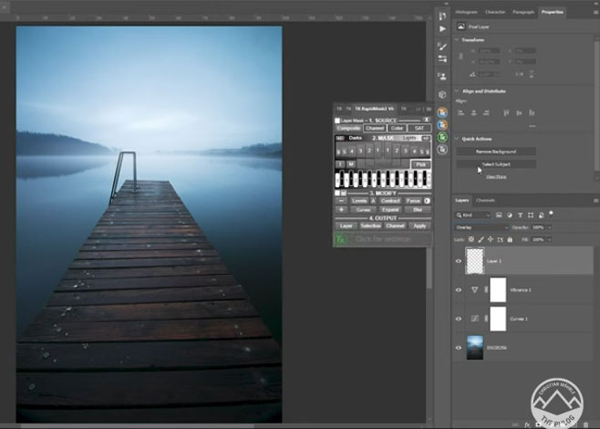 All that's left is a bit of easy color grading to achieve the exact effect Mohrle desires. You'll also see how to remove the pesky vignette mentioned earlier, and the final result is really nice.
You can find more helpful editing techniques like this on Mohrle's YouTube channel, be sure to take a look and subscribe.
And don't miss the earlier tutorial mentioned above, explaining how to enhance bland sunset photos in Photoshop.
FEATURED VIDEO