Fujifilm Launches New X-T30 Mirrorless Camera and Fujinon XF 16mm F2.8 Lens
Fujifilm just launched a new mid-range mirrorless camera, the Fujifilm X-T30, along with the new Fujinon XF 16mm F2.8 lens for wide-angle street shooting and landscapes. The X-T30, which is the replacement to the X-T20 from 2017, uses an APS-C-sized, 26MP X-Trans CMOS 4 sensor.
The small and lightweight Fujifilm X-T30 weighs just 13.5 ounces and can fit in a coat pocket when paired with a fast prime lens. Speaking of fast prime lenses, the Fujinon XF16mmF2.8 R WR is one of them. It's short, compact, and weighs just 5.5 ounces, making the X-T30 and 16mm f/2.8 an attractive, street photography combination.
The Fujifilm X-T30 mirrorless camera will go on sale in March 2019 in the black and silver designs (body only) for USD $899 and CAD $1199.99. The Fujifilm X-T30 body with XC15-45mm lens kit will sell for USD $999 and CAD $1299.99.
The Fujifilm X-T30 body with XF18-55mm lens kit will sell for USD $1299 and CAD $1699.99. All Fujifilm X-T30 camera and kit variations of the new charcoal silver color will be available in June 2019.
The FUJINON XF16mmF2.8 R WR lens in black will sell in March 2019 or silver in May 2019, for USD $399.95 and CAD $499.99.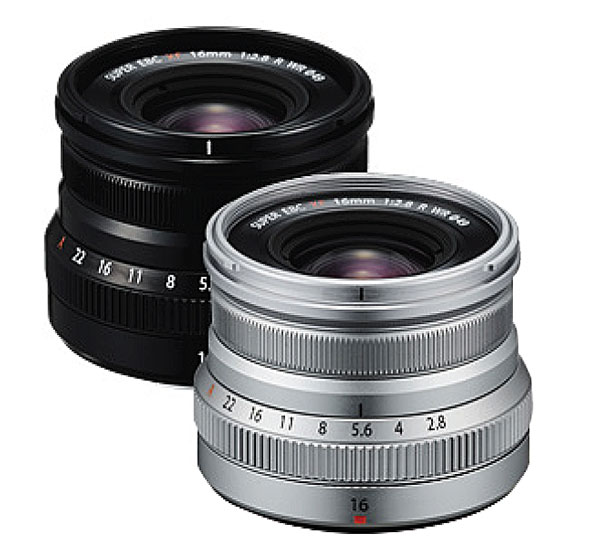 Here's a rundown of the highlights and key specs of the new Fujifilm X-T30:
• 26.1MP BSI APS-C X-Trans CMOS 4 image sensor and X-Processor 4 quad-core CPU combination designed to produced reliable and accurate AF and Face Detection performance when capturing high-resolution stills or recording 4k video of moving subjects.
• New X-Processor 4 Quad Core-CPU doubles the speed of face-detection for moving people compared to the X-T20. Additionally, eye-detection AF now works in AF-C mode, which is designed to produce accurate focus-tracking for moving portrait subjects. The low-light limit for phase detection AF has been expanded even more from the conventional +0.5EV to -3EV, to allow for operation in a wide range of lighting scenarios.
• 100% phase detect autofocus (AF) across the entire frame
• 2.36M-dot OLED EVF
• Shoots 4K video at 30 frames per second or capture of 120 frames per second at 1080p to create super slow motion effects. Filmmakers needing high color fidelity can record 10-bit, 4:2:2 color through the camera's HDMI port.
• Users can record video in "Film Simulation" modes. The X-T30 also incorporates various shooting functions, such as "monochrome adjustments" available for ACROS and Monochrome, and "Color Chrome" effect that produces uniquely deep colors and gradation in subjects with highly saturated colors, which are notoriously difficult to photograph.
• 3-inch touch LCD with 2-way tilting and touch screen. Provides advanced SR Auto mode –activated with a lever -- to automatically choose the shooting settings out of 58 presets for any given scene.
• Mobility: Built-in Wi-Fi and Bluetooth V.4.2 offers digital communication with the free FUJIFILM Camera Remote app to wirelessly control the camera or share images to smart devices.
• 1 SD UHS-I card slot
More info on the new Fujifilm X-T30 here. More info on the new Fujinon XF 16mm F2.8 lens here.
FEATURED VIDEO