The Digital Darkroom's Role In People Photography: Special Effects As An Image Advantage
Photoshop is a photographer's best friend today. It has given us unprecedented creativity and the ability to do things to pictures that heretofore were impossible. Some people claim that the emphasis has shifted away from superior picture taking, and in its place people now think "I can fix it in Photoshop." While it is true that many problems can be corrected after the fact, good photographic skills are still required to take great images. While a full exploration of digital darkroom techniques awaits another volume of this Guide I thought I'd give you a sense of what can be accomplished with this type of after-exposure work. And while I concentrate on Adobe Photoshop techniques here there are many more programs and plug-ins that can do the job as well.
Enhancements
Some photographers use Photoshop to make subtle improvements in a portrait, such as smoothing the skin, removing blemishes and wrinkles, enhancing the color of the eyes and lips, and softening the contrast. I did all of these things in photo (#1). The changes were subtle but effective in bringing out the beauty in this young girl. Wrinkles and other skin blemishes are removed with the Clone tool, the Healing Brush, and the Patch tool that can be found under the Healing Brush. One way to soften skin is to use the opacity slider in the Layers palette. When you lay a diffused version (Filter>Blur>Gaussian Blur) over the original, by adjusting the opacity you can introduce as much or as little diffusion as you want. To bring back the sharpness of the eyes, a Layer Mask is created (Layer>Layer Mask>Reveal All) and then the diffusion can be lessened or reduced with the Brush tool.
Beyond these basic enhancements, eye color can be changed, a person can be made to look taller, their waist can be reduced in size, and lights can be added to imply sophisticated studio lighting where none was actually used. For example, in photo (#2), the spotlights on these Venetian Carnival participants were added digitally with Filter>Render>Lighting Effects. In Las Vegas, I photographed a showgirl and then used Photoshop to narrow the model's torso, waist, and legs by using the pull down menu command Filter>Liquify. You can see the before and after in photos (#3 and #4). This same technique can be used to change a person's appearance. You can narrow a nose, widen the eyes, thicken the lips, and so on.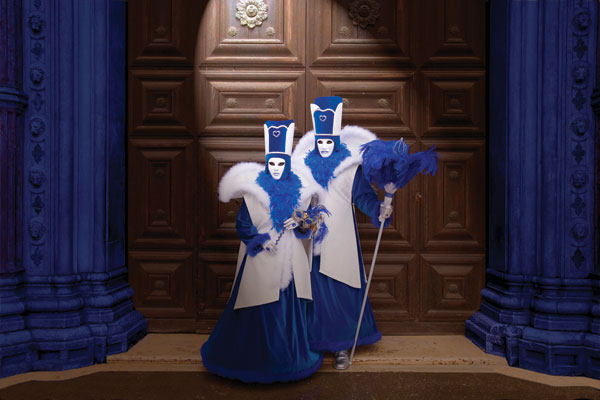 Walking On The Wild Side
Once you start thinking expansively, there is no limit to what you can create. Backgrounds can be replaced, elements can be composited together, and combinations of native Photoshop filters can produce works of art that look like paintings. When you start doing this kind of work, you enter the realm of being a photographic artist. This doesn't mean that your photographic skills are lacking; rather, it means that you are creating images that are translated from your imagination to another visual realm for others to appreciate.
For example, using the same Filter>Liquify I described above, I distorted another Venetian Carnival subject in a unique way (#5). Using the cut and paste technique, I combined a young girl with two threatening dinosaurs in photo (#6), and the silhouette of a model in (#7) was reflected in a body of water that never existed. I used one of my favorite Photoshop plug-ins, Flood (www.flamingpear.com) to do this. To abstract a portrait of my wife (#8), I used several native Photoshop filters in combination with each other. Another portrait of her was made into what looks like a painting with another set of filters that come with Photoshop in photo (#9) (my favorite filters are Palette Knife and Angled Strokes). These filters can be used on your images without any knowledge of Photoshop at all other than using the pull down menu commands under "Filter." Photo (#10)was done by pasting the model in front of an orchid, and then using a simple mirror technique I ended up with a remarkable dream-like fantasy.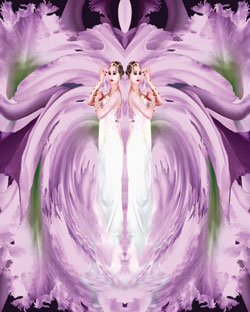 Besides having Photoshop skills, you also have to develop the ability to conceptualize. Being able to imagine what pictures work with one another artistically is what will enable you to create successful composites. To stimulate my creativity, I will put on my desktop many kinds of pictures, such as sunsets, silhouettes, floral abstracts, faces, etc, and then I will mix and match the images to see what I come up with. The Halloween composite (#11), was put together as a result of this kind of exercise, as was the ballerina combined with an abstracted slot canyon from Arizona (#12).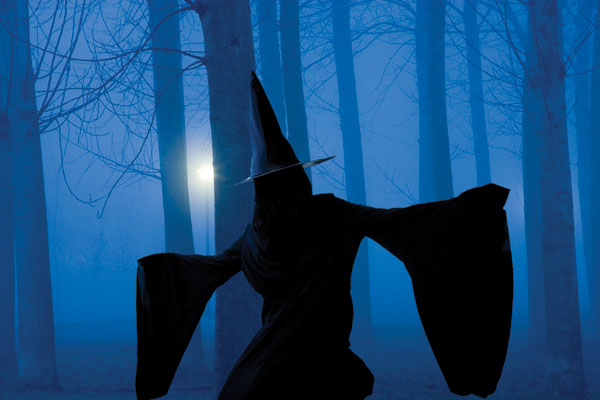 There are times, though, when I have an idea and then photograph the pieces that will be assembled into a single picture. Photo (#13) is an example. I photographed my wife in the studio, the puppy was shot while it was in the shopping bag against a black background, and the storefront was taken in Salzburg, Austria. The kind of conceptualization takes time to develop, and Photoshop gives you the tools to do anything you can imagine.
FEATURED VIDEO