Canon Announces Development of 6 New RF Lenses for R-Series Full Frame Mirrorless Cameras
Along with unveiling the new smaller and more affordable Canon RP mirrorless camera, Canon said today that it is developing six new RF lenses. The new Canon RF lenses, which will be available later in 2019, will complement the four RF lenses the company launched for its full frame mirrorless cameras last year.
The six new Canon RF lenses under development are as follows:
RF 85mm F1.2 L USM
RF 85mm F1.2 L USM DS
RF 24-70mm F2.8 L IS USM
RF 15-35mm F2.8 L IS USM
RF 70-200mm F2.8 L IS USM
RF 24-240mm F4-6.3 IS USM
All six RF lenses under development are built around Canon's new RF mount, which features a large 54mm diameter and shorter back focus distance than on current EOS DSLR cameras. In addition, the RF mount "enhances communication and power transmission between the lens and camera body," Canon said, which the company claims has helped Canon to achieve "the world's fastest autofocus speed for a full-frame mirrorless camera system."
Here are details of the six upcoming RF lenses, including one 85mm model, which will have an intriguing new Defocus Smoothing technology designed to capture better bokeh in images.
The RF 85mm F1.2 L USM is a large aperture mid-telephoto prime lens. Accoding to Canon, "it offers excellent performance for advanced and professional portrait photographers and is a widely popular focal length and aperture speed combination for users."

The RF 85mm F1.2 L USM DS, with Defocus Smoothing lens technology, is a uniquely designed lens that offers a combination of beautifully smooth defocused bokeh. "Featuring a super-fast F1.2 aperture, the lens will help produce breathtaking portraits that will surely stand out from the crowd," Canon said.

The RF 24-70mm F2.8 L IS USM is a high-performance, standard zoom lens for professionals and photo enthusiasts alike – designed for shooting portraits, landscapes, documentaries or weddings.

The RF 15-35mm F2.8 L IS USM, offering a wide angle and fast aperture in a single package, is designed for a variety of shooting applications including architecture, interiors or landscapes.

The RF 70-200mm F2.8 L IS USM is "a must-have for any professional photographer, especially for those shooting weddings, sports or wildlife," Canon said. "This lens is a great all-around, high-speed, medium telephoto zoom lens and does well to round out any camera bag."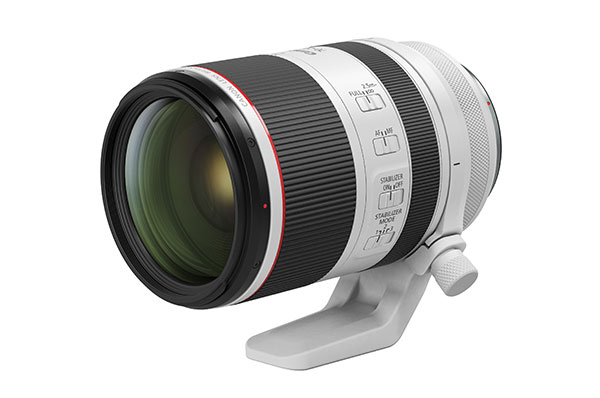 The RF 24-240mm F4-6.3 IS USM is for amateurs and advanced amateurs "who love to travel, no matter the destination. The versatile, all-purpose lens offers a range of focal lengths for capturing extraordinary shots in a form factor that is both compact and lightweight."
FEATURED VIDEO