Benro Theta: The World's First Auto-Leveling Tripod
Benro is launching Theta and Theta Max travel tripods, the most exciting, innovative tripod series that combines intelligent modules, portability, stability, rapid deployment and—a world's first—Auto-Leveling. Built for creators and visual storytellers of all types and skillsets, the Benro Thea series accepts swappable smart modules including a Battery Module, Camera Control, Optical Matrix Sensor and GoLive live streaming module. You can be one of the first to own this truly revolutionary intelligent tripod—and save a bundle—by participating in Benro's Kickstarter campaign which closes on April 21, 2023. But hurry—slots for Backers are limited and going fast.
Here's an overview of the exciting new features. We'll examine the mechanical aspects in a moment.
Auto-Leveling
Remarkable even without this groundbreaking feature, the big story for the Benro Theta travel tripods is Auto-Leveling. The Battery Module drives the built-in motor and gyroscopes to perform leg adjustments. Leveling is completed in 3 seconds and is accurate to 0.1 degree.
Auto-Leveling means you'll never again waste time lining up the horizon. Press one button and the ball head becomes a platform that is always level. So instead of spending valuable time making adjustments to the horizontal framing, you can concentrate on composition. The ball head remains level at all times.
Imagine yourself on a hillside or perhaps a rocky shoreline. You want to capture water in motion and of course you know you can do that if you use a sturdy tripod. With a conventional tripod it can take you more than a few minutes to extend the legs, attach the camera, and seesaw the ball head back and forth to level the camera with the horizon. Painful, but it doesn't have to be.
Using the Benro Theta of Theta Max you twist the foot lock to unlock all sections, and pull. The tripod extends. Attaching the camera is fast! An automatic snap-lock mechanism on Theta's ball head makes camera installation not only faster but safer, too. Leveling? That's Theta's superpower. With one button press, leveling is completed in 3 seconds and is accurate to 0.1 degree.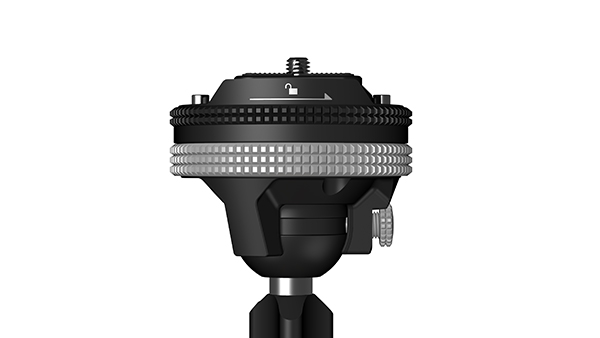 Ball Head Design
The 360° ball head was designed with a locking system that allows the ball head to be aligned with the tripod at all times. It allows you to shoot at any angle, while pan-and-tilt gears allow you to shoot smooth videos.
The dual-use ball head has a locking system that locks the roll movement and keeps the head aligned with the tripod at all times to stabilize level status. While in roll lock position, when the tripod is level with the ground, so is the camera. Switch between roll lock mode and free mode by turning a knob. The pan and tilt movements are adjustable for composition and framing in the roll-locked mode.
Already own a favorite ball head? You can use any ball head with a standard 3/8-inch mount by attaching the battery, camera control and optical sensor modules.
You can fine-tune leveling by using the Benro Theta app without switching the head or any extra equipment. This is especially useful when you're doing extreme close-ups that need to make precise, accurate adjustments. Removing the Battery Module after auto-leveling does not affect its level status or rigidity.
Camera Control Module
The Benro Theta Camera Control Module empowers remote operational control. Adjust shutter speed, aperture, ISO, access live preview and trigger the shutter from your smartphone or tablet to capture video or take photos. Even without a shutter cable and intervalometer you can remotely control the shutter, start and end recording, and set the number of frames shot via the app for a faster and more convenient workflow.
Optical Matrix Sensor Module
The Benro Optical Matrix Sensor module was developed especially for time-lapse photography. It detects changes in the ambient light environment in real-time and transmits the data to the Camera Control Module which automatically and accurately adjusts camera exposure settings to provide smooth and consistent exposures from one shot to the next.
The module makes it easy to shoot dusk-to-dawn shots of cityscapes—and practically anything else that's static except for small variations in color or shape.
Benro GoLive Module
Most DSLR and mirrorless cameras offer much better image quality and better performance in low light than simply streaming with the camera on a smart phone or tablet. For superior, professional image quality, live streaming through the camera is the best option.
That's why the Benro GoLive module facilitates live streaming directly from the camera's capture. It provides higher resolution and better performance, and enables adjustment of focal length during streaming. It streams on social platforms including FaceBook, Youtube and other outlets using RTMP URLs via the cellular network.
Key Theta Travel Tripod Features
Benro's innovation didn't stop with the abundant smart features. Benro leveraged their 30 years of tripod manufacturing experience to optimize the fundamental features and maximize Theta's potential as a portable, sturdy, easy-to-use travel tripod.
To begin, it's compatible with Arca-Swiss attachment plates and L-brackets. Camera attachment takes about a second. The round carbon fiber legs, which are removable without tools, are resistant to sand, water, dirt and wind.
Theta vs Theta Max
Theta comes in two sizes. Theta, the standard size, is lighter and more portable for travel use while Theta Max supports heavier gear for studio use. Both sizes handle DSLRs as well as mirrorless cameras.
Theta is a light-weight travel tripod that weighs just 2.7 pounds (1.25kg) and has a packed length of 17.3 inches (44cm). It extends to 61 inches (155cm) and supports up to 24.3 pounds (11kg).
Theta Max is a heavy-duty travel tripod that weighs 3.6 pounds (1.65kg), is only 20.8 inches (53cm) packed, and stretches to 67 inches (170cm) when fully extended. Theta Max supports 44.1 pounds (a full 20 kilograms).
Extreme Portablity
Theta's center column is the trigonous (three-sided) shape that divides the traditional cylinder shape into three equal concave parts and forms three inner arcs. This allows the three legs to fit seamlessly against the center column and create zero negative space without sacrificing strength.
Considering the compactness of Theta (travel size of 17.3 inches long, 2.7 pounds) and Theta Max (20.8 inches / 3.6 pounds) it's easy to understand the extreme portability and easy stowage that make the Theta series the travel tripods you want to take with you everywhere.
Exceptionally Sturdy
Theta uses round carbon fiber leg tubes and increases the legs' diameter to fortify the tripod's stability. Theta's top leg diameter is 29mm; Theta Max's is 32.5. Most travel tripod have leg diameters of 20mm to 26mm but still have a larger packed size.
For extra safety, Theta's legs feature an anti-slip mechanism. If a foot is not locked completely, or the leg somehow slides accidentally, Theta's built-in safety automatically locks the leg and stops the skid. It's a feature you don't need—until you need it—and then you'll count your lucky stars.
Easy-To-Use
Deployment or retraction takes only 10 seconds! To deploy the Theta, just twist the foot lock to unlock all sections, and pull. Rotate the foot lock back to lock the leg. If it's necessary to make a micro-adjustment, simply choose any section of Theta's leg, twist it, adjust the length of the leg, and then rotate back.
Conclusion
If a photographer refrains from using a tripod, it's generally for one of these three reasons. Either they feel a tripod if too heavy and cumbersome, or they complain that a typical tripod takes too long to set up, or they say they don't want to fiddle around trying to make the ball head level. The Benro Theta and Theta Max tripods solve all of these problems—and add substantial and significant features well above those objections.
You might say Benro Theta is an entirely new category of camera support—and we say you'd be correct.
The Benro Theta series tripods are light and compact, set up in a flash and are self-leveling. They're extraordinarily sturdy, and the legs—the real support mechanism—are beefier than typical carbon fiber tripods. Theta is exceptionally well made and durable as well.
The Camera Control, Optical Matrix Sensor and GoLive modules add a dimension to tripod photography never before seen. The only question that should be left in your mind is Theta or Theta Max? That's for you to decide; we're confident you'll be very happy with either.
Availability
Theta is available on Kickstarter crowdfunding until April 21, 2023. So far Theta has earned more than $1.4 million in pledges toward the original goal of $50 thousand.
If you want the best deal, visit Kickstarter to learn more details and place preorders with the highest discount. Currently the early-bird prices start from $349, a savings of up $250.
To learn more about Theta and other exciting Benro products, visit the Benro Official Website.
— Shutterbug Staff
FEATURED VIDEO