Up, Up and Away!: Our Favorite Mini Copters, UAVs, And Drones for Aerial Photography
The Federal Aviation Administration (FAA) officially refers to quadcopters as Unmanned Aerial Vehicles (UAV) but they obviously have more in common with the kind of hobbyist's radio-controlled aircraft that have been around since I was a member of the Poly Aeroneers in high school. Yet tech blogs and social media endlessly refer to quadcopters as "drones" when the only thing a General Atomics MQ-1 Predator and a DJI Phantom 1 have in common is that they're capable of flight. But they're not without some controversy.
Following the much publicized quadcopter crash on the White House lawn, a website and database was launched called NoFlyZone.org. To prevent quadcopters from flying over their property, homeowners can enter their addresses. It's voluntary for companies to agree to these no-fly zone requests and (as I go to deadline) seven companies have agreed to incorporate the data into their products, including Ehang, Horizon Hobby, DroneDeploy, Hexo+, PixiePath, RCFlyMaps, and Yuneec.
The FAA seems confused about the difference between commercial and private use of quadcopters. As I was finishing this column they were harassing a hobbyist for posting flight videos on YouTube. Because Google loves to shove ads down everybody's throats, their ads on his YouTube video, in the FAA's view, made the quadcopter videos "commercial use" even though he did not place the ads.
And seemingly in answer to the question, "this is why we can't have nice things," some idiot decided to get his drone in the way of commercial aircraft by flying higher than the FAA's (proposed) maximum 500-foot altitude, interfering with a Southwest passenger jet attempting to land. The pilot of the jet reported "…there was just one of those radio-controlled helicopter things that went right over the top of us at 4,000." If the hammer gets dropped on quadcopter pilots, this will be one of the reasons.
Hopefully, this will all get straightened out eventually and photographers who want to fly UAVs for aerial imaging will be able to do so legally. To that end, here are my choices for the best drones (or whatever you want to call them) out there.
4K In The Air
It's no surprise that with all the hoopla surrounding 4K video that it didn't take long to put these types of high-resolution cameras in the air. DJI's Inspire 1 ($2,899) was the first flying 4K camera and includes a built-in wireless video transmitter as well as indoor stabilization without GPS. Wind is always a challenge when flying quadcopters and Inspire 1's three-axis gimbal (a pivoted support that allows rotation of an object around an axis) maintains stability even in strong winds. The camera comes with an app that runs on iOS and Android devices, broadcasting 1080p video at a distance of one mile. The quadcopter's dynamic home point function lets you know where it is and returns it safely. During flight, the platform stabilizes itself with a downward facing Optical Flow camera that uses a stereoscopic image of the ground to ensure it won't drift. The DJI Inspire 1's battery provides 18 minutes of flight time but having a backup is a good idea (see "Quadcopter Flying Tips").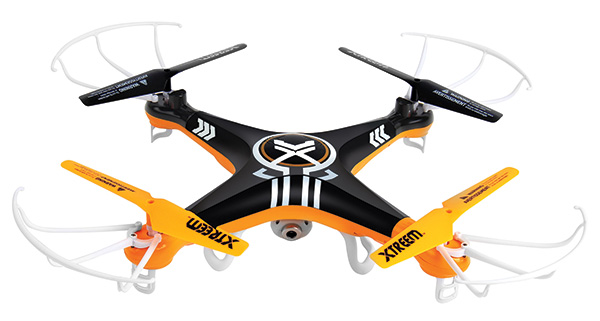 At the other end of the quadcopter spectrum there's Swann's QuadForce Video Drone ($89). It's a radio-controlled toy—that's what they call it—that uses the latest 2.4GHz frequency for a strong signal indoors or outdoors up to 330 feet. It has an on-board video camera mounted in the undercarriage recording (720p resolution) videos or stills of your flights onto a microSD card, which seems like the de facto standard recording media for quadcopters. It's easy to get started flying the QuadForce: Install four alkaline AA batteries in the remote control, then charge the chopper's batteries using the provided USB cable for (up to) 50 minutes. Once charged, you're up, up and away for eight minutes flying time.
Ehang's GHOST Aerial ($729) comes with a gimbal that (they say) fits all versions of the GoPro and similar cameras and includes an auto-leveling function to ensure smooth, stabilized images. You fly it with your smartphone using one-click commands. The app is compatible with all Android devices—an iOS version is promised real soon now. The quadcopter has a Night mode with illuminated LED lights that will let you track the GHOST Aerial in the sky and just plain look cool when flying. Flight time is an impressive 30 minutes or 20 minutes with the gimbal and GoPro attached.
3D Robotics' IRIS+ ($750) has an autopilot that will automatically fly itself where you tell it to go, while keeping the on-board camera steady with its two-axis gimbal stabilization. You can fly it manually using the controller or use its "Follow Me" mode that will follow any GPS-enabled Android device. The company's tablet-based software should make flight planning easy. Fully loaded (eight-pound capacity), the power system delivers 16 minutes of flight time. The IRIS+ includes a high-capacity flight battery, battery charger, ground station radio, and remote control. It has a GoPro-compatible camera mount and includes a tool kit along with an operation manual with flight checklist.
Six-Bladed Copters
You can't call the Hexo+ ($1,299) a quadcopter because it has six blades. (As I was completing this column, it was available for preorder; "final product shipping September 2015.") It's supposed to be simple to fly because you set the framing on your smartphone and the Hexo+ does the rest from takeoff to landing. The Hexo+ has a 3D gimbal with a GoPro Mount—you need to add your own camera. One of Hexo+'s unique features is its ability for completely autonomous flight that tracks you and makes sure you're in the shot. You can choose to capture yourself in action from any angle—front, back, side, above, and anywhere in between. Is this the ultimate video selfie?
Walkera's TALI H500 Hexacopter ($1,899) is another six-bladed copter that gives it more power than comparable quad-rotor configurations, making it more than capable even under the combined weight of a three-axis gimbal with GoPro attached. You can choose from several flight modes, including GPS assistance for beginners to manual control for better maneuverability. The integrated GPS means you can take advantage of features such as Intelligent Orientation Control (IOC) and fail-safe "return home." It uses a 5400mAh LiPo flight battery for up to 25 minutes flying time. The battery slots into the aircraft's tail and features LED indicators to check remaining capacity. The transmitter features a five-inch color display for live feed viewing from the camera as well as telemetry data, including battery voltage, GPS data, and temperature.
Adorama exclusively offers the Aries Blackbird X10 quadcopter ($699) with built-in 16-megapixel camera. By attaching a smartphone to the transmitter, you can monitor flight in real time and direct the camera how to frame the subject. The quadcopter has a six-axis gyro, weather-protected construction, and stable landing base. The Blackbird X10 can record at altitudes of up to 1,640 feet (reminder: proposed FAA maximum limit is 500 feet) for up to 25 minutes of flying time. The 120-degree f/2.8 wide-angle lens automatically tilts during flight, keeping the lens pointed at the same height relative to the horizon. The camera supports single and continuous shooting modes, with video capture resolutions up to 1080p/30 fps video recorded onto a microSD/SDHC card. When flight controls are released or there's loss of control, the quadcopter automatically hovers, using GPS guidance to maintain position and height, regardless of wind. If it strays beyond transmission range, Failsafe mode automatically returns the Blackbird to a safe height and lands it safely.
Dromida offers entry-level (cameraless) quadcopters for less than $60 but if you want to make pictures, you'll need to look at something like their Ominus FPV ($199) that has a 720p FPV (First Person View) camera recording onto the inevitable microSD card. You not only see your flight through a Wi-Fi-enabled digital camera but also can operate it using your smartphone or other mobile device using the free FPVCam app that's downloadable from Google Play or Apple's App Store. The Ominus FPV includes a transmitter and AA batteries, LiPo battery (for up to 12 minutes flying time) and USB charger, microSD card, and—you'll need 'em—spare propellers.
Blade's 180 QX HD costs $189 with a camera. At this price point you won't be surprised to learn that the camera is only 1.3 megapixels and shoots 720p HD video. It has a storage port for two microSD memory cards and for the money makes a good starter quadcopter. The camera has a Stability mode (high- or low-angle selectable) where the 180 QX HD operates with bank limiting and self-leveling characteristics. Two Stability modes provide the pilot with a high- and low-angle setting, allowing the quadcopter to be flown smoothly or aggressively (resist the urge) depending on your video needs and style. Tip: Remember to fly responsibly.
Hubsan's H109S X4 Pro Quadcopter ($1,299) uses a GPS-based flight control system and includes a transmitter with a FPV screen. The quadcopter features autopilot flying with waypoint navigation. The X4 Pro not only features Automatic Return to Home but has a built-in parachute for emergencies. The quadcopter includes removable prop guards for protection for those inevitable…you know.
Small Drones
The Estes Proto-X FPV affordable ($229) microcopter comes with a 1280x720p camera that shoots videos that you can watch in real time (with a range of 240 feet) on the controller's 4.5-inch screen, which also comes with a hood for outdoor viewing. A three-axis gyro and three accelerometers create stable flight for such a small—distance between motors is 4.5 inches; 2.2-inch blade—bird, which has seven LED lights to make it easy to spot when flying at dusk or sunrise. The Proto-X FPV comes assembled with a LiPo battery and USB charger. Just install four AA batteries in the transmitter and start flying.
The Parrot Bebop Drone Quadcopter with Skycontroller ($899) has an ABS reinforced structure weighing 14 ounces and in the event of collision its propellers automatically stop. A Return Home function brings the Bebop back to its takeoff point and an emergency mode lets the quadcopter land right away. The 14-megapixel fisheye (180-degree field of view) camera is stabilized on three axes. Using Parrot's Skycontroller, a piloting smartphone or tablet is fixed on a shelf that's compatible with most smart devices.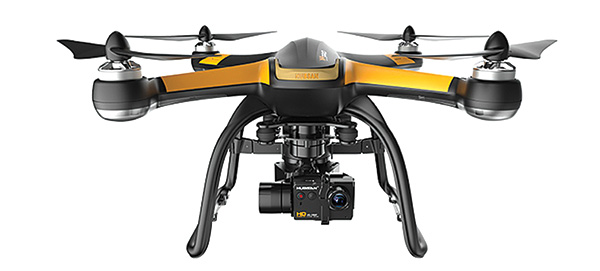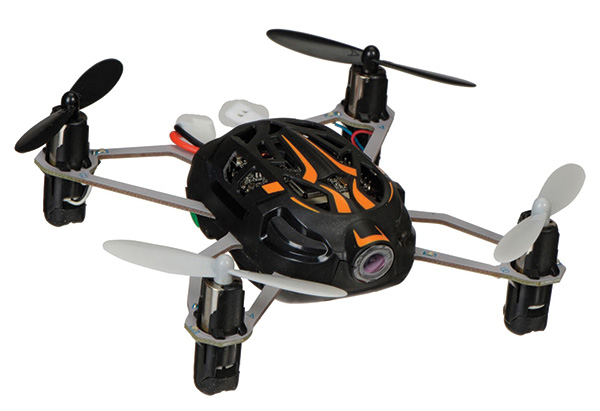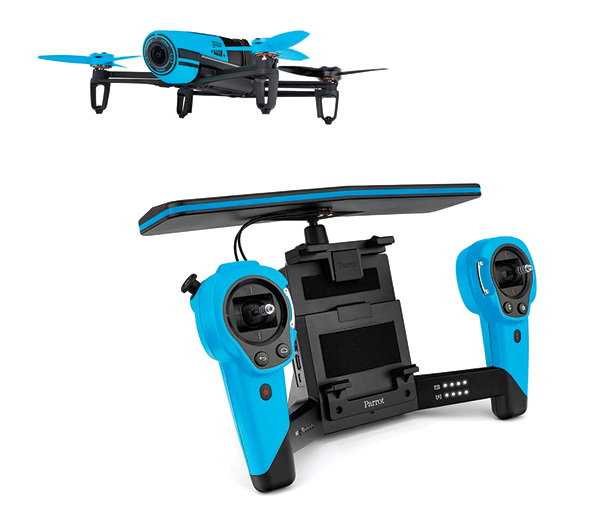 Yuneec's Q500 Typhoon ($1,299) quadcopter includes a 12-megapixel, 1080p/60 fps camera, three-axis gimbal, ST10 personal ground station, two batteries (nice touch), charger, and an 8GB microSD card. In addition, there are a number of accessories available, including a sunshade, car charger, USB adapter/charger, and an extra set of rotors. The ST10 ground station is a 10-channel 2.4GHz RC transmitter that supports a 5.8GHz video downlink that delivers streaming video via an Android mobile device with a 4.5-inch touchscreen, allowing you to view an FPV video image from the camera along with superimposed telemetry data.
XProHeli's XPX Heavy Lift Quadcopter ($1,899) has been designed for use with sub-900 gram (31.7 ounce) mirrorless cameras like the Sony NEX-5 or the Panasonic GH4. XPX is designed to fly with the Silk three-axis gimbal, it uses a high efficiency (22.2v) power distribution system, powering four 340kv motors with 14x5.5-inch multirotor props, providing flight times from nine to 30 minutes depending on camera/gimbal payload. The transmitter is a full 5.8GHz FPV system with monitor.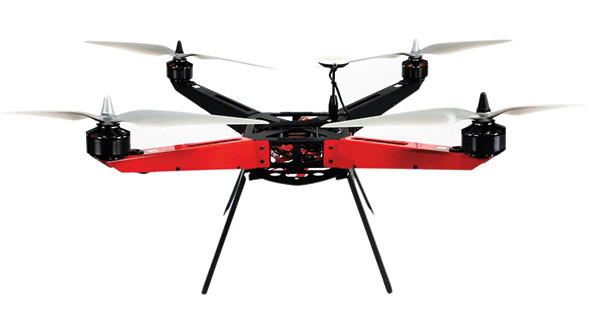 How-To Extra: 5 Quadcopter Flying Tips
Flying a quadcopter may seem easy but as Señor Wences once famously said, "Is easy for you, is difficult for me." Here are a few tips and recommended accessories to help with your first flights:
• Find a large field that doesn't have too many trees. It's easy to get your quadcopter tangled on tree branches and you don't want to have to rescue it from a kite (and quadcopter) eating tree. Similarly, avoid hard-paved areas and buildings. If you crash, you want it to be as soft as possible. Buy a set of rotor guards for when you do tangle with a tree.
• Get an extra battery or two. Battery life on smaller, less expensive quadcopters can be as short as 10 minutes. (Author's Note: I tried to get flight times for all the quadcopters featured but that information was not always available.) When the battery is low and you have a light camera on board the quadcopter will stop rising and slowly start to come down. If you have a heavier camera on board, flight time is reduced and it comes down much faster.
• Just as with a real aircraft use a pre-flight checklist before taking off for the wild blue yonder. There are many checklists available on the web, some designed just for your quadcopter. MultiRoterUSA (www.multirotorusa.com) has one you can download to get started.
• Repeat after me: You will crash your quadcopter. You will crash your quadcopter. Many quadcopters have a built-in GPS and easy-to-use controls and may seem deceptively easy to fly but even a slight breeze can make a quadcopter drift so you have to constantly correct its flight direction. After some experience in an open field, this isn't difficult to master.
• Be prepared to get addicted. It's that much fun.
Acknowledgements: I want to thank my friend Mark Toal and his friend Dave Richardson for their hands-on insights on the world of quadcopter photography. Mark writes a series of posts called "Quadcopter Diary" for the MirrorlessPhotoTips.com blog.
Joe Farace invites readers to visit his blogs, including Saving the World, One Pixel at a Time (www.joefaraceblogs.com) and Mirrorless Photo Tips (www.mirrorlessphototips.com), to read new how-to posts Monday through Friday.