These Are the Best Black Friday & Cyber Monday Camera Gear Deals for Photographers
Photo gear doorbusters, deep discounts on cameras, lens sales, special pricing on photo accessories and camera bag deals, big savings on zooms, markdowns on tripods, photo price reductions, lens instant rebates – no matter what they're called, they're the sirens' songs that catch your ear and direct your hand toward your wallet. And why not? In November and December 2020 around Black Friday and Cyber Monday, photographers can save some serious coin on cameras, lenses, tripods, flash and memory cards – not to mention photo bags and backpacks, filters, books, microphones, monitors and computers.
Now is a great time to buy with Black Friday and Cyber Monday 2020 coming right up. Usually more than half of the annual camera/lens sales occur during the months of November and December, and prices are traditionally the lowest of the year. And here's an important tip: don't wait until the holiday gets here to open the new camera. This year more than ever it's important for us to connect with family via video call and video recordings. Open your presents early, make a video for grandma and grandpa and share it with them the morning of. Share the love even if you can't be face to face.
In alphabetical order, here are the camera gear bargains you can find for Black Friday and Cyber Monday 2020.
Canon
Talk about a deal? How's this? Buy the lightest and smallest Canon DSLR, the Canon EOS Rebel SL3 body – which features a 24.1-megapixel CMOS (APS C) sensor, Dual Pixel CMOS AF with eye detection AF, 4k video, 4k time lapse movie, built-in Wi-Fi and 3.0 inch Vari-angle Touch Screen for less than $500. Light in weight for travel, the Canon Rebel SL3 is perfect for beginners or as a second body.
You can also save up to $130 instantly when you buy select PowerShot digital cameras. For example, get 21% off a Canon PowerShot G7X Mark II digital camera from Amazon. The popular Canon G7X Mk II features a large 1.0 inch, 20.1-megapixel CMOS sensor, an f/1.8 aperture (at wideangle – f/2.8 when fully zoomed) and a 24-100mm zoom lens (equivalent). The Canon G7X Mk III with 4k video support is also available at $649, a $100 Black Friday savings.
Fujifilm
Save $100 on the sleek Fujifilm X-T30 (in charcoal silver) with XC 15-45mm f/3.5-5.6 OIS PZ lens. The compact Fujifilm X-T30 mirrorless digital camera features a 26.2-megapixel BSI APS-C X-Trans CMOS 4 image sensor, X-Processor 4 quad-core CPU, face and eye detection AF, 4K video at 30 frames per second (or capture 120 frames per second at 1080P to create super slow motion effects), 3.0-inch touch LCD with 2-way tilting and Next-Gen Wireless Connectivity: built-in Wi-Fi and Bluetooth V.4.2 provide digital communication with the free Fujifilm Camera Remote app to wirelessly control the camera or share images to smart devices. Quite a lot of features, so if you've been wanting to learn what the legendary "Fuji Colors" and Fujifilm X-Trans processor are all about, here's your best shot for only $899.
Nikon
Wow! Nikon Z50 2 Zoom Lens Kit. $250 savings on everything you need for serious photography with special emphasis on Selfie and Vlogger applications – the Nikon Z50 compact mirrorless camera kit contains the camera body plus two lenses: Nikkor Z DX 16-50mm f/3.5-6.3 VR and the Nikkor DX 50-250mm f/4.5-6.3 VR for only $1099.
The Nikon Z50 2 Zoom Lens Kit pairs the small but mighty Z 50 with both the NIKKOR Z DX 16-50mm f/3.5-6.3 VR, a small pancake lens with a zoom range of 16-50mm and the NIKKOR Z DX 50-250mm f/4.5-6.3 VR, a telephoto zoom with a long reach. Both lenses feature Vibration Reduction (VR) image stabilization built in along with quiet and fast focusing, making them ideal for both still photos and video.
Nikon Z6 with 24-70mm f/4. You can up your game – and save $200 – on the Nikon Z6 FX-Format (full-frame) mirrorless camera with Nikkor Z 24-70mm f/4 zoom for only $2199. The Nikon Z6 features a 24.5-megapixel backside illuminated image sensor, 273-point on-sensor phase detect AF system, up to 12 fps burst, 4k Ultra HD video, 8k time lapse, 120/1080p slow motion and compatibility with new Z Nikkor lenses plus over 360 f-mount Nikkor lenses.
Sigma
Sigma America offers savings on select lenses, cameras, and accessories through December 7, 2020, through participating authorized retailers. Additionally, they are offering 0% Financing on Sigma Cine lenses through the end of the year.
For the first time ever, Sigma dishes up Instant Savings on both the acclaimed 24-70mm f/2.8 DG OS HSM | Art zoom lens and the mirrorless-exclusive 24-70mm f/2.8 DG DN | Art. The 24-70mm f/2.8 zoom focal length lens has become a de facto standard for professional and passionate amateur photographers, and as such must deliver outstanding image quality. The Sigma 24-70mm f/2.8 lenses feature an optical design ideal for the latest ultra-high-megapixel digital cameras, hypersonic motor (HSM) for high-speed autofocus, optical stabilizer (OS) with powerful stabilization effect, dust- and splash-proof mount with rubber sealing, and a metal barrel for a stable, rigid feel. They deliver the performance and functionality that help pros succeed in news, nature, street, landscape and fine art photography.
Additionally, Sigma's most popular Art prime lenses – the 35mm f/1.4 DG HSM | Art, 50mm f/1.4 DG HSM | Art and 85mm f/1.4 DG HSM | Art – all feature savings for a limited time. Plus you can save $150 on Sigma 150-600mm f/5-6.3 Contemporary zoom and $100 on Sigma MC-11 Mount Converter.
One of our favorites, the 45mm f/2.8 DG DN | Contemporary, now comes with a $100 savings. Read our complete review of the Sigma 45mm f/2.8 DG DN here.
Sony
The short version is this: you can save up to 37% on the Sony Alpha a6500 mirrorless digital camera at Amazon. And if you want to step up to the world's most popular mirrorless you can save big on Sony Alpha a7II & a7III full-frame mirrorless digital cameras at Amazon.
But the biggest news from the Sony camp is a whopping $500 savings on the incomparable Sony Alpha a7R IV. For a limited time only you can buy this amazing camera for less than $2999. The Sony Alpha a7R IV is the first full-frame mirrorless camera to boast an incredible resolution of 61 megapixels. It's also equipped with one of the industry's best autofocus systems, including AI-driven Real-time Tracking and Real-time Eye AF. In-body 5-axis image stabilization is optimized to maximize the high-resolution 61-megapixel image sensor performance. IBIS performance is approximately 5.5 stops.
Tamron
Look for special savings on Tamron prime lenses for Sony mirrorless cameras. The Tamron 20mm f/2.8, 24mm f/2.8 and 35mm f/2.8 feature Instant Savings up to $100. The three prime lenses standout because they are uniquely small, focus very close (down to an amazing 1:2 reproduction ratio) and—aside from focal length—share most physical specifications. All are f/2.8 and measure just 2.5-inches tall.
Overall, Tamron is extending Instant Savings between $50 and $200 on 13 different Tamron lenses including the $200 on the SP 35mm F/1.4 Di USD and the $100 on the Tamron 24mm F/2.8 Di III OSD M1:2 for Sony mirrorless.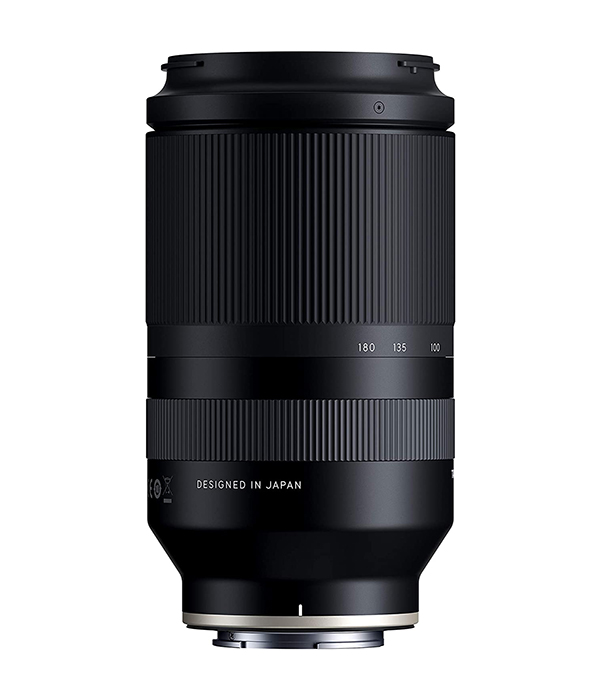 In addition, now through November 30th Tamron offers special Black Friday deals on four hot lenses for Sony mirrorless cameras. Save $100 on the 70-180mm f2.8 Di II VXD (read our review here) and $50 on the Tamron 17-28mm f/2.8 Di III RXD. Save $80 each on the 28-75mm f/2.8 Di III RXD and Tamron 28-200mm f/2.8-5.6 DI III RXD (read our review here).
Have a wonderful holiday, and most important of all, stay healthy.
(As an Amazon Associate, Shutterbug earns from qualifying purchases linked in this story.)
FEATURED VIDEO