Spring Cleaning: Turn Underused Photo Gear Into $ or the Body/Lens You Really, Really Want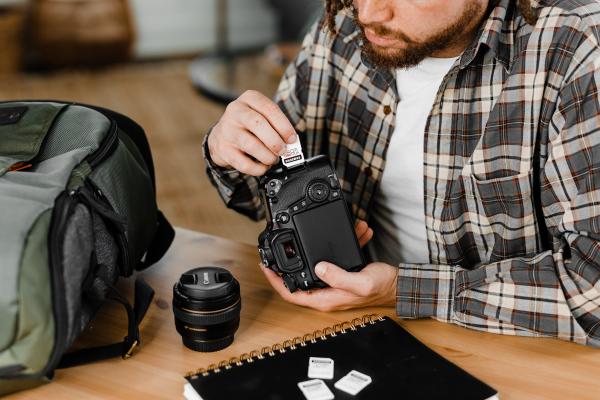 How long has it been since you cleaned out your camera equipment bag? Take a look right now. If you're still hanging on to gear that you haven't used in the past six months (six weeks for truly active photographers) it may be time to shed the old or underused stuff and buy the equipment you need to expand your abilities—and your portfolio. This is where MPB, the online platform to buy, sell or trade used photo and video gear, can help.
If you no longer use that 100-200mm zoom you bought and later discovered it's a poor choice for indoor portraits, sell it or trade up to something more suitable—an 85/1.4 for instance. Or maybe a fast 70-200mm f/2.8. You might need a macro lens now that spring is here and the buds are popping out everywhere.
With vacations coming up soon, you may want a wide-angle, ultra-wide-angle or ideally a wide-angle zoom for shooting on narrow streets, for landscapes or for everyday street snaps. Travel photography is always so much more enjoyable when you carry the right equipment. And it's a serious shame to miss once-in-a-lifetime shots because you had the wrong lens.
A Drone of Your Own
Itching to pilot a drone? Get a drone of your own from MPB. Trade in your underused gear and begin a whole new adventure in the sky. MPB has a great selection of gently used drones, accessories and GoPro cameras available for sale.
MPB is THE Used Camera & Lens Paradise
No matter what you need, take a close look at MPB's extensive and everchanging inventory of used lenses and cameras. Whether you have your eye on a Sony, Tamron, Canon, Nikon or Fujifilm lens or camera body—or another brand—you'll find an ample supply on hand. And keep in mind that your trade-in may go a long way toward offsetting the cost.
MPB Makes Selling & Trading Easy and Safe
With a client base of more than 300,000 customers worldwide, a 5-star rating on Trustpilot and turnover of more than 300,000 pieces of used camera gear per year, MPB has earned a sterling reputation for honest and fair dealings. And here's a fact that will blow your mind. On average, customers earn $900 each time they sell to MPB.
MPB makes selling or trading your gear safe, simple and fast. In fact, it's as easy as 1-2-3.
1. Go Online for an Instant Quote
Visit MPB's website for an online appraisal. It's free and fast. Simply enter the model name and condition of the product you're selling and indicate whether there's another item you'd like to buy in exchange.
MPB uses five condition ratings. They check over your gear to confirm its actual condition, so don't worry if you're not sure which one to choose. For help deciding, check out this video.
• Like new - mint condition, only minor wear
• Excellent - minimal signs of wear, otherwise pristine
• Good - fair amount of use, but well-kept; may have marks or scratches
• Well Used - significant use, noticeable signs of wear and tear
• Heavily Used - significant signs of wear and tear, primary functions still work
2. Pocket the Shipping Costs
Here's another way you save. MPB pays for shipping when you send your gear in to verify the condition and complete the deal. You can change your mind right until the last second, too.
3. Count Your Dough
No waiting and no excuses. You get your money fast when you sell to MPB. As soon as MPB receives your gear, they check the items, confirm the quote and send the money to your bank account. Payment is quick and secure.
You're not flying solo. MPB provides friendly expert help and support every step of the way. MPB has offices New York City in the US, Brighton in the UK and in Berlin, Germany. If you have any questions or doubts about any step in the process, contact them directly and start a dialog.
Don't Wait Until it's Too Late
Digital cameras lose value as they age. Once you've decided to make some changes in your camera and/or lens arsenal, act promptly and avoid possible regret. Digital cameras are like fish—it's better to sell them while they're still fresh.
Your Old Gear Can Become Someone Else's New Gear
One pro we know has a personal rule. If he owns a piece of camera equipment that he hasn't used in 10 or 12 months, he trades it in or sells it and buys something he needs. He calls it "refilling the budget." Selling the gear you seldom use can give a leg up to a beginner, too. There is nothing more rewarding than helping a kid get involved with a wholesome hobby.
A Word of Caution About Online Auctions
Auction websites are popular, but truth told, they tend to sway in favor of the Buyers, not the Sellers. The world's largest online auction operation famously has a policy that prohibits Sellers from leaving Neutral or Negative Feedback for Buyers. Think about that. A Buyer stiffs you and you can't leave a negative or even neutral comment—feedback that could save another seller from getting jammed up.
Even at the best of times, listing online is always a gamble. Maybe the bids will be high and you'll get your full value; then again, maybe not so much. And there's always the chance that the item will go unsold for days or even weeks. We won't even mention the percentage fee you have to pay to the auction site, and the risks you take if the buyer turns out to be a deadbeat.
Find Out What Your Trade-in is Worth
What have you got to lose? MPB's no risk online appraisal is free and immediate. Sell or trade in the system you're tired of and start shooting with the gear you really want. Or decline the offer—no hard feelings and no damage to your purse.
High Quality Used Equipment at Honest Prices
Nothing to trade or sell? Not a problem. It's still a smart move to make your buying selection from MPB's extensive inventory of mirrorless cameras, lenses, DSLRs, drones and other gear for photo and video storytellers. Every major brand name is represented, and the inventory changes daily. MPB offers used products from Sony, Nikon, Fujifilm, Olympus, Canon, Sigma, Tamron, DJI, GoPro and many, many more popular brands. If you don't see exactly what you want today, you probably will soon.
Buy with confidence. You can rest assured when you buy a used product from MPB. Every traded in item is inspected carefully by trained technicians. Every used camera body or lens includes a 6-month warranty. When you browse through MPB's broad inventory, the item pictured in the listing is the exact item you receive, because every item is individually photographed, and the accurate condition is described in the listing. There are no bad surprises.
To MPB, You're More Than Just Another Transaction
Open a free MPB account to unlock faster checkout, manage your transactions online and get more relevant content. The MPB website is a wealth of product information, pertinent interviews, podcasts, competitions, gear guides, how-to tips, videos and other content of interest to photo and video storytellers. They also offer a free newsletter. The newsletter is always packed with helpful information, guides and tips covering a wide variety of photo and video topics.
—Shutterbug Staff
FEATURED VIDEO