Shutterbug Reader Selling Rare 1000mm f/4.5 Super Telephoto Lens Made for NASA in 1964
After seeing yesterday's post about a new 1000mm telephoto lens Canon reportedly has in development, reader Jim Headley let us know he has a rare Birns and Sawyer Omnitar 1000mm f/4.5 telephoto for sale. The one-of-a-kind lens was commissioned by NASA in 1964 through Birns and Sawyer in Los Angeles and built by Astra in Germany.
Headley, Director of Customer Relations for the Hastings Tribune in Hastings, NE, acquired the lens from Rainbow Photo in Laramie, WY, nearly 20 years ago. He tells us he swapped several view cameras for the lens and the original case, rolling tripod, and original NASA property tags. Headley has a website devoted to the lens.
This rare lens was used to document space launches and was likely mounted on a motion picture camera. However, Headley built a Canon EOS mount for the monster so he could test it. The lens will be sold this fall by R&R auctions in Amherst, NH, and interested parties can contact Jonathan Siefken at 603-732-4280 for details.
Headley also runs Old School Art and Camera where he displays his collection and occasionally sells a piece or two.
And speaking of big glass, check out the following images shared with us by Dan Derella, a photo editor at The Associated Press.
This beast is a massive 640mm Astro-Berlin sports photography lens used by the AP in the 1950s-60s. The huge piece of glass, which is attached to a high-speed Hulcher camera, now resides in the AP's archive.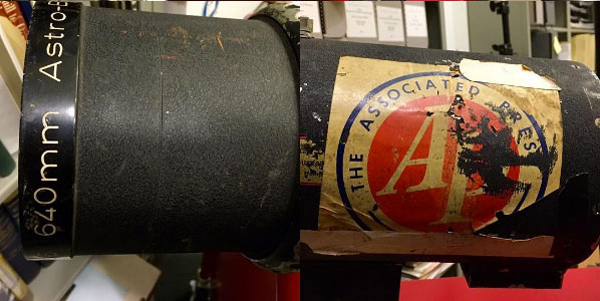 FEATURED VIDEO