Roundup: Covering The Photo Beat
Tamron Adds Lens Profiles To Photoshop
Tamron recently added the SP 150-600mm f/5-6.3 Di VC USD (A011 for Nikon mount) and the 16-300mm f/3.5-6.3 Di II VC PZD macro (B016 for Canon and Nikon mount) to the lens profile for aberration correction offered for Adobe's Photoshop CC, Camera Raw and Lightroom 5. The lens profile will be bundled with the Camera Raw 8.5 update and Lightroom 5.5. Customers who use these lenses will be able to utilize the software for easy correction of lens distortion, chromatic aberration and peripheral light fall-off based on design data.
The DNG Converter download is available at https://helpx.adobe.com/photoshop/digital-negative.html.
Contact: Tamron USA
www.tamron-usa.com
Pelican EX Trade Show Case
Pelican is now offering a lightweight, durable case that is ideal for shipping and storing your tradeshow gear. Crafted from high impact, rotationally molded resin the case is stackable and water resistant. It features double bumper corners, 4-way forklift ports on the bottom and 1-way ports on the vertical sides to provide a variety of transport options. The door opens 270˚ and the interior is customizable with jigging/racks to fit nearly any item.
The Pelican EX Trade Show case is backed by the Pelican Products lifetime guarantee of excellence and is available through the authorized dealer: Silver State Case Company, 1650 Helm Drive #500, Las Vegas, NV 89119.
Contact: Pelican
www.pelican.com, www.silverstatecase.com
OnSlot LCD Cleaner
The OnSlot is a handy little cleaning system that attaches directly to your camera's hot shoe. It was created to safely clean the camera's LCD screen—with it's replaceable microfiber cleaning pad—but it can also be used on any electronic glass surface such as smart phones, laptops, tablets, personal game systems and more. The OnSlot is available in 4 styles: polished rosewood with a black or white pedestal, piano black or piano white.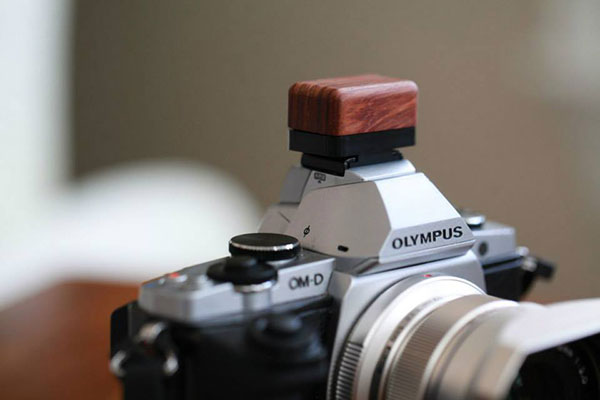 The suggested retail price is $9.99 with the rosewood model at $19.99. With a minimum order and a small additional charge you can customize the OnSlot with your own custom designed logo.
Contact: OmegaBrandess
www.omegabrandess.com
Miggo's Strap & Wrap And Grip & Wrap
The Strap & Wrap and Grip & Wrap are uniquely designed multipurpose camera straps that easily transform into a protective carrying case made for use with mirrorless or D-SLR cameras. The Strap & Wrap is a padded strap that lets you carry a camera around your neck or across your body and then transform it into a protective carrying case. The Grip & Wrap model is a secure and adaptable grip that lets you carry your camera with a comfortable wrist strap then use it as a case. Crafted from durable, high quality Neoprene and soft Lycra materials they are available in seven fashion colors and patterns.
All Miggo products come with a built-in pocket for the lens cap. The Strap & Wrap and Grip & Wrap connect to your camera with a smart steel screw that also allows you to use a tripod while the carrier is connected. The suggested retail price is $39.99-$49.99.
Contact: Miggo
www.mymiggo.com
Manfrotto's Travel Backpack
Manfrotto recently announced a new addition to their Advanced Bags Collection, the MB MA-BP-TRV. Designed to be an ideal companion to their BeFree tripod, this backpack features a carrying slot in the extendable side-padded pocket that fits the BeFree model as well as other brands of compact travel tripods. This travel backpack also features the Manfrotto Camera Protection System (CPS) that provides protection at the center of the bag where the lenses are often stored. The CPS is made up of specially structured 3D foam dividers that reduce shock and absorb/dissipate the force of an impact. The bottom half of the backpack is crafted from durable high density Nylon with a similar material on the top half with carbon detailing. The backpack is divided into 2 main compartments with the upper section for personal items and the bottom section for gear.
The bottom section has quick side access and can accommodate a D-SLR camera with a lens attached, 2 additional lenses, a flash and other accessories. There is also a dedicated compartment on the back that can fit a 13" laptop. This bag can also be transformed into an everyday pack by simply removing the main compartment divider. The Manfrotto BeFree travel backpack has a retail value of $165 and is available from retailers nationwide.
Contact: Manfrotto
www.manfrotto.us
The Long Lens Bag Xpandable Series
LensCoat recently introduced their Xpandable series of long lens bags. Crafted in the USA from heavy duty, water resistant Codura with a lightweight, water resistant nylon lining the bags are available in two sizes, the 3Xpandable and the 4Xpandable. The 3Xpandable features a removable lid (with a pocket) that zips on easily in all 3 positions, a removable shoulder strap and removable reinforced insert panels that allow you to configure the weight and support. Made with soft-sided construction that allows the bag to be folded flat for storage or packing and a M.O.L.L.E webbing system that allows you to add pouches and other accessories, YKS zippers, an expandable mesh pocket and tripod support options.
It is large enough to accommodate a camera body with lenses (such as a Canon 200-400mm or a 300mm f/2.8), the suggested price is $279.99. The 4Xpandable has the features of the 3Xpandable and has multiple connection points to secure the bag. It can accommodate a camera body with a lens (such as a Canon or Nikon 400mm f/2.8, 500, 600 or 800mm), the suggested price is $289.99. The LensCoat Harness is padded and made for use with both models of the bag, the suggested price is $44.99.
Contact: LensCoat
www.LensCoat.com
iStopMotion 3.6
Boinx Software's stop motion animation program—iStopMotion 3.6 for Mac computers—was recently updated and new features were added. It also offers live view support for Nikon model D5100, D5200, D7100 and D800 D-SLR users that allows animators to enjoy the program's Onion Skinning feature. The features include Rotoscope that allows you to use another movies as a guide for your own animation. Onion Skinning lets you see what the animation will look like before capturing the frame and support for animated GIF export to save any sequence of up to 200 frames as an animated GIF.
The Tilt Shift Filter effect makes the scene look like a miniature, the Chroma Key lets you animate into a real background picture (or movies) or put an actor into an animated scene and Flip Book Printing that transforms your animation into a retro style flip book. The update is available for free for version 3 customers or for $49.99 on the Boinx website.
Contact: Boinx Software
www.boinx.com
The BosStrap Side Slide
The Side Slide is a 1" wide camera strap that hangs vertically from either your right or left shoulder. It features an integrated pad for comfort and includes a fully detachable across-the-chest strap to hold the Side Slide securely in place. The side-release quick disconnect is rated at over 60 pounds and all of the structural components used are made in the USA.
The Side Slide easily attaches to your camera's strap lug instead of the tripod socket that makes it fast and easy to switch from hand-held to tripod shooting. Adding a second Side Slide allows you to carry two cameras (one on either side of the body) or it can be used with a conventional neck strap to carry binoculars or other equipment.
Contact: BosStrap
www.bosstrap.com
Blackmagic Camera Update 1.8
The latest update (1.8) offers a new code base for all of the Blackmagic cameras and provides the foundation for some new features. It supports the original wide dynamic range of 2.5K cinema camera, pocket cinema camera and the production camera 4K. The code base offers improved performance and includes a modern user interface similar to the URSA camera.
The interface is included in all of the camera models from Blackmagic Design and adds compressed Raw DNG support for the production camera 4K. It allows Raw recording in real time and other features include enhanced lens control support for EF lens mount cameras and customers can now get auto focus when pushing the focus button on the active EF bases lenses and the camera will mathematically analyze the center of the image and optimize the focus for maximum sharpness. The update also includes improvements for the original Blackmagic cinema camera models including improved audio performance and a higher quality de-bayer processor. Existing customers may download the update for free at the Blackmagic support website.
Contact: Blackmagic
www.blackmagicdesign.com
Artisan&Artist Vanity-Type Case
The ACAM-63 vanity-type case was designed to safely accommodate one mirrorless camera or a Leica M with an additional lens. Crafted from black cowhide, nylon and PVC, the case measures 7 1/8x5 7/8x4". Soft nylon French pile (terry) material and compressed urethane is used in the inner case to protect the camera from external shocks. The inner case also features a detachable partition that allows you to customize it to fit your camera or lens and it sits higher than the zipper so the zipper slider does not scratch the camera body or lens.
A mesh pocket is provided on the back of the cover to store your extra memory cards and a Velcro tape is provided at the opening so items will not fall out of the pocket. The ACAm-63 has a retail value of $109.
Contact: Artisan&Artist
www.artisan-n-artist.com
AKVIS OilPaint 3.0
Created for use with both PC and Mac computers, AKVIS OilPaint 3.0 allows you to transform your photographs into oil paintings with the aid of a unique algorithm that reproduces the technique and look of real brush strokes. Designed to be easy to use, the program features ready to use presets to start the process and then you can personalize the picture by adding a signature, a title, a greeting or adjust the canvas. Version 3.0 has new features and enhanced functionality such as Extra Strokes to help refine the picture for better accuracy and a smooth look or you can keep the rough wide strokes instead. The new Flat Brush changes the shape of the edges of the brush strokes and the 3D Brush brings volume and relief to the painting. AKVIS OilPaint is available as a stand along program and as a plugin filter for Adobe Photoshop and other image editing programs.
The standalone version supports various Raw files and the post-processing tools are only available under the deluxe/business licenses on the After tab. Registered users of the program can upgrade to version 3.0 for free or the home license is $49.
Contact: AKVIS
http://akvis.com
FEATURED VIDEO