Photo Gadgets & Gizmos: We Pick 5 More Hot Items to Add to Your Collection
The ONA Roma Camera Insert: If your just packing your DSLR and a lens, the Roma Camera Insert from ONA can easily transform any bag into a protective space for your gear. The Roma won't replace a camera bag but it's a good solution for short trips where only your camera and a lens are needed. The Roma also has five exterior pockets that'll help keep your stuff organized. It is available in black and handcrafted from waxed canvas with leather side handles for easy removal.
Features:
• Five exterior organizer pockets
• Snap closure flap
• Room for a camera and one small lens (or an accessory)
• Fits in most small-to-mid-sized bags
• Dimensions: 10.5x7x4"
• Weight: 1.2 lbs
The suggested retail price is $69.
More info on the Roma here.
Konstruktor F: An ideal gift for DIY lovers and photography fans, the Konstruktor F is a fully-functional 35mm SLR plastic camera with a PC socket (for flash accessories) that you can easily build at home. Assembling the camera lets users learn the essence of photography and provides the ability to shoot sharp, vibrant analogue photos. Accessorize your Konstruktor camera with a flash to brighten up your low light shots. The Konstruktor is a plastic 35mm SLR with a whole range of features such as a top-down viewfinder, multiple exposure function, bulb setting for long exposures and a detachable 50mm f/10 lens. The suggested retail price is just $39.
More info on the Konstruktor F camera kit here.
DOIY My Comic Life Frames: The My Comic Life kit lets transform your photos into fun comic book creations with personalized captions and magnetic frames that you can post to any magnet-friendly surface. The comic strip design allows you to easily customize the captions (or story) and the whiteboard surface (and dry erase pen) lets write/erase the captions as many times as you like.
Kit Contains:
• 1 dry eraser marker
• 2 magnetic comic strips
• 13 bubbles
• The suggested retail price is $18.50.
• More info on the DOIY My Comic Life Frames kit here.
Satechi Selfie Extension Arm Monopod: This Bluetooth smartphone monopod lets you capture great selfies or group shots. It positions your smartphone up to 3 feet away to create a wide-angled image that lets more people to fit in your group shots—or to capture more of the background in a selfie. Simply pair any smartphone (via Bluetooth) to the device and the monopod's integrated controls let you capture a photo. The adjustable ball joint allows for 360-degree rotation and various tilting angles. The spring holder (with rubber grips) securely holds the smartphone in place. The comfortable, curved handle provides a steady grip. The monopod is lightweight (just 5.6 ounces) and features a foldable design that makes it compact (9.6 inches) and portable enough to fit into a backpack, carry-on bag or attach it via the included wrist strap to a belt loop or backpack strap. The Satechi Selfie Extension Arm Monopod is compatible with iOS or Android smartphones with screens up to 5.5 inches. The suggested retail price is $39.99.
More info on the Satechi Selfie Extension Arm Monopod here.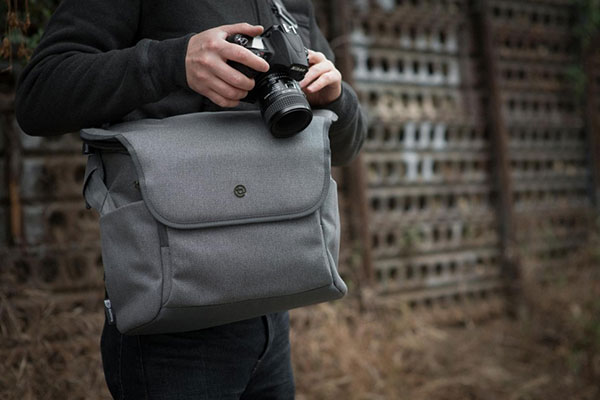 Booq's Python Catch: This rugged bag is crafted from sustainable materials and offers customizable organization and enough space to accommodate two DSLR cameras, up to four lenses and a MacBook Pro Retina. Ideal for photographers on-the-go, the Python catch's main compartment has three densely padded dividers and four padded subdividers that can be configured to fit your gear. The interior flap has transparent pockets so users can store accessories and a zippered pocket on the back for a 15 inch laptop. It also includes luggage trolley compatibility and an adjustable padded strap for comfortable carrying.
The bag's exterior is weatherproof and made from made from 47% recycled PET and 53% cotton material. A rain cover with reflective elements provides protection and visibility in low light situations. Exterior storage includes a top zipper pocket, two side pockets and a zippered pocket on the front of the bag for pens, keys or a mobile phone.
Each Python catch features a five-year warranty and unique Terralinq serial number, a service provided by booq designed to help owners recover lost bags. The suggested retail price is $295.
More info on the Python catch here.
You can see more of our favorite Photo Gadgets & Gizmos here and here.