The Pentax *ist Ds; Compact 6-Megapixel Digital SLR With Intelligent Automation Page 2
Evaluation:
Anyone first upgrading from a compact digicam will be particularly impressed with this camera's speed. In JPEG burst depth, the *ist Ds is preferable to the older *ist D because it allows for shooting nine, vs. five, frames in a single sequence. The Continuous "predictive" autofocus system is capable of tracking moving subjects but it's available only in the Action Program mode. That's fine for quick shots of children's sports events but serious action photographers will miss the ability to select this option in any mode, as with the more expensive *ist D.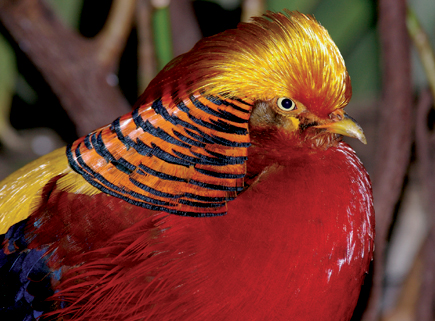 When using an accessory flash unit, the flash output was slightly high, but I was able to produce more pleasing results by setting a minus factor in flash exposure compensation. (Indoor shot at Niagara Falls Bird Aviary; f/7.1 at 1/200 sec in High-Speed Sync; AF360FGZ flash unit; -1 flash exposure compensation; FA 80-200mm f/2.8 zoom; ISO 400; image cropped.)
Image Quality Assessment
In its default settings (without overrides), the Pentax *ist Ds produces images with gentle contrast that's great for holding detail in both highlight and shadow areas. Color saturation is moderate, color fidelity is high, and skin tones are attractive. White balance is often accurate with Auto white balance except under artificial lighting; it's worth using one of the other white balance settings in such conditions.

The sophisticated 16-zone evaluative metering system usually produces ambient light exposures that are close to perfect. In high-contrast situations, it underexposes slightly; that's fine, because it prevents loss of detail in the bright subject areas and is easily corrected in image-editing software. When used with an accessory flash unit, the flash output is a bit high; for more subtle effects, set a minus flash exposure compensation factor.

The default level for in camera sharpening is set to a moderate level. This is probably intended to minimize sharpening of any JPEG artifacts (in the lower quality settings) or any digital noise pattern. In truth, digital noise is extremely well controlled, making the *ist Ds better than average in the 5- to 8-megapixel category. The colored specks are virtually invisible at ISO 200, barely noticeable at ISO 400, and visible at ISO 800. Even at ISO 1600, the pattern is prominent but quite acceptable unless large prints are required. ISO 3200 is available, too, but produces mottled color specks that obliterate fine detail; use this option only when there's no other way to get a sharp photo.
The Pentax Photo Laboratory is not the most versatile raw converter and it does not provide a large preview image. Still, this program includes the essential functions for adjusting the most important image parameters and is relatively fast.
In my estimation, most *ist Ds owners will be happiest with their JPEGs if they set Color Saturation and Sharpness to a high level in camera. That's not necessary when using the Raw Capture mode, because the PEF format files can be adjusted as desired in the Pentax Photo Laboratory software before conversion to TIFF. Additional sharpening with Unsharp Mask will still be required but the images respond very well to this filter. (In Photoshop programs, experiment with Unsharp Mask settings around 150/0.6/1 before making an 8.5x11" print.)

Hint: When boosting sharpness with image-editing software, the noise pattern in high ISO images becomes very prominent unless advanced sharpening techniques are used. If you often shoot at ISO 1600 or 3200, you might want to consider an after-market program with a special high ISO option that will minimize sharpening of the noise artifacts. I recommend Fred Miranda's Intellisharpen II plug-in for Photoshop and all versions of Elements; $25, from www.fredmiranda.com.

Evaluation: In an 8.5x11" print, there's little difference between outputs made from Large/Best JPEG images and those made from raw PEF files converted to TIFF. Still, it's worth using Raw Capture mode if you plan to make larger prints suitable for framing. The Raw Capture mode also provides image correction opportunities in the converter software. While JPEGs can be adjusted in any image-editing software, major changes are more effective when applied before the image is processed and converted to TIFF. Granted, enhancing and converting numerous raw data files can be very time consuming, so this may not be the ideal option for extensive shooting during a long trip.
Because digital noise is extremely well controlled at ISO 400, this sensitivity level is an ideal choice whenever fast shutter speeds are necessary. I used ISO 400 frequently during testing in low light or when shooting at small apertures for extensive depth of field. (Indoor shot at Dundurn Castle; f/16 at 1/60 sec; spot metering and +0.5 exposure compensation; 18-55mm f/3.5-5.6 AL zoom.)
The Bottom Line
The Pentax *ist Ds is a very user-friendly camera that appears to have been designed with input by photographers. It would be an ideal digital SLR for use by families that include both novices and more experienced shooters. Faster than the 8-megapixel digicams with built-in lenses, it's also capable of producing superior image quality--particularly at ISO 400--because of its larger sensor and larger photodiodes. In its basic modes, this camera is no more complicated to operate than a compact digicam. For maximum ease of use, simply ignore any menu options that you consider to be esoteric and take advantage of the more familiar features.

High ISO performance is particularly impressive but it's worth shooting at ISO 200 for superlative image quality. Resolution is high, about average for a 6-megapixel SLR camera. Under close examination, my best 8.5x11" inkjet prints are outstanding in all respects while 11x16.5" prints are also impressive when viewed from the typical 4 ft or 5 ft distance.

At a kit price of $999, including the 18-55mm f/3.5-5.6 AL zoom, the Pentax *ist Ds deserves a "best value" rating. It would be an ideal choice for anyone who already owns some Pentax lenses, whether auto or manual focus. Regardless of the lens mount issue, this is a worthy competitor in the 6-megapixel category because of compact size, ease of use, rich feature set, and satisfying performance.

For more information, contact Pentax Imaging Company, 600 12th St., Ste. 300, Golden, CO 80401; (800) 877-0155; www.pentaximaging.com.
PROS
· Rugged, ultra compact/ lightweight body; most controls are well placed for convenient operation
· Designed for simplicity that novices expect, but includes many advanced features; also compatible (with some restrictions) with manual focus lenses
· Very quick start up; fast autofocus in most situations; virtually no shutter lag; moderately high continuous shooting speed and great burst depth
· Very effective evaluative metering, Auto white balance, and noise reduction systems
CONS
· In camera sharpening is set too low; to correct softness, use the tips provided in the text
· Missing a few features that some experienced photographers demand
· Although raw file conversion is fast, the Photo Laboratory software is only moderately versatile and the interface screen is too small
Technical Specifications
Sensor: 23.5x15.7mm CCD; 6.3-megapixel gross; 6.1 megapixels
Lens Mount: Pentax KAF mount; compatible (with some limitations) with manual focus lenses; 1.5x focal length magnification factor
Capture Formats: JPEG, with three quality levels; uncompressed 6-megapixel raw (12 bit, convertible to 16 bit)
Focusing: TTL phase detection; 11-point sensor; any single sensor selectable; single shot with focus lock; Continuous autofocus in Action Program; manual focus; focus assist pre-flash available
Sensitivity: ISO 200-3200
Operating Modes: Full Auto, Program with Program shift, seven subject-specific Programs, Aperture and Shutter Priority AE, Manual, and Bulb
Shutter Speed Range: 30 seconds to 1/4000 sec; flash sync to 1/180 sec
Flash: Built-in with P-TTL auto flash, forced flash, redeye reduction, and slow sync flash; flash output level control; hot shoe for dedicated flash; high-speed sync and wireless off-camera flash metering available with optional FGZ flash units
Storage: Secure Digital memory card
Connectivity: USB 2.0 and video output
Power: Two CR-V3 batteries or four AAs; optional AC adapter available
Dimensions/Weight: 4.9x3.6x2.6"; 17.8 oz, body only
Street Price: $899
A long-time "Shutterbug" contributor, stock photographer Peter K. Burian (www.peterkburian.com) is the author of "Mastering Digital Photography and Imaging," a 270-page book that offers a great deal of practical advice on all aspects of the topic. He is also a digital photography course instructor at: www.BetterPhoto.com.
FEATURED VIDEO