MindShift Gear Rotating Backpack
MindShift Gear announced that in January 2014 it will release the world's first rotating day hiker backpack, the rotation180° Panorama. Designed for hikers who carry cameras, binoculars, GPS devices, nature identification books, maps, iPads, and more, the rotation180° Panorama's beltpack rotates to the front for quick gear access and without first having to take off the backpack or even stop hiking. Detailed information can be found at
http://www.mindshiftgear.com/products/rotation180-panorama
.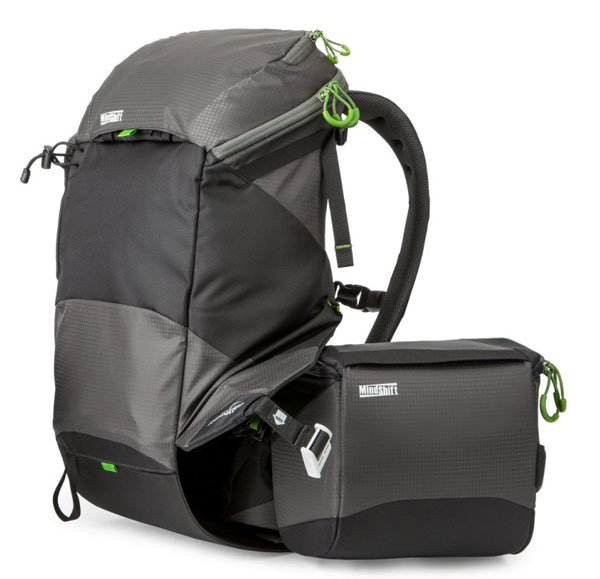 "We want to create a mind shift in the way that people think about hiking and their interaction with nature," said MindShift Gear's founder and president Doug Murdoch. "The rotation180° Panorama was designed for any lover of the out-of-doors who has ever been frustratedthat they've had to take off their pack to access something. With this new rotating backpack, whatever they value they can rotate to the front of their body. Like the advent of hydration reservoirs, which allowed quick access to fluids, our rotating technology has the potential to increase their enjoyment and experience of being outdoors."
Lightweight at under three pounds, the rotation180° Panorama backpack will be available in two colors, Charcoal and Tahoe Blue. It will feature two tripod carrying options and an extra-large dedicated 100 oz./3 ltr capacity hydration reservoir pocket. It will have additional room for a jacket, hat, gloves,lunch, and more. The removable beltpack can be worn separately for shorter outings. The breathable padded airflow harness with daisy chain includes an adjustable sternum strap and load lifters. And, at its design core, it has a pre-curved back panel with single aluminum stay for pack stability.
Available for sale separately will be accessories that enhance the backpack's functionality. These include the Lens Switch Case that attaches to the beltpack, the Tripod Suspension Kit, the Panorama Photo Insert for extra carrying capacity for photo gear, and the Panorama Raincover specifically tailored to function with the rotation 180 technology.
All fabric exterior treated with a durable water resistant coating while fabricunderside is coated with polyurethane for superior water resistance, YKK® zippers, 420D velocity nylon, 420D high density nylon, 210D velocity nylon,Ultra-Stretch fabric, 350G airmesh, 3-ply bonded nylon thread.
Interior: 200D polyester lining, belly-o mesh pockets, closed-cell antilon foam, 3-ply bonded nylon thread.
FEATURED VIDEO