Lexmark P6250 and P915 Photo Printers: Convenient, Versatile Printers For Printing Direct From Memory Cards Or PictBrige Enabled Cameras
Until recently, Lexmark printers were primarily multi-purpose or industrial machines but their latest models are dedicated to photo printing. Based on a three year R&D effort, the P915 Home Photo Printer and P6250 Photo Center boast some impressive features. These include high resolution, a full slate of direct printing amenities, software for automatic print enhancement plus new archival inks for print permanence. The two printers are identical in most respects but the P6250 Photo Center is larger because it includes a significant extra, a built-in flatbed scanner.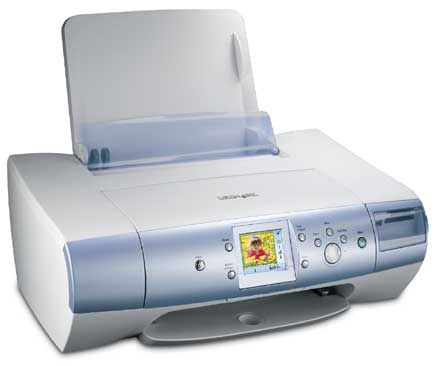 Identical to the P6250 in most respects, the P915 printer lacks only the built-in scanner/copier that's available only with the higher priced model. Note the slots for seven types of memory cards and the PictBridge USB port (under the clear blue panel) intended for printing without a computer. Photos: Courtesy of Lexmark

Designed for the ease of use that some photographers demand, these models are ideal for convenient printing from memory cards or from PictBridge enabled digicams. A large color LCD monitor allows for image preview and menu navigation. The machines can also print from a connected computer, of course, using "smart" software with print enhancing features.

After making many prints with the P915 I decided to test the P6250 more extensively. In this review, I'll discuss the latter but my comments -- except those relating to the scanner -- apply equally to the P915 Home Photo Printer.

Features and Technology
An attractive, well-built, white and blue machine, the P6250 sports slots for memory cards and a USB port for connecting any brand of camera that incorporates the PictBridge technology. In addition to the 2.5" LCD monitor, there are buttons for user-selectable features for printing and scanning. A lid covers the flatbed scanner, which can also be used as a standalone photocopier with a convenient enlarge/reduce feature (25% to 400%). The correct placement of documents is simplified by an illuminated area; simply position the top left corner of your document on that part of the glass plate for proper orientation.

Whether used for direct printing or connected to a computer, the P6250 can generate color output with resolution up to 4800x1200dpi. That level is available only with glossy media and only in the highest (Photo) quality mode. When matte paper is used, maximum print resolution is 1200x1200dpi, plenty for such media, in my experience.

Two cartridges are required for photo printing. The first, designated as #35 Color, is loaded with cyan, magenta and yellow dye based inks. The second, #31 Photo, includes light cyan, light magenta and photo black pigmented inks. (For four color document printing, replace the photo cartridge with a #32 Black for greater economy.) Note too that every cartridge incorporates a print head; whenever you buy a new one, you get a new print head too, great for long-term reliability.

Called a "hybrid system" because of the two types of inks, the combination is labeled as Evercolor because it's extremely fade resistant but capable of producing vibrant hues and tones. Pigments are quite different than dyes. They're ideal for print permanence but cannot reproduce the full range of colors possible with dyes and are not as suitable for glossy prints. Also, pigment molecules are larger so they're ejected in larger droplets. The P-series printers generate photos using 9 picoliter size pigments plus smaller 2 and 5 picoliter dye droplets. The combination was designed to produce a print that appears continuous in tone like a conventional photograph with a wide color gamut, high overall gloss and great fade resistance.

According to tests conducted by Wilhelm Imaging Research, prints made on the new Fuji inkjet photo paper should last up to 65 years on display before noticeable fading occurs. In dark storage, or in an archival album, the prints should look great for up to 200 years. Those are impressive estimates, achieved with a combination of Evercolor inks and special swellable polymer papers co-developed by Lexmark and Fuji. The prints are tacky at first and take about 24 hours to dry fully. While it may be tempting to use "instant dry" papers, you won't get optimal results with that type of (micro porous) media.
Surprisingly, some prints made in direct printing were better than those made from fully Photoshop corrected images. In this case for instance, the print made from a JPEG on a memory card exhibits more accurate tonal values, skin tones and overall color balance. Photos © 2005 Peter K. Burian.
Printer and Scanner Operation
Set up and installation is straight-forward, using the quick start guide that's provided. The built-in card reader is a bit slow to read all of the JPEG's if the memory card includes numerous photos, especially high resolution images. In this respect, the Lexmark printers are about average.

Making a print direct from a card or a PictBridge enabled camera is not complicated but it does call for pressing a few buttons. The process is well explained in the instructions. Using the front-mounted controls and the LCD screen, make your selections as to desired photos, the paper size, any cropping, print quality and number of copies. Before instructing the machine to make the print, it's worth checking the image on the LCD screen to evaluate how the final output will look. Although automatic print enhancement is provided, you can also make brightness adjustments for the best results.

The LCD screen also reports printer status and ink levels. When you open the lid to access the cartridges, a video appears on the screen with helpful instructions on this process. Buttons also allow you to switch from printing to the Copy or Scan function.

When connected to a computer for conventional photo printing, the P6250 employs Lexmark's Imaging Studio software that automatically adjusts exposure, sharpness, color balance and skin tone rendition. Automatic media type detection is available with automatic setting of the optimal print quality mode for each paper type. Manual selections for media type, print quality and sharpening level can be made, but no other user-selectable overrides are provided.

When you want to make a scan, the All-In-One Center software is launched with suggestions for resolution depending on the end-use of the image. An advanced screen is available too for increasing resolution, sharpening or noise reduction. As a scanner, the P6250 generates good but not great image quality from photographs. This feature will be most appreciated by families who often want to digitize or copy documents and photos for school projects. For such purposes, the double sided printing feature will also be beneficial.
The Image Studio software provides a few user-selectable options for paper type and size, orientation, double sided or borderless printing. All print enhancing is automatic, without overrides that would "complicate" matters, but the software does allow for manual sharpening and for selecting a desired quality level. Photos © 2005 Peter K. Burian.
Printer Evaluation
In 4x6" print making, the Lexmark P6250 and P915 are quite competitive in speed with others in their price range. I was able to make a 4x6" print in the highest quality Photo mode in about 45 seconds. A high resolution borderless 8.5x11" glossy print took about 4.5 minutes. That's slower than average. Performance is faster in the lower quality modes but the superior image quality in Photo mode is well worth the extra wait.

In direct printing, the automatic enhancing features were often useful, especially for underexposed JPEG images. When printing from images optimized in Photoshop, I found that some of the outputs were beautiful. The best prints exhibit detail in both highlight and shadow areas, good color saturation, brightness and contrast, a slight magenta cast, pleasing pink skin tones and high resolution of intricate details.

Other prints were less than ideal: excessively bright overall, with a stronger magenta cast and flesh tones that seemed too ruddy. Because there is no option for disabling automatic enhancement in the Studio software, I could not make a print that closely resembled the perfect image displayed on my color calibrated ViewSonic Professional monitor. After adjusting Color Balance (toward green) and Levels (toward darker shadows and mid-tones) in Photoshop, I was able to make better prints on a second attempt. Hopefully, Lexmark will update the driver software in future, adding a simple "Enhancing Features Off" control or user-selectable brightness/color adjustment sliders. That would probably solve most of the problems that I encountered when printing images from my computer.
Automatic enhancement is applied in direct printing, but the Lexmark machines include an option for setting a higher or lower brightness level. When I was not satisfied with the brightness of an image displayed on the printer's LCD screen, I simply used that control to achieve the desired effect.
Conclusion
Shop around and you should be able to find the P6250 Photo Center for around $169, a bargain for a versatile scanner/copier/photo printer. Some retailers sell the P915 Home Photo Printer (identical but omitting the scanner) for about $129 also good value for a machine with direct printing features. The P915 is also one of the lowest priced printers that can make truly archival photo prints.

According to Lexmark's information and marketing, it is clear that the P-series products are intended to appeal to moms, children and teens in both styling, features and automation. Neither machine targets the advanced digital photo enthusiast who wants maximum control plus fast performance in 8.5x11" printing. In my estimation, the P6250 or P915 is most likely to satisfy families who usually make 4x6" prints direct from a camera or a memory card. That's when these photo printers really shine with highly acceptable speed and useful image enhancing technology.

A long-time EDP and Shutterbug contributor, stock photographer Peter K. Burian is the author of Mastering Digital Photography and Imaging. This 270 page book covers all aspects of the topic and provides a great deal of practical advice.

Pros:
· Impressive print permanence (great resistance to light, humidity and ozone)
· Great versatility in direct printing from a memory card or PictBridge enabled camera ; P6250 is very versatile in scanning/copying
· Large color LCD monitor for image preview and menu navigation
· Automatic image enhancing features are useful in direct printing; user adjustable Brightness control is also valuable

Cons:
· Slow in making 8.5x11" prints
· Quality of scans from photographs is fine for some purposes but not excellent
· Brightness and color balance, especially in skin tones, is sometimes very good but occasionally poor
· No controls in driver software for disabling automatic enhancement when it does not produce the desired effects

FACTS
Printing Technology: Thermal inkjet printer; 2 to 9 picoliter droplets; print head integrated into disposable cartridges
Scanner, P6250 only: Contact Image Sensor (CIS) flatbed with 1200x2400dpi optical resolution; up to 4800dpi enhanced resolution; 48 bit internal True Color; 24 bit external True Color; maximum scan area 10x15"; reduce/enlarge option in standalone copying mode
Ink: For photo printing, Evercolor ink set, in two cartridges (Color and Photo); dye-based cyan, light cyan, magenta plus pigmented light magenta, yellow and photo black
Maximum Resolution: Up to 4800x1200dpi for color, on glossy paper; up to 2400x1200 dpi for black and white
Estimated Print Longevity: Up to 65 years rating when displayed under glass, if made on swellable (not micro porous) matte or glossy media
Connectivity: USB 2.0
Software Included: Lexmark Image Studio and Photo Editor
Other Features: 2.5" color LCD monitor; direct printing from seven types of memory cards or PictBridge enabled cameras; Exif Print and DPOF compliant
Compatibility: Windows 98, ME, 2000 or XP; Mac OS X 10
Dimensions/Weight: P6250: 17.1 x 13.1 x 7 in., 10.6 lbs. P195: 5.9 x 16.9 x 9.3 in., 6.4 lbs.
Street Price: P6250, $169. P195: $129.

FEATURED VIDEO