How to Care for Camera Gear & Protect it from Damage (VIDEO)
If you're a regular visitor to this page you've no doubt invested in the best cameras and accessories you can afford. So how do you protect all this valuable gear from getting scratched, damaged, or broken? Read on.
In this video from Adorama TV, you'll learn how to properly take care of your photo equipment and protect it from damage while shooting. Like most working pros, David Bergman tends to bang his gear around, no matter how careful he is, and over the years he's developed a plan for maintaining equipment carefully and minimizing abuse while on assignment.
In this episode of the popular "Ask David Bergman" series, in which the NY pro responds to questions from fans, Bergman shares his tips for keeping cameras and accessories in top working order and preventing as much abuse as as possible in the field.
Bergman spends much of his time shooting in uncontrolled environments, like live concerts and sporting events where weather and rough treatment is part of the game. His tips are perfect for other forms of photography too, from adventure and travel photography to landscape work in the backcountry.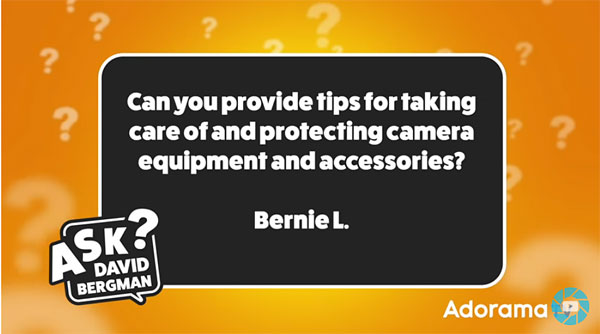 While most pros aren't too concerned with minor cosmetic damage, many amateurs try to keep their equipment as pristine as possible. Bergman begins with some helpful suggestions for doing just that. He also describes a few simple maintenance items everyone should have in their bag, and explains the proper way to use lens blowers, brushes, and microfiber cloths to safely clean your gear.
Bergman explains how purpose-built lens and camera skins can really save the day, and why it's wise to always use a lens hood—even when glare from the sun isn't a concern. He also has some sold advice when it comes to camera bags, backpacks and cases, and shares an interesting lens cap trick, for eliminating dust and dirt.
The video includes a number of other tips regarding camera and lens wraps, and other protective items, and explains why you might want to buy insurance for your costly gear.
You can find more helpful advice on the popular Ask David Bergman website, as well as numerous photography tutorials on the Adorama TV YouTube channel.
FEATURED VIDEO